By Tom O'Connor
Critically acclaimed guitarist and singer, Shane Dwight takes his already formidable songwriting chops to the next level on his new album, No One Loves Me Better. The ten-track April 5th release on Red Parlor Records is a hot blend of blues-rock and soul with swagger. Dwight paints vivid and dense pictures of the kind of hunger-driven lost souls that'll sound familiar to many and hit even closer to home for the rest.
With a collection of songs not just "written" but actually honed, no average blues bar backing band was gonna do, so Dwight pulled in heavy-weight player/friends to properly set these songs on fire.
Dwight says, "You will hear some of my friends, Bekka Bramlett (Elton John), Kenneth Blevins (John Hiatt), and Rob McNelley (Bob Seger) who all came to the table that day to be a part of this story."
Dwight starts the album off smooth as sippin' whiskey with the title track, "No One Loves Me Better," a groove-based love letter with slide guitar and a smooth, swampy feel, complete with smoky and sultry vocals from Dwight. A catchy tune, it features some great musicianship from Dwight and his tight band.
Dwight rips it on guitar, and the band gears into a full on rock stomp with "She Likes To Ride." With a funky driving feel, the lyrics speak to a different and more earthy kind of attraction in this specific, detailed story about the magnetic pull of an attention-grabbing bad girl. Everything about this tune speaks rhythm, and the melodic guitar riffs and solos ride nicely on the groove.
The bad girls get even badder on "If You Ain't The Devil," as much a lyrical wrestling match as a song, Shane brings us face-to-face with even more temptation of the elusive, dangerous woman. It's a blues-rocker of a song, with intensity and grit.
Resonator in hand, Dwight dials it in with a haunting opening to "Bullets & Gasoline," a dark, swampy and hoodoo-drenched tale of a dangerous man, a bottle of booze, a gun, and a bad idea. Dwight and the band once again prove their mettle with this tight Southern rocker.
"Sucker" rolls in with a slick, funky feel, and Dwight preaching that he's a sucker for a good girl. We might not believe him. His vocals almost glide into a hip-hop feel, and the tune grooves with some tasty guitar riffs. Dwight throws in a few reverse-tracked licks and some echo-y sonic shenanigans in this sly and occasionally proud confession about a man's weakness for the kind of girl who "rolls fast, and never gets a ticket."
Even when he goes back to basics on a tune like "Stand Up," Dwight pieces together a song like a jigsaw puzzle. This "let's raise some hell, together" tune, complete with slide guitar, gospel-adjacent backing vocals and a powerfully stomping harmonica, probably would have been a throwaway party tune in less capable hands. Instead, it rings like a call-to-arms. It's a rocking good tune. Turn it up.
Meanwhile, a title like "White Powder" is hint enough that what we have here is another brush with the devil by a man who knows he doesn't fear ol' Scratch enough to avoid temptation. The nearly unhinged harmonica break mirrors our anti-hero's shredded-by-success as much as addiction-state-of- mind.
Over grinding chords and a dynamic mega-beat, "Shakin'" bears witness to the plain fact that insatiable desire can lead to ruin, but even knowing that truth rarely stops the man determined to test the limits of his mind, body, and soul.
The album closes with more haunted, ethereal resonator slide action on "Trial of a Poet" as Dwight's lyrics unspool a story that packs a punch much heavier than most people could bundle into a scant 2:48.
And that is really the whole point here. If you were to write out all the lyrics to most of the albums we've reviewed, most of the best of them would likely yield a good short story, granted with a lot of repeated choruses. With No One Loves Me Better, Shane Dwight has penned, at the very least, a solid novella. The songs feel like connected short stories, painting their collective picture of sin and redemption, mixed with hope and failure while (almost) always enjoying the ride, even when it is likely straight to hell. Somehow, Dwight accomplishes all this in an incredibly lean and tight ten songs, only three of which even crack the four-minute mark.
This is songwriting craftsmanship at the master diamond-cutter level. Listen in.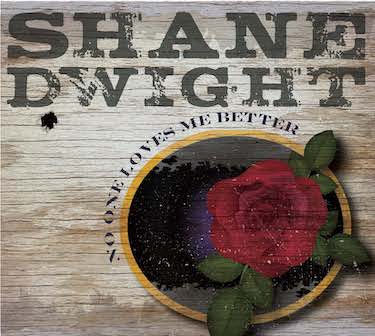 For more information on Shane Dwight: