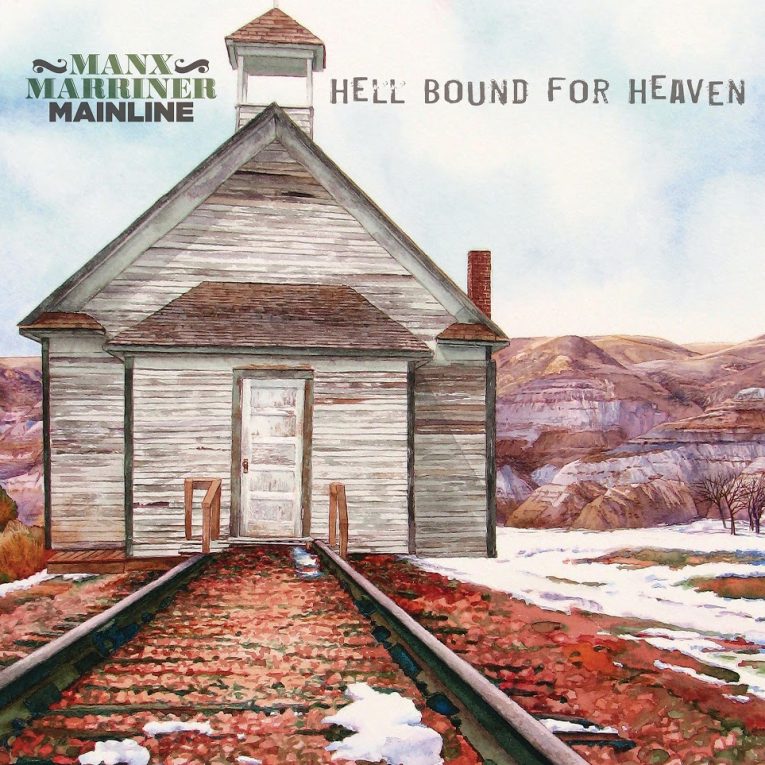 By Tom O'Connor
Stony Plain Records shared something special with the release of Harry Manx and Steve Marriner's new 10-song collection Hell Bound For Heaven. When two multi-award-winning Roots Music giants (otherwise known as Manx Marriner Mainline,) who happen to be old friends, finally sit down to record an album together, you're bound to catch more than just a little lightning-in-a-bottle.
Produced by Harry Manx and Steve Marriner Hellbound For Heaven is superb rootsy blues that showcases the duo's undeniable talents. It's no wonder that between them they have won multiple Juno Awards, Maple Blues Awards and more. Each contributed several songs to the record, as well as covering some blues and gospel gems.
Harry Manx' mastery of blues guitar and exploration of the sitar-like sounds of the Mohan Veena had already established his reputation as a force to be reckoned with on the Canadian Blues scene when he came across a teenage harmonica wunderkind named Steve Marriner. In the years since, the duo have bonded over their passion and talent for the Blues. Not satisfied with already raking in a lifetime's worth of awards for his preternatural harmonica talents, Steve Marriner has gone on to master pretty much every other instrument he has touched, including guitar, bass and drums, while Harry Manx' songwriting has deepened and expanded. Separately they're pretty amazing. Together the chemistry is undeniable.
Aided by Moe Duella's ready/steady and subtly dynamic drumming and Clayton Doley's intuitive touch on the Hammond organ, Manx & Marriner stick close to the theme they've telegraphed in the title of this collection: The crooked journey to salvation and the temptations that haunt a righteous man along the way.
They hit you with a show-stopper right out of the gate with opening track "Nothing." A slow, but not cautious tale of a man looking back on his life after the hard world has humbled the hubris out of him. What remains? The blues of course. Marriner's emotion-filled harmonica break is one of the few things in the world that could match the honesty of Manx's nowhere-to-hide vocals. They let in some sunshine with the SoCal-feeling vibe of "Everybody Knows," an inclusive song that rings with compassion while it showcases young Marriner's multi-instrumental talents on slide andbaritone guitar, bass and even background vocals.
Title track "Hellbound For Heaven" hews closer to the source and does not lack for spooky hoodoo, thanks to Manx' previously mentioned Mohan Veena (go ahead and Google it, I had to.) This is a blues tale of relentless bad times told by a man who has good reason to doubt the Pearly Gates will be waiting for him at the end of the road.
The first dove of hope is spotted on "My Lord." This time around Marriner handles the vocals himself while his 12-string carries the load straight back to church where some angelic back-up vocals support his optimistic harmonica break. Manx then flexes his songwriting muscles on "My Only One," a slow-rolling river of a sweet, sad love song that cuts to the real truth about love even before Doley's Hammond eases in to melt what's left of your heart.
Just when you think they might be willing to let us sinners off the hook, Manx & Marriner take a run at the formidable legacy of Charlie Patton on "Rattlesnake Blues," putting their own spin on Patton's otherworldly, but somehow still deeply human juju. Manx handles the vocals and slide guitar on this one while Marriner handles pretty much everything else while also managing not to waste a single measure of his harmonica break.
A few more covers follow, starting with their properly vibrato-saturated take on Pops Staples' inspiring "Wish I Had Answered." But just when you think salvation might be in sight, Manx and Marriner hit you with Rev. Gary Davis' "Death Have No Mercy In This Land." The tune gives Manx' slide guitar a chance to take center stage as it paints a sonic picture of that desolate plain where faith is tested and the devil drives his easiest bargains. After the darkness, they take us to church on "This Little Light of Mine." And if you thought you didn't need to hear another version of this traditional classic, you'd be wrong.
After journeying from hell to salvation and around again, all in just nine songs, Manx and Marriner let us sail for a hopeful horizon on the sweet and simple "Rise and Fall in Love." Manx' vocals and Marriner's electric guitar, are all that is required on this luscious closing track. As the vibrato slowly fades on the last sumptuous chord, you're going to sit in that stillness with a feeling something has shifted. ….and then you're going to hit "Play" again.
For more information about Harry Manx and Steve Marriner: