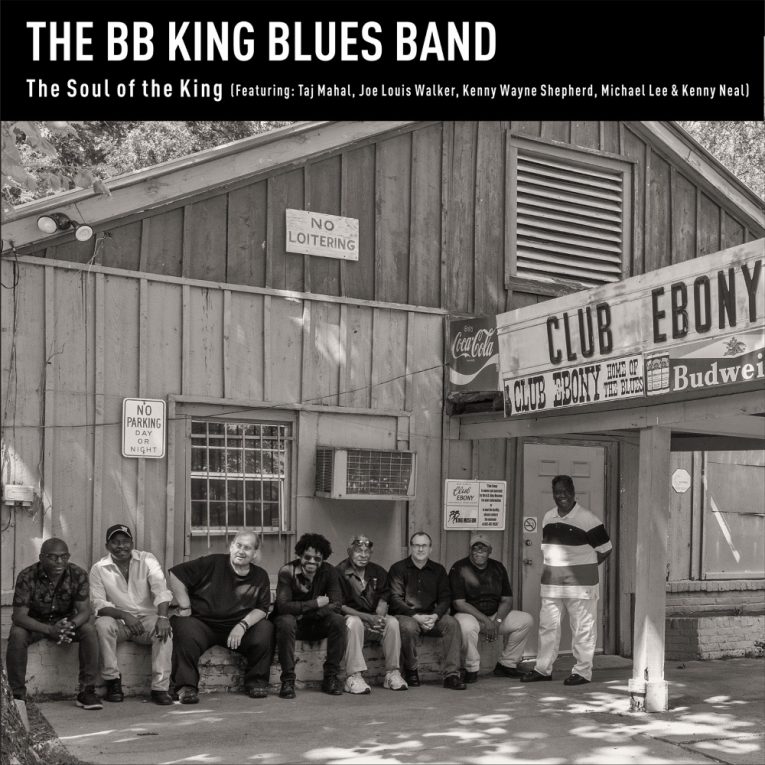 We are pleased to premiere the single, "Irene Irene" by The B.B. King Blues Band featuring Russell Jackson and Kenny Wayne Shepherd. The single is off the band's upcoming album, The Soul of the King, out May 10, 2019 via Ruf Records.
The Soul of the King also features Taj Mahal, Joe Louis Walker, Michael Lee and Kenny Neal.
Long live the King. Four years since the passing of the great B.B. King, his towering influence over the blues world, and beyond, remains undimmed. King's music will never be forgotten, and this year, the iconic bluesman's presence is felt stronger than ever, as his spirit imbues a star-studded new album by The B.B. King Blues Band, The Soul of the King.
Bandleader James 'Boogaloo' Bolden says,"'Irene Irene' is a song about strong emotions that become complicated and indecisive. Thanks Kenny Wayne Shepherd for your outstanding guitar work."
Listen to "Irene Irene" below. 


Recorded at Hollywood's Paramount Studios and Houston's Lucky Run Studios, The Soul Of The King finds The B.B. King Blues Band writing ten of the thirteen tracks that stand alongside their late leader's catalogue. There's the addictive brass-bolstered shuffle of "Low Down," the slow-burn balladry of "She's The One," the spring-heeled funk of "Taking Care of Business," and trumpet legend James 'Boogaloo' Bolden's own "Hey There Pretty Woman." Joe Louis Walker gives a soulful tip of the hat on "Regal Blues." There's a heartfelt turn from Michael Lee on "The Thrill Is Gone." Mary Griffin and Taj Mahal combine their vocal and guitar talents on "Paying The Cost To Be The Boss." Kenny Neal lends poignant vocals and licks to "Sweet Little Angel." And then there's Kenny Wayne Shepherd's masterful solo on the opening track "Irene Irene" that the King would surely approve of.
The members of The B.B. King Blues Band are all lifers, some of the members clocking in at 35 years. Not only did they support King, but they would start each show by performing onstage before B.B. came out. After King passed, the band was naturally at a loss until they started playing some festivals and eventually got their footing back. The current lineup includes: Michael Lee (Lead Vocals. Lead Guitar,) James "Boogaloo" Bolden (Trumpet,) Russell Jackson (Bass and Vocals), Herman Jackson (Drums,) Eric Demmer (Saxophone,) Wilbert Crosby (Guitar and Vocals,) Lamar Boulet (Trumpet,) Darrell Lavigne (Keyboards,) and Walter King (Saxophone).
The term 'legend' doesn't do justice to B.B. King. The eight-decade story of how a Mississippi cotton-picker rose to the heights of the blues. changing the genre forever with his soul-drenched voice and 'one-note' touch. is told by his acclaimed studio catalogue and fabled live shows. Now, as the men who walked alongside him every step of the way for over 35 years, The B.B. King Blues Band write the next chapter, on an album that salutes King's classic songs and showcases their own. "It's important," nods executive producer Terry Harvey, "to continue what he started."
The Soul Of The King reminds us that The B.B. King Blues Band are a line-up moving forward, writing a love-letter to their fallen leader while staking their own claim in the modern era. Bandleader James 'Boogaloo' Bolden speaks for the band when he says, "We're so excited to finally be able to keep our word to the world as direct musical descendants of B.B. King, we are keeping his legacy alive."
For more information on The Soul of the King by The B.B. King Blues Band: