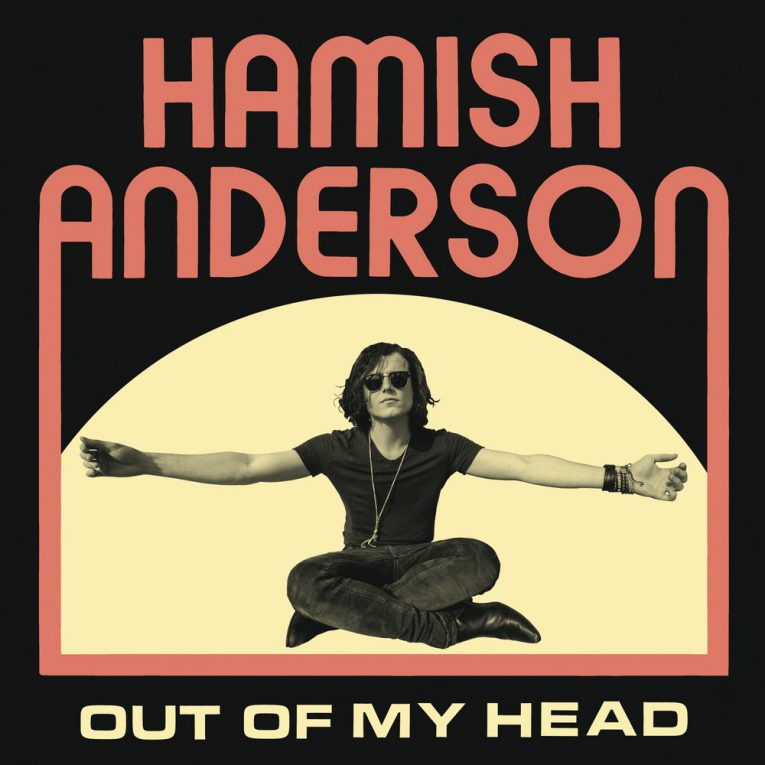 By Tom O'Connor
Australia's hot young blues-roots-rock talent Hamish Anderson is set to release his second album, Out Of My Head on May 3rd produced by Jim Scott (Tom Petty and the Heartbreakers, Tedeschi Trucks Band, Wilco.) The eleven song collection showcases all of the rocking attitude you would expect from an acclaimed young guitar slinger, but you're also going to be treated to a big, and unexpected, dose of patience, pace, soul, and maturity that'll catch new listeners by surprise – and turn them into instant fans.
Having impressed audiences with opening sets for everyone from BB King to the Drive By Truckers and, after just one previous album, already making a cartful of "Top 10 lists" for his guitar-playing and songwriting abilities, what really strikes me about this superior collection is this: Hamish Anderson doesn't have something to prove; he has something to say. There's a big difference.
The collection opens with two stand-out tracks that lay down Anderson's rock and blues credentials in no uncertain terms. Opener "No Good" crackles with confidence, from his vocals to his scorching guitar break, both in full service to the lyrics and the groove. The intensity ramps up on the hard-driving "Breaking Down" which chugs along on a relentless riff, burbling bass line, fierce organ fills and another impressive guitar break.
After that sizzling pair of openers, Hamish Anderson shifts gears completely and swings to the Soul-side of things with a suite of mid-tempo explorations that are stunning in their maturity. Hung on a touchingly simple riff and melody "What You Do To Me" is a tender and earnest almost-ballad that might be about the start or end of something good, depending on the mood of the listener. Likewise "Out Of My Head" rolls on a slow and sweet groove, showcasing Hamish's layered lyrics and smooth, conversational vocal style.
Some more impressive lyrical ideas tumble across the R & B flavored "The Fall" where Hamish's inventive treble-y guitar fills during the verses mirror later organ riffs while setting the stage for a guitar moment that might break, or fix, your delicate heart. These songs are all a set-up for the broken-hearted "Damaged Goods" that makes no bones about the struggle every sensitive soul faces in this often hard world. Here again, Hamish impresses with simple lyrics that carry complex meaning and emotion. I don't mean to sound willfully obscure here, but the wistful, bordering-on-melancholy honesty of these tunes reminds me most of "Friday Night Is Killing Me"-era Tommy Stinson at his most open-hearted and vulnerable. As I said at the outset, Anderson has something to say, and you believe every word you hear.
Hamish Anderson cranks the tempo and volume back up for "World's Gone Mad." Big rocking organ swells and a straight-ahead guitar riff drive this condemnation of the current state of the world. As always, his insistent lead breaks drive home his point. This tune will, no doubt, be a scorching highlight of every live set. Dialing things back again, a stripped-down tick-tock rhythm is enough to guide "Happy Again," leaving plenty of room for some more of Anderson's straightforward lyrics and a feeling that walks the tightrope between hopeful and not-so-hopeful. Any ambivalence of the heart evaporates in the buoyant and blooming "You Really Know What Love Is," a song as patient and sturdy as the sentiment expressed in the lyrics.
Album closer "Dark Eyes" is the kind of contemplative ode that conveys so much with just a few choice words and no excess guitar flash that it would be at home, both lyrically and musically, on a Warren Zevon or Mark Knopfler album, which isn't the sort of thing I say lightly.
There are a lot of impressive young guitarists out there these days, but very few of them can match their physical dexterity with this much vulnerability and lyrical prowess. In Hamish Anderson, Australia has produced another impressive talent, adding his own unique feel and experience to some deeply rooted American musical traditions. There's no telling where he might go from here.
For more information on Out of My Head by Hamish Anderson: