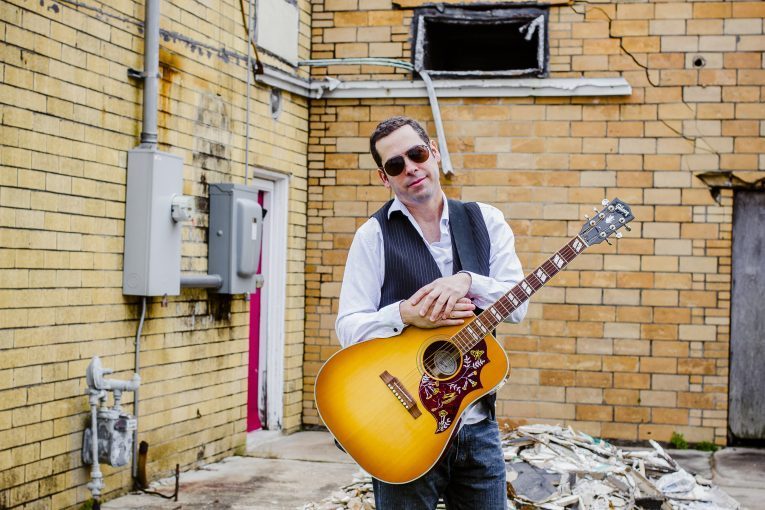 By Kevin Porter
Albert Castiglia will probably be the first to tell you that life can take some interesting twists and turns. The phenomenal blues guitarist, singer-songwriter might have lived out his days working as a social services investigator for the state of Florida if not for an enthusiastic friend who pushed Castiglia to jam with Junior Wells on stage during one memorable New Year's Eve evening. One thing led to another, and Castiglia found himself living in Chicago and touring with Wells.
After Wells' death in 1998, Albert Castiglia played with numerous blues luminaries, including Sandra Hall, Pinetop Perkins, Ronnie Earl, Ronnie Baker Brooks, Eddy Clearwater and many others before going solo in 2004. He released 10 albums as a solo artist and his music can best be described as hard core blues.
Being plucked from obscurity by a blues legend (Junior Wells) is an incredible story in and of itself, but life threw another interesting turn at Castiglia last year when a daughter he did not know he had made contact with him. He found out that he was not only a father but a grandfather as well. That happy development is the subject of much of his hotly anticipated new album, Masterpiece, that comes out on May 24th on his buddy Mike Zito's new record label, Gulf Coast Records. Castiglia kindly talked to us by phone about the new album, playing with Junior Wells, and the surprising developments from last year.
Kevin Porter:  You found out you were going to be a father and a grandfather on the same day. That's amazing. Tell me about that.
Albert Castiglia:  Yes, I found out on May 15th of last year. My daughter was looking for me and she submitted a sample to 23 and Me. My cousin had taken the test just for kicks, and their DNA got matched. They reached out to each other, figured out who was who, and she reached out to me. I took the test later on and it was confirmed. I was pretty sure it was my daughter even before I even took the test. I couldn't deny the science or the timeline, and I saw a picture of her and she looked just like my grandmother, who had recently passed. In fact, the day I found out about my daughter was the day of my grandmother's funeral. I was on tour and couldn't make the funeral, but I like to think my daughter was a gift from my grandmother as she left this earth. It was the greatest gift I ever received. My daughter has two kids, and it's been wonderful becoming a grandfather. Although I wasn't around, my daughter grew up to be a wonderful person, a great wife and mother.
Finding my daughter and getting close with her and my grandkids has changed my life so much, and in the process, changed the way I wrote songs. I went from writing songs from the perspective of a married man with no children to being a father and grandfather. After my daughter came into my life, the music just poured out of me. I just had so much to say. I wrote the song, "Keep on Swinging," for my grandkids. It's about following their dreams and not letting anyone or anything stop them.
My wife was great through all this. My daughter and grandkids love her as much as they love me. My wife gave me the time and space to get to know my daughter and grandkids but also kept me focused on working on the new record. I feel so lucky and blessed. It could have turned out much differently—my daughter could have never sought me out. When she found me, she was worried I would reject her, but I told her she was going to have to file a restraining order to keep me away!  We're very close and I feel so fortunate.
KP:  Tell me about your song "Love will Win the War" on Masterpiece.
AC:  I live about 15 miles away from Parkland, and the shootings there rocked me to my core. Not long after that, the shootings occurred at a synagogue in Pittsburgh, and I thought that's it, I have to write something about this.
KP:  What did you mean when you said, "Now they're flying with the angels, and all we do is wonder why."
AC:  The shootings keep happening, and nothings gets done. We all are sad, words are said, flowers may be given, but then we go on living our life like nothing happened. I think about this when my daughter drops her kids off at school, and I wonder what goes through her mind. Does she worry that she will never see them again? Does she trust them with strangers? It's really hard.
KP:  Let's talk about the song, "Red Tide Blues" and your lyrics "beaches are empty, the fish are dead, business is slow and in the red."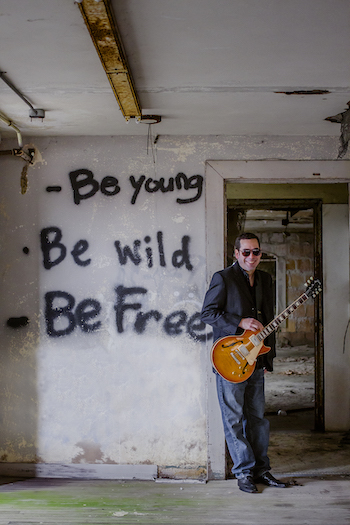 AC:  I live in Fort Lauderdale in eastern Florida, and most of the red tide happened in the western part of Florida, but we are affected by algae blooms. It can really smell. This really hurts Florida because so much of the state's economy is based on tourism, and who wants to visit when the air smells terrible and there's lots of dead and rotting fish. I know several people that own restaurants and businesses in Florida that have been badly affected by the red tide. Now, the state is letting some companies drill for oil in the Everglades. I mean, what could go wrong?  It's only the source of much of the state's drinking water. I try not to be too political—I have my own views, of course—but I just make observations and write them down.
KP:  Tell me about working with Mike Zito, who produced the album. I know you guys are good friends and frequent tour mates.
AC:  Yes, we are very close. We are soul brothers in a way, having first started playing rock and roll before getting bit by the blues bug. I've known him for at least 10 years, maybe longer. Ever since Mike got sober, everything he has done has been successful. He's not only producing records but he's making great records and touring the world, and he just started his own record label. Other than my wife and family, Mike is the one person I trust the most in this world.
I sent him some demos of the songs I was writing after I met my daughter, and he was really impressed and said we should do something with these. Mike only wanted he and I to play on the record—let the band take a break. I was skeptical, but he showed me some of the material he recorded this way at his home studio in Texas, and I was convinced. Mike played drums and bass on nearly all the tracks, and I played guitar and sang, and we kind of added and subtracted as needed. Mike did play the slide on "Red Tide Blues"—I figured I had to give him at least one solo on the record, since I was staying at his house!
KP:  I heard a real Muddy Waters kind of vibe with "Red Tide Blues."
AC:  Yes! That is exactly what we were going for with the recording. An album that changed my life was Muddy Waters' Hard Again, produced by Johnny Winter. That album made me want to play the blues. I had the chance to meet Johnny and thank him for making that record. I opened for him in Melbourne, Florida and we talked for about an hour. He said he really loved making that record with Muddy. He just loved all those old blues guys.
KP:  What other artists influenced your songwriting on this record?
AC:  A lot. I'd say John Prine and Bob Dylan influenced "Masterpiece."  My mom loves Dylan. For "I Tried to Tell Ya," I'd say Gary Clark, who I really respect, and I hope to get to jam with him someday. Buddy Guy inspired "Heavy."  For "Keep on Swinging," I'd say Billy Gibbons of ZZ Top, with that distorted kind of guitar tone. For "Thoughts and Prayers," I'm thinking the Jon Spencer Blues Explosion, with that mash-up of blues and punk. For "Catch my Breath," probably someone country like Lucinda Williams.
KP:  I wouldn't have guessed Lucinda Williams as an influence.
AC:  Oh, I love Lucinda Williams. Car Wheels on a Gravel Road is an absolute classic.
KP:  How do you think your more blues-oriented fans will react to songs influenced by Lucinda Williams?
AC: I hope they're ok with it. They may like it, they may not. I've sometimes been criticized for the music I make and play, that I'm "too edgy" to be a blues artist. But I like a lot of different types of music and I want to make the music that moves me. I don't think Junior Wells would have wanted me to record covers of blues classics or covers of his songs all the time—he would've wanted me to do my own stuff and try to be original.
KP:  Funny, with some of your older material, I hear a little punk influence.
AC: (laughs). Really?  That's hilarious. I do love the Ramones, so maybe that snuck in there somehow.
KP:  You signed with Mike's new record label, right?
AC:  Yes, let me tell you how that happened. We recorded Masterpiece at Mike's studio and we sent it to Ruf Records, who put out my last three albums. They weren't super enthusiastic and they wanted to make some changes to it. This record means a lot to me personally, and I wasn't really open to compromise. Ruf graciously let me out of my contract, and Mike said he'd sign me. As I said, I really trust Mike, and when he asked if I wanted to know the terms and conditions of the contract, I waved him off. But he read them to me anyway, and they are more than fair. I'm really excited to be on the ground floor with this new label, working with my good friend.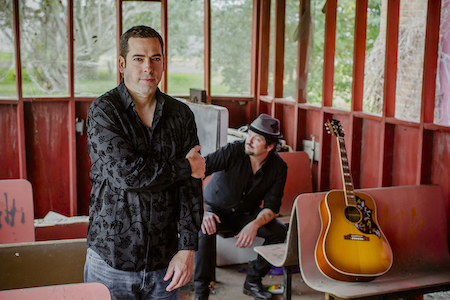 KP:  I know you got your break when you started playing with Junior Wells. Tell me about that.
AC:  I was working at the state welfare office at the time, and Junior was playing a New Year's Eve show in Delray Beach, Florida, in 1996. I had a friend, Gloria Pierce, who was a big blues fan and who knew Junior, and she told me to come to the show and to bring my guitar. It didn't make any sense to me, but she insisted, so I did but I left it in the trunk of the guitar because I didn't want to seem pushy.
Gloria introduced me to Junior, we hit it off, and he agreed to bring me onstage. His road manager, Michael Blakemore—a real good guy and a friend who passed away a couple of years ago—warned me that Junior can be really rough on musicians on stage if they're not cutting it. I told him I just worked 12 hours at the welfare office, and a bad night with Junior Wells beats a good day at the office. I played three warmup songs with the band before Junior came on, and then Junior came on and we played three more. I think "Messing with the Kid" was one of the three songs. I was ecstatic. Afterwards, I called my parents from a payphone to tell them what happened. They didn't know who he was, but they were still happy for me.
A month later, Michael calls me and asked if I could fill in for three shows in Buffalo, Cleveland and Detroit. I said sure, took a week off, did the three shows and came home. Then Michael called me and asked if I could come to Chicago and play with Junior full time. He gave me three days. I quit my job, played with a friend's rock band and then flew to Chicago with no idea where I would live. I stayed with a cousin for one night, but my snoring kept them away, and my cousin said this wasn't going to work, so I went to stay at a transient hotel called the Hotel Belmont. It was really nasty, something right out of "The Blues Brothers."  I had to share a toilet with the room next door, you could hear people screaming, and I think there were chalk lines on the floor in my room! (Laughs). But it was the best day in my life because I was doing what I dreamed of doing—playing blues guitar professionally.
KP:  You probably are living the fantasy of every guy who works in an office–to quit their job and go play guitar for a living.
AC:  It's generally been great, but it hasn't always been smooth. There's been some rough stretches, like after Junior died and I didn't know what I was going to do next. I ended up playing with Sandra Hall, and things fell into place. It's definitely better than working at the state welfare office, though.
KP:  Do you still get nightmares about your job at the welfare office?
AC:  Oh yeah! Even now, I get them two or three times a year, where I dream that life as a musician didn't work out and I'm back working at the welfare office. I consider it a reminder that no matter how bad things might get, they're still much better than when I was working at the state welfare office.
KP:  I want to thank you for taking the time to talk to us—it was an absolute pleasure.
AC:  Thank you, I enjoyed it as well.
For more information on Albert Castiglia and his album Masterpiece: