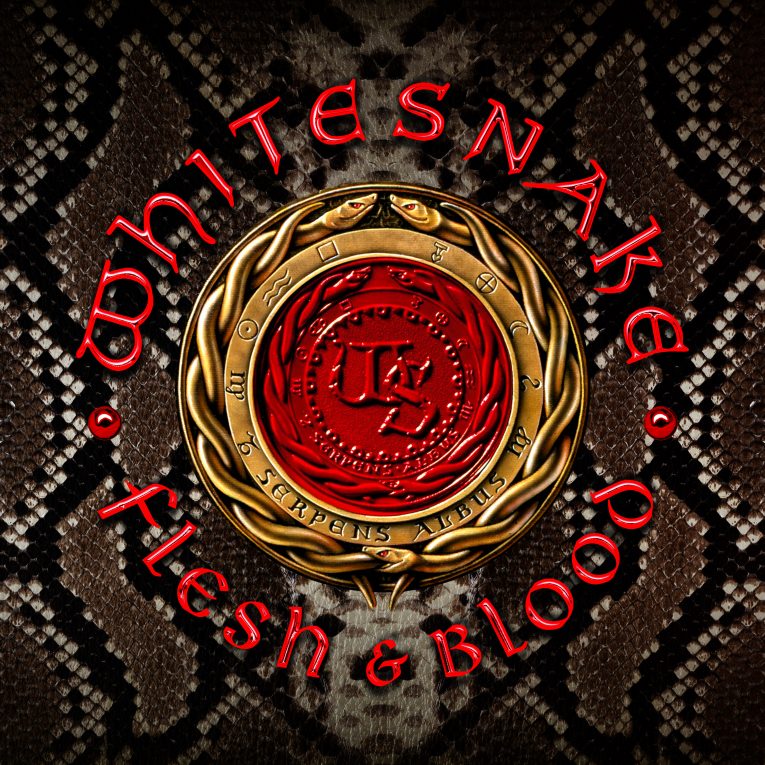 By Mike O'Cull
Whitesnake is one of the bands that has shaped and defined big stage arena rock for over 40 years. The new Whitesnake album, Flesh & Blood, is the band's 13th studio effort and is due out May 10th, 2019 on the Frontiers Music SRL label. It's an amazing maintaining-of-form from one of rock's legendary bands that's never lost a step. If anything, Whitesnake has gotten better since the MTV days and the songs on the album are loaded with that old school, rock star X Factor that still has the power to get 20,000 fists in the air.
Vocalist/mastermind David Coverdale has weathered the storms of changing fashions, stayed true to his sound, and has kept the band rocking houses and blowing minds all over the world with fresh, vibrant music. He is a gifted singer with proven hit single instincts who surrounds himself with the best-possible melodic rock musicians.
The current Whitesnake lineup is arguably the best in the band's history and brings high levels of talent and rock authenticity to this era of the group. Guitarists Joel Hoekstra and Reb Beach, bassist Michael Devin, keyboardist Michele Luppi, and renowned drummer Tommy Aldridge comprise an able and focused musical unit that, with Coverdale out front, can put down real songs and crank up the kind of heat that rock fans love.
From the opening moments of the first cut on Flesh & Blood, the energetic "Good To See You Again," it's easy to hear why Whitesnake has remained popular and influential for so long. The band has the strong, human energy that launched the rock authority only originators can command. This music is still about fire and desire, as proper rock and roll should be. It hits listeners at hip level, making them feel and move. Rock has always been about escapism of the best kind and Flesh & Blood nails that ideal directly.
"Shut Up & Kiss Me" keeps the desire theme going strong and takes the fever up a few degrees, leaving Coverdale "tongue-tied and twisted" by the young lady in question. The guitars rip and Aldridge drives the beat as if drums alone could save the planet.
The title track, "Flesh & Blood," gets heavier and features some outstanding guitar work by Hoekstra and Beach. These two have got to be one of the finest two-guitar teams working today who never sacrifice groove, harmony and feel in the name of firepower, despite their considerable chops. "Always & Forever" is further proof of this and is the kind of melodic chart-topper that Whitesnake does so well. "When I Think Of You (Color Me Blue)" is a mid-tempo heartbreak anthem that shows the smoother side of Coverdale's voice and gives us more gorgeous guitar playing.
The minor key and menacing "Heart Of Stone" is a particularly dramatic and intense about a love gone all the way wrong with a blues/rock feel that could go all night. It's a 4 AM kind of song that lets the band get soulful and emotive without losing any drive in the process.
The exotic "Sands Of Time" ends the album well, mixing a Middle Eastern guitar hook with a classic Whitesnake chorus. It's a song of all nations that keeps this set interesting all the way to its last moments.
Whitesnake flexes some mighty creative muscles on Flesh & Blood while never getting too far away from being a potent rock and roll band with a strong identity. If you live for blues-influenced hard rock, you're going to like this record a lot.
For more information about Flesh & Blood by Whitesnake: