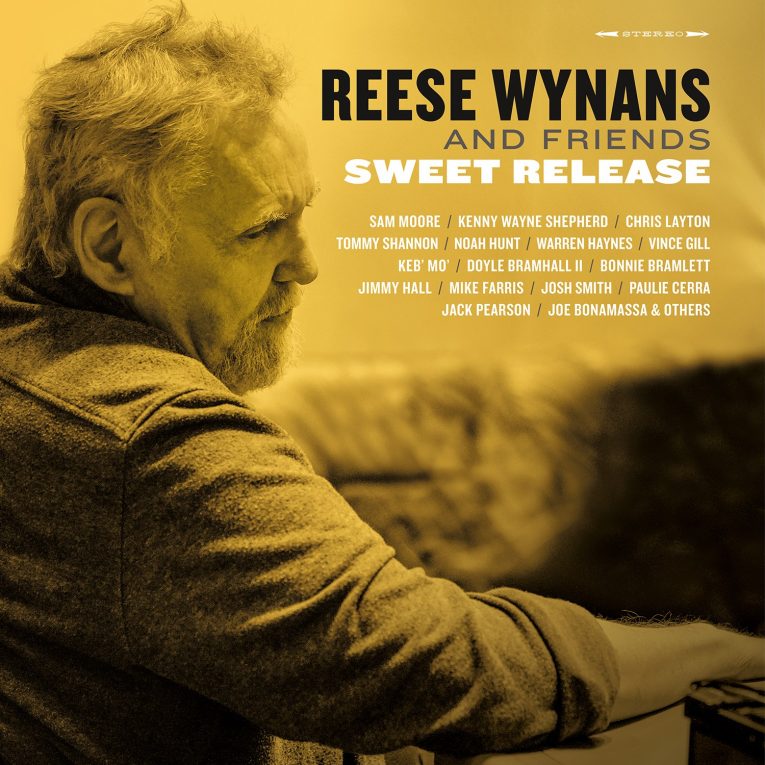 REESE WYNANS
ROCK & ROLL HALL OF FAME KEYBOARDIST AND FORMER STEVIE RAY VAUGHAN BANDMATE
 RELEASES DOUBLE LP 180 GRAM VINYL OF CRITICALLY-ACCLAIMED RECORD SWEET RELEASE ON JOE BONAMASSA'S LABEL J&R ADVENTURES
All-star guest appearances include Joe Bonamassa, Vince Gill, Sam Moore, Jack Pearson (Allman Brothers), Kenny Wayne Shepherd, Ken' Mo', Warren Haynes, Jimmy Hall, along with Chris Layton and Tommy Shannon of Double Trouble.
 WATCH OFFICIAL "CROSSFIRE" MUSIC VIDEO.
ORDER SWEET RELEASE ON VINYL HERE.
PURCHASE / DOWNLOAD SWEET RELEASE HERE.
"Wynans' brilliance is beautifully clear."– Associated Press
 "Electrifying"– Billboard
"It's easy to understand why Wynans has been in such demand for so long."– Relix
(Nashville, TN) May 10, 2019: Rock & Roll Hall of Fame member and world-renowned Nashville-based keyboardist Reese Wynans releases his critically-acclaimed, first-ever solo album Sweet Release on Double LP 180 Gram vinyl today. The special edition vinyl is available through the album producer Joe Bonamassa's label J&R adventures here.
Sweet Release, a collection of songs and collaborations honoring a paramount selection of blues-rock legends, comes following a career that's spanned over 50 years and literally hundreds of historical productions. "These songs are windows back into different eras and different times of my career," explains Wynans. "It's a collection of the songs I've played with musicians in the past, and it shines a light on blues artists that I think need a little bit more recognition."
Watch Sweet Release behind-the-scenes footage below.
Wynans recorded the album at Ocean Way: the Nashville studio where he'd previously added his magic touch to endless tracks for other artists. There he reunited with the
Double Trouble
rhythm section of
Tommy Shannon
(bass) and
Chris Layton
(drums) and added the modern guitar great
Kenny Wayne Shepherd
. Meanwhile,
Bonamassa
lent his own famed guitar skills to Stevie Ray Vaughan moments like "Riviera Paradise".
Associated Press states of the album's collaborations, "Wynans knows how to shine within the ensemble, flashing his flair without unnecessary glare."Elmore's review of the album echoes that statement, saying Sweet Release "reads like a tribute to the well-respected and beloved Wynans with a staggering lineup of guests."
Over the last five decades, Wynans has been everywhere – from cutting his teeth with the early nucleus of the Allman Brothers Band and later taking the stage with Boz Scaggs. He was part of the rise of Outlaw Country in Austin, TX with Jerry Jeff Walker and then went on to help build the '80s blues scene with Rock and Roll Hall Of Fame inductees Stevie Ray Vaughan and Double Trouble. Nowadays he's performing around town in Nashville where he currently resides and can be found most of the year on  tour with famed blues titan Bonamassa. Adding his thumbprint on piano and B3, Reese has worked with the likes of Larry Carlton, Delbert McClinton, Los Lonely Boys, Joe Ely, Doug Sahm, Brooks & Dunn, Trisha Yearwood, Martina McBride, Hank Williams Jr., Buddy Guy – and many more. Not to mention, his roughly 500 live shows with Willie Nelson, unforgettable performance with Captain Beyond for the Sufficiently Breathless record, and three albums with Carole King.
Throughout his celebrated career, the one omission on Wynans' résumé was that this fabled keys man had never released a solo record – until now. Sweet Releaseis a glorious collision of stellar musicianship, classic material given fresh mojo, and a glittering roll-call of star guests that confirms the deep respect Wynans commands on the scene. A historical collection of songs that has captured the hearts and ears of both critics and fans alike, Sweet Releasewill now be available the way it's meant to be heard – on one-of-a-kind vinyl.
Order the Sweet Release vinyl online here.
For more information on Sweet Release, visit ReeseWynans.com.
Sweet Release Tracklisting:
Crossfire
Say What
That Driving Beat
You're Killing My Love
Sweet Release
Shape I'm In
Hard To Be
Riviera Paradise
Take The Time
So Much Trouble
I've Got The Right To Be Blue
Soul Island
Blackbird
Reese Wynans Online