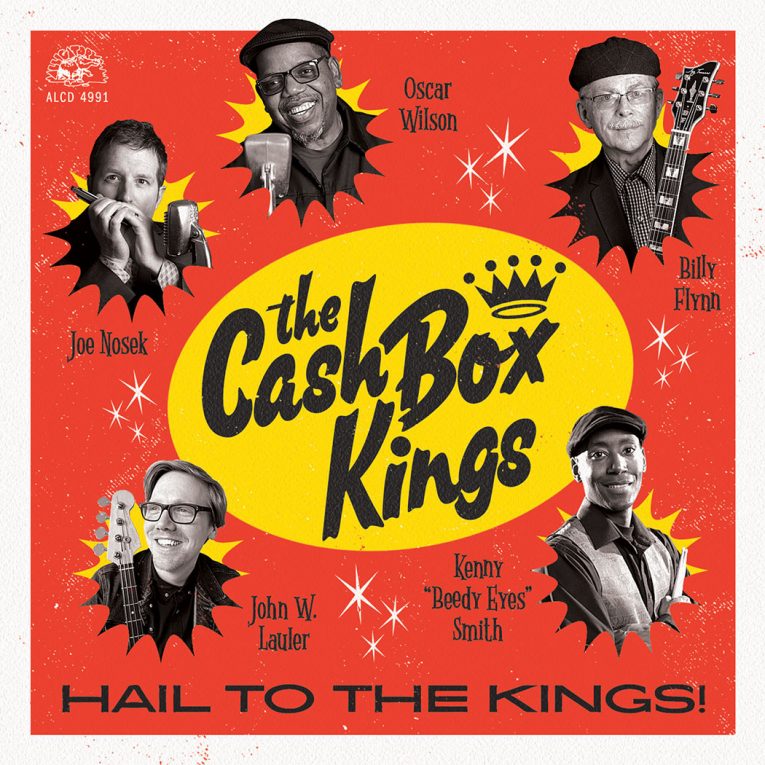 By Tom O'Connor
The always formidable The Cash Box Kings unleash their second Alligator Records release, Hail to the Kings! on May 17th. The thirteen-song collection is the tenth album of the storied band's career, which means you'll hear all the experience and confidence you would expect, but prepare yourself to be surprised by some of the innovation, both musically and lyrically, that is going to keep the blues alive and meaningful in the days and years ahead.
Piloted by Joe Nosek's harmonica and Oscar Wilson's distinctive vocals, this is a powerhouse band that works from deep inside the Chicago Blues-style groove they have truly mastered, but you're also going to hear tasty elements from the Delta as well as some swing, rockabilly, and even some straight-up rock. These explorations are only possible because each of these musicians is a king in their own right. Drummer Kenny "Beedy Eyes" Smith seems connected to John W. Lauler's bass on a genetic level while Billy Flynn's lead guitar always finds a way to push a tune to the next level. Add in some talented friends like Queen Lee Kenehira on keyboards, Little Frank Krakowski  & Xavier Lynn on guitars along with some additional drumming from Derek Hendrickson, and you've got an album full of winning tunes thrown down by a band that has come to play. Hard.
The Cash Box Kings charge out of the gate with some big, fat Chicago-rollin' blues on "Ain't No Fun (When the Rabbit Got the Gun.)" Wilson's vocals and Flynn's lead guitar both cut through the mix, injecting jump and spirit into this light-hearted but hard-driving album opener, and that's all before Nosek lays down a harmonica break that lets you know what you're in for. Such a strong opener would be tough for most bands to follow, but "The Wine Talkin'" is up to the task. With the addition of some very impressive guest vocals from Shemekia Copeland, this song is all about the duet with Wilson and the humorous wordplay between two people who are both regretting their recent choices. Meanwhile, the band chugs away on the unstoppable groove and Nosek's harmonica is icing on the cake.
Starting off with a stroll-worthy instrumental "Take Anything I Can" is one of those tunes that sounds new and classic at the same time, with its familiar tone, tempo, and message, but there's no denying the fresh energy behind it. Another showcase harmonica break is the centerpiece of this one, but don't miss out on the superior guitar work from Flynn that more than holds its own. You're not going to find a more deep-dish taste of Chicago than "Smoked Jowl Blues." Creeping in on a slow beat that never drags, this is the kind of quiet storm you would expect to hear deep into the set. Focus on the harmonica lines that respond to the vocals and the piano that adds just enough flavor to the rhythm.
Dipping into swing band territory, "Back Off" is sure to please the dancers in the crowd with its Lindy-hopping beat and call-response chorus with the boys in the band. Next up, "I'm The Man Downstairs" hews closer to the bone of that jukin' Chicago style with room for all the players to have their say and then join in the ruckus when the harmonica break comes around. The vibe gets deep on the relentless "Poison In My Whiskey." The guitar starts heavy and gets heavier, with an added wah-wah flavor that sets the proper tone for this booze-lament blues, while Nosek finds yet more ways to impress and dazzle with some hard-blowing, reed-breaking harmonica. The band follows that very real heaviness with the light-hearted, Bo Diddley beat-driven and hilarious "Joe, You Ain't From Chicago."
Demonstrating The Cash Box Kings' ability to switch tones on a dime yet again, "Bluesman Next Door" takes a serious turn, laying out some up-to-the-minute social commentary on the seemingly eternal racial issues that still plague us as a country and a people. Likewise on "Jon Burge Blues," the band minces no words and pulls no punches as it uses a traditionally structured blues to tell a tale of institutional inequality and brutality as real today as it was in the Jim Crow south. This is the kind of work and these are the kinds of songs that prove the blues today can be as important as it always has been; giving voice to the under-represented and having more to offer fans and listeners than just some nostalgia and a good soundtrack for a party.
The Cash Box Kings wrap up this winning collection with a few more bonafide blues that could be categorized as "future classics." Sounding like it was written to be the last song of the last set of a long night, "Sugar Daddy" strolls in on a long, lush instrumental of traded harmonica and guitar phrases, spinning a traditional "get your kicks while you can, people" story. The sly and winking "The Wrong Number" sends you home smiling with a modern twist on the trials and tribulations of a cheatin' man; this time getting caught two-timing his wife due to a text message to the wrong person.
Hail the Kings. Seriously.
The Cash Box Kings Online