By Martine Ehrenclou
There's nothing better to heal your soul than a Keb' Mo' concert. This blues roots master, multi Grammy Award-winning singer, songwriter, guitarist, put on a solo acoustic show at the Fred Kavli Theater, Thousand Oaks, CA on May 19, 2019. And what a magical evening it was.
If you know Keb' Mo's music, you know his soulful blues. The unmistakable voice. The fingerpicking and slide guitar. From his Grammy-winning contemporary blues album, TajMo with Taj Mahal, to his genre busting solo albums of blues, Americana, and splashes of country, he is a blues legend.
There's something about Keb' Mo's music that brings on the sun, the warmth of a summer afternoon. There's life and vitality to his music, and a certain peace and good humor about the man himself. With storytelling at the heart of his songs, Keb' is not just an outstanding guitar player, singer-songwriter, but a great entertainer. The latter is something I didn't know until that night.
Opening for Keb' Mo', was the wunderkind, acoustic bluesman, Jontavious Willis who had just turned 23. If you closed your eyes and listened to his rich, soulful voice, you could almost swear you were hearing a bluesman three times his age. That's how good Willis is. He's exposing a whole new generation to acoustic, country blues and has the chops to do it. His latest album, Spectacular Class, was produced by Taj Mahal and Keb' Mo'.
Jontavious Willis appeared solo on stage with his acoustic guitar, a single spotlight just on him. It's safe to say he blew this audience away with his blend of Delta, Piedmont and Texas blues. You could tell there were a number of people in the crowd who hadn't heard of Willis before because after he performed a few songs, their whoops and hollers were filled with surprise and delight.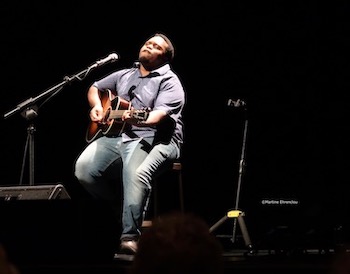 Jontavious Willis is a one-of-a-kind singer, songwriter, guitarist, multi-instrumentalist. He blended humorous personal stories into his performance and when not fingerpicking and playing slide guitar, he used his guitar for sound effects for his stories. He was fun, whimsical. He performed tunes from both of his albums, fingerpicking not just country blues but a bit of jazz and scatted along with the notes he played on guitar. What he does with the harmonica, you just have to see for yourself.
By the time Keb' Mo' appeared on stage, the 1,800 seat venue was packed. Not one seat was empty. Dressed in a blue-gray suit and dark brown hat, he greeted us with a warm smile and a twinkle in his eye. Something was in store for us that night.
The stage set was a country living room with a wood plank backdrop and a turntable on a cabinet, his guitars on stands to the side. With his soulful voice and beautiful vocal tones, Keb' Mo' treated the audience to a selection of tunes from a few of his albums, including the Delta blues number "Angelina" from his very first solo release. While fingerpicking, he also played the harmonica set in a holder around his neck. A crowd-pleasing opener that set the mood for the evening.
Keb' Mo' has his own unique brand of the blues–part groove, part foot-stompin', part heartwarming and downright beautiful. You'd be hard-pressed to find others like him.
After the moving, "Just Like You," Keb' said to the audience, "My timing is bad tonight. I was practicing with a metronome in the dressing room. Maybe you can help me."
I laughed out loud. The masterful Keb' Mo' struggling with timing? No way. But what a way to get us involved in the show. Playing slide guitar with some kind of rhythm and skill, he encouraged us to hand-clap the beat of "Am I Wrong."
And that is how the evening went. Keb' Mo' cracking jokes, singing and playing songs about love and the human condition with plenty of wisdom thrown in. You could feel the love in the room for this class act musician as he played slide on his Resonator guitar, shared personal stories relating to the songs—one for Taj Mahal, and another, "The Door" for a co-writer and presumably good friend who had passed on. Beautiful songs with meaning. Keb' Mo' created a relaxed and intimate feel for the night by talking to us as if we were old friends, all sitting in his living room, listening to him work his magic with his voice and guitar.
At one point, he stood up, put down his guitar and said to the audience, "I'm taking a break."
A break?
Grabbing an album from the stack next to the turntable in front of him, Keb' showed us an Aretha Franklin album and placed the needle on the song, "Ain't No Way." Aretha's voice flooded the venue. And just as I thought he really might take a break and disappear from the stage, he glided down the steps and started couple dancing with a woman on the floor. The crowd went wild. Breaking from her embrace, another woman reached for him and hugged him.
After the lighthearted surprise, Keb' Mo' rebooted on stage, guitar in hand. He said to us, "If I knew I was going to be in the record business, I would have practiced more." The audience broke out into laughter. You just had to love him, his playfulness. "More Than One Way Home" followed, a meaningful song with that Keb' Mo' wisdom, followed by "Just Like You" and "Life Is Beautiful."
In the middle of "Keep It Simple," Keb' stopped the song and chuckled with a shake of his head. He said to the audience, "I was going to do a harmonica solo but I forgot to put on the harmonica" (with holder that went around his neck.) Once again Keb' Mo' had us in the palm of his hand, had all of us laughing with him. And then he launched right back into the song and continued performing his brand of soulful, catchy blues. And the groove was so good, I could have listened to him all night.
With songs like "Shave Yo Legs," the lyrics spoke to every woman in the audience, I'm sure. It's about loving a woman just the way she is without all the beauty products and frills. It's songs like this and many others that focus on the real things in life that become part of the glue to Keb' Mo's music. He is a sage and you hear that in many of his songs. Take it easy, this will pass, love deeply, take care of yourself. You can't help but let those messages sink in through expertly crafted songs, outstanding guitar playing and soulful singing. There's something about Keb' Mo's music that just makes you feel good.
An hour and a half seemed like a few minutes. Keb' left the stage, and the entire audience jumped to its feet to summon him for an encore. He resurfaced and performed "She Just Wants To Dance." After making a joke about the traffic on the 405 freeway and how we'd all be facing it soon enough, he closed the show with "City Boy," a song so appropriate for those of us who struggle with certain aspects of living in Los Angeles.
What a night. As well as being an extraordinary guitarist, singer-songwriter, Keb' Mo' is also a wonderful entertainer. Go see him live.
Keb' Mo' has a new album, Oklahoma due out June 14, 2019.
For more information about Keb' Mo':