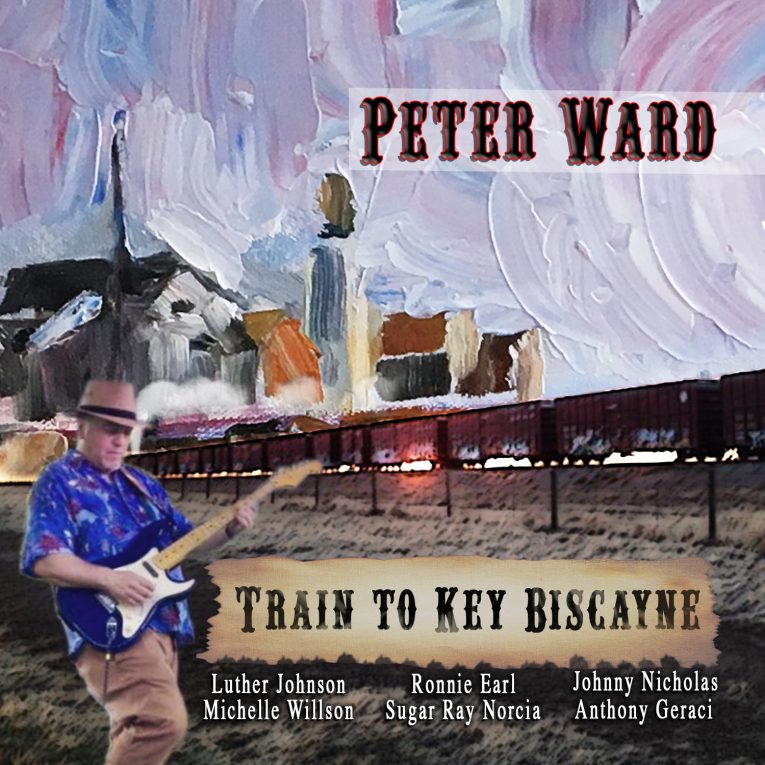 By Mike O'Cull
Peter "Hi-Fi" Ward, former guitarist for the Legendary Blues Band, is a skillful musician and songwriter with a style that melds traditional blues, 50s rock and roll, swing, and other roots ingredients into music that's as old-school as it is fresh and new. Peter Ward's second solo album, Train to Key Biscayne, is out now on Gandy Dancer Records. The set is a rollicking good time filled with memorable songs and outstanding performances by a Who's Who of East Coast blues royalty including Ronnie Earl, Luther "Guitar Junior" Johnson, Sugar Ray Norcia, Michelle "Evil Gal" Wilson, and more. Its mix of influences and players make it a bit different than a lot of blues records and its personality is immediately infectious.
The Legendary Blues Band, for the uninitiated, was the former Muddy Waters' band that featured "Pinetop" Perkins, Willie "Big Eyes" Smith, Calvin "Fuzz" Jones, and Jerry Portnoy with Ward holding down the guitar spot that once belonged to Jimmy Rogers. This gives him a lot of street cred in the blues world, although Ward's sound is nothing like Muddy's hypnotic brilliance. Peter Ward writes songs that have a slick, uptown vibe even when rocking out and he isn't afraid to stretch beyond the 12-bar and use more colorful chord changes. Most artists don't have as distinctive a writing style and Ward's creative character is a big part of what makes Train to Key Biscayne so much fun.
The album opens with "The Luther Johnson Thing," sung by (who else?) Luther "Guitar Junior" Johnson, that lets Johnson tell his story of a life spent "building a mountain of the blues" over a perfect rumpty-rump shuffle groove. It's a splendid way to kick off the record and is a guaranteed people-mover. Ward's guitar is slippery and melodic and Sugar Ray Norcia turns in some fine harmonica work, as well. "A Westerly Sunday Night" follows and kicks the energy up with its straight-ahead rock and roll beat and lyrics about school night good times in Rhode Island. Sugar Ray handles both lead vocals and harp here and Ward plays some slicked-up Western Swing double stops that are to die for. It's a cool layering of styles in a tune where many players would opt for the same old Chuck Berry-isms we've all heard before.
Ronnie Earl
brings his big Strat tone to "Blues Elixir (Ronnie's Here)" and is amazing, as if some other outcome were possible. Ward takes the lead vocal spot on this one and sounds smooth and confident. Norcia shines again on vocals on the 50s torch song R&B of "When You Are Mine," a tale of love gone wrong that's about to get better set to hip mid-20th Century chord changes that will pull at your heart. "I Saw Your Home" is almost Classic Rock and features Michelle "Evil Gal" Wilson doing fine work with the emotive lyrics.
After all of this, the record finishes up with a brief solo guitar piece by Ward called "Anthony's Son" that's dedicated to keyboardist Anthony Geraci's son Todd who recently lost part of one leg in a life-altering pedestrian accident in Vermont. It's only a little over a minute long but comes across as heartfelt and genuine and is a meaningful way to finish up an absolutely house-rocking set of music. Peter Ward has created his own personal dialect of blues music, it seems, and has an album in Train to Key Biscayne that's going to make a lot of people dance. He's one of those slightly-under-the-radar performers who really should be first on your playlist. Make it happen!
Peter Ward Online