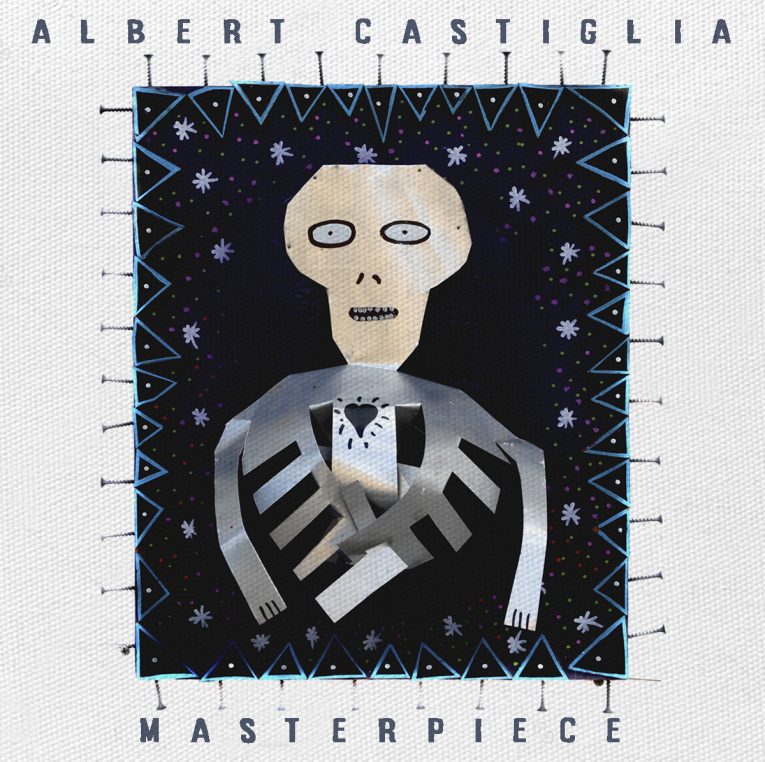 By Mike O'Cull
Albert Castiglia is the best blues guitar player in South Florida and, perhaps, anywhere. "Best" is a subjective term in music but there's no doubt that the former Junior Wells sideman packs all the goods needed to contend for that crown. His latest in a long string of solo albums, Masterpiece, will see daylight May 24th, 2019 on Gulf Coast Records, was co-produced by Mike Zito, and could very well elevate Castiglia to the upper echelon of the global blues community. He's a fine player, singer, and songwriter who has forged his own unique brand of rock-influenced blues filled with power and soul.
Masterpiece was inspired in part by Castiglia connecting with a daughter he never knew existed and that experience undoubtedly contributed to the emotional content of these sessions. The record also deals with the political and social atmospheres of the modern world and the disappointment and alienation currently felt by so many. Doing this shows Albert's bravery as an artist who isn't afraid to speak his own truth or take his own position. Castiglia touches on both the personal and the universal with this record, which is a sign of creative brilliance and it will affect all who listen. "This album is an observation of life through the eyes of a father, grandfather, husband and citizen of the world," he says, "My newly-found family brought out a perspective I never thought I'd have."
The record starts off with the tough "Bring On The Rain," a song about triumphing over the difficulties of life and not giving in to the sorrow and pain we all encounter. It's a serious, meaningful track that sets the tone for much of Masterpiece. The mid-tempo groove is hard and solid but the song has an edge-of-chaos vibe that will make anyone within earshot understand that Castiglia means every bit of what he's saying and playing. "I Tried To Tell You" is a gritty Zeppelin-ish blues about a no-good man spoken to the person who didn't take the offered warnings and got burned. It's an " I told you so" song that anybody can relate to and features Castiglia heating things up on guitar and vocals quite well. His playing sounds so live and off-the-cuff that it's hard to believe this isn't a live album. Castiglia's guitar sounds like it's in the room with you and it absolutely kills.
"Heavy" is moody, minor-key song that feels like an existential rumination on the present state of America, a place where "the days ain't getting hard, they're just getting heavy." Castiglia pulls no punches here, saying "Fear and hate are spreading like the flu./I'm a stranger in my homeland and there's nothing I can do." His playing is more reserved on this one, leaning more on a well-developed sense of phrasing than on the horsepower of the previous tracks.
The title song, "Masterpiece," is a full-on gear shift into a
Dylan
-esque folk/rock sound that features emotive lyrics that seem to be about his new-found daughter and supports them with a gentle groove and some lovely slide playing. Castiglia is as good a lyricist as he is a guitarist and his songs will stick with you before his guitar licks will. One of the best and bravest songs on
Masterpiece 
is "Thoughts And Prayers," which confronts those who "keep our ammo beside our Bibles." Again, Castiglia speaks his peace with authority and makes the song a lament as well as an admonishment. He also turns in some of his most intense guitar playing on the album here, violently slashing at his instrument in an effort to release the beast modern times have put into his soul.
Masterpiece ends with the practically lo-fi guitar and drum slow jam "I Wanna Go Home," a track that could almost pass for a live recording from Chicago's original Maxwell Street scene. It's brash, dirty, and loud and keeps the record completely real right to the finish line. Albert Castiglia is so much more than just another hot guitar player and it's high time the world at large acknowledges him for it. He's an outstanding songwriter who has crafted an original sound without leaving the blues/rock idiom or watering down his ideas. Not many musicians can say the same or lay it down like Castiglia does on these songs. Buy this record at once!
Albert Castiglia online: