By Martine Ehrenclou
Guitarist, singer-songwriter JP Soars is not just any blues artist. A 2009 winner of the International Blues Challenge in Memphis and the winner of the festival's Albert King Award as Best Guitarist, JP Soars is known as an outstanding, multi-faceted guitar player. A gritty and soulful vocalist, Soars is a prolific songwriter and he and his band, The Red Hots (with Cleveland Frederick and Chris Peet) have performed at major festivals all over the world.
Based in South Florida, JP's albums have received Top 50 status on the Living Blues charts and he's received Blues Music Award nominations for "Best Contemporary Male Blues Artist of the Year," "Best Blues CD" and "Album of the Year."
JP's fourth and latest album, Southbound I-95, is a blend of blues, soul, R&B, surf, reggae and roots music. The CD features guest appearances by Albert Castiglia, Jimmy Thackery and more.
JP has a new album coming out mid-summer, produced by Tab Benoit and recorded on Benoit's record label, Whiskey Bayou Records.
And in his spare time, JP is a member of the band, Southern Hospitality, with Grammy Award nominee, Victor Wainwright and Damon Fowler. He kindly took time out of his busy touring schedule to speak with us by phone.
Martine Ehrenclou: How did you end up getting into the blues originally?
JP Soars: I was 18 years old. I put my name in a raffle at a music store to win a guitar and two tickets to go see B.B. King, and to meet him backstage and have him sign the guitar. About two weeks later, I came home and my mom's all excited and says, "This radio station called and they said you won this $1200 guitar and tickets to go see BB King." I'm thinking there's got to be some kind of catch. (Laughter.)
ME: (Laughter.) Wow.
JP: I called up the radio station and they told me to just go down to the music store. In my mind, I'm still thinking there's got to be some kind of catch—there's no way they're going to hand over this $1200 guitar. I went down to the music store, gave my ID, a lady brought the guitar out, and says, "Here it is. It's your guitar." I still couldn't believe it until I actually got it home and opened the case and laid the guitar out on my bed and looked at it. I could not believe this thing was mine. About three days later, my dad and I went to see the B.B. King concert, and the tickets we had were front row center.
ME: No kidding.
JP: I got to sit there at 18 years old, front row center, and watch B.B. King. My mind was blown. I remember the music was amazing and just a super-tight band. This is 1988 so B.B. was still young. But what I remember most from that whole experience was when I went backstage and met B.B. King. He sat down and I gave him the guitar to sign and I remember how he made me feel when he spoke to me. He was very humble and he knew how to say things and handle himself so I felt comfortable and at ease around him. He just he had this way about him. Just so humble. I remember him looking at the guitar and saying, "This is an awfully pretty guitar. You sure you want me to sign it?"
ME: Oh my goodness. (Laughter)
JP: (Laughter) That's what he said. Then he told this little story about when he was growing up, he used to work in the cotton fields, and he had to hide out to practice guitar. In hindsight, years later, I think about what he was telling me. I almost feel like he told me that for a reason. Like, if this is what you really want to do, do it. Don't worry about all the other stuff.
ME: He had a real influence on you.
JP: Huge, huge influence. When we left there that night, my dad said to me, "You need to learn to play that kind of music." I knew from that time I saw B.B., that the blues was timeless music. I said to myself, I can go play that music for my grandmother. I could be playing the blues till I'm 60, 70, 80 years old. The blues is where most popular music comes from. Meeting B.B. absolutely changed my life and I still have that guitar. It's still sitting under my bed.
ME: Under your bed? You don't have it hanging on a wall or anything?
JP: No, I'm eventually going to have a case built for that one and also for the one that was given to me when I won the International Blues Challenge in 2009, which for the record, was almost exactly 20 years later to the date that I won the raffle and met B.B. King. When I won that International Blues Challenge, I also won the Albert King Guitar Award. They gave me a white Gibson Les Paul with gold hardware on it. When I got home, I pulled it out of the case and I laid it on the bed right beside the other one that I got from Memphis, and I looked at the date, February 22nd. Then I thought, wait a minute, it's February 9. This is almost exactly 20 years later.
ME: Well, in 20 years from now, you have to tell me what the next thing is. Let's talk about your latest album, Southbound I-95. It's a great album, I really enjoyed it. Can you tell me about it?
JP: I'd worked on it for a while. We spent well over two years working on that in between traveling and touring and doing all the other stuff that we got going. It's the fourth album so I feel like I've evolved as a musician, as a songwriter. This one's very diverse, but I tried to make it more cohesive than the last release, and just trying to develop my own sound and my own style. And there's a plethora of wonderful musicians on there.
ME: Yes, I was going to get to them but go ahead and list them all. (Laughter)
JP: (Laughter) None of it was really planned out. It just kind of happened. With Jimmy Thackery, he was playing a gig in town at The Funky Biscuit here in Boca Raton. Lee Oscar, a harmonica player who played with WAR and tons of other folks, I met him on the on the Blues Cruise when I was on there with Southern Hospitality (band). Lee plays on a song called "Across the Desert", which is on the CD. It's a humbling experience to get Lee Oscar playing on my CD.
ME: Albert Castiglia played on your album too, right?
JP:  Albert did. Albert and I have been friends for a long time. I said, "Hey Albert, maybe you could come and lay down a solo and do a guest vocal on this song, "Deep Down in Florida." He was totally up for it and came in the studio and just laid his parts down, and I thought what a perfect song. And then Jason Newsted, who played bass for Metallica during some of their heyday, he's playing bass on the title track of my album.
ME: That's exciting. I want to ask you also about a song on your album, "Sure as Hell Ain't Foolin' Me." It has a really nice funky vibe. Love that song. Can you tell me about it?
JP: Sometimes with songs they come real fast and then sometimes I work on them for months. That one was written in about 20 minutes. It was one of those songs that just came together super-fast.
ME: Can you tell me about your songwriting process?
JP: I never plan to sit down and write a song. I have a ton of guitars at my place. When you walk in my living room, I have guitars pretty much everywhere. A lot of times I'll pick one up and come up with a little riff or idea. I record those ideas on my voice memo on my cell phone, and I do it as soon as I come up with the idea because I've learned from the past that if I don't, then I forget about it. I've got a ton of those riffs and ideas on my phone. A lot of times, I'll go back to those. And the lyrics can just happen at any given time. I mean, it can be an incident or a situation that inspires me. Sometimes I'll write a verse and come back to it months later. And that's how the stuff comes about.
ME: If you have a library of riffs in your phone, do you go back to them when you have songs you need to write for an album?
JP: Yeah. A prime example is we're getting ready to release this new CD on Tab's (Tab Benoit) label. We went down there for six days to record in Tab's studio. My drummer and I, who's also playing bass on that CD, and Tab's playing drums. The day before I left, I literally I went through my voice memos, and I picked out about 15 ideas and thought, "This kind of sounds like a New Orleans party. This kind of has a swampy feel to it or a funky feel."
We got down to Houma, Louisiana to the studio, and we started recording as soon as we got there. Unpacked our bags, plugged in guitars and Tab had everything ready to go. Literally 20 minutes after we got there, we were already recording.
I said, "Okay, I got this riff. Let's jam on this for a little while." And Tab would record it. A lot of the songs wound up being the first take. I figured out that when you're playing together for the very first time, your mind is in a reactionary mode as opposed to thinking, "Oh, what did I do last time on here, I better try and do that again." Your mind's in a response mode. There's a certain chemistry, a certain magic that happens among the players when that's going on.
Tab would always hit the record button, even if we were just jamming on it. He knows that's how you get the good stuff. We recorded that whole album in five days. We wrote eight songs and then added another four. We left there and had a whole CD recorded.
ME: That must have been an incredible experience.
JP: It was amazing and it was magical to just go there and shut our phones off. I wasn't checking emails, I wasn't answering phone calls. I wasn't thinking about anything but creating music and we got into that mode. I've never really been able to do that. It was awesome.
ME: Tell me about the magic that happened between you for those five days.
JP: When we recorded in his studio, just the three of us down there, nothing else going on but just creating music and recording music. It was very special and magical. We would start recording at about two in the afternoon and then we'd finish up around 11 at night. We'd be listening back to this stuff, and Tab likes to drink, and we had some fun drinking with him too. We would literally stay up till the sun came up, listening back to what we had just recorded, drinking, carrying on, laughing, telling stories. He's got some doozies too. He's friends with Willie Nelson, and Steven Seagal is a big fan of his. So, Tab's telling us all these crazy stories, and we're telling him crazy stories.
ME: That sounds like a lot of fun.
JP: I'd go to sleep and then wake up at eight in the morning and I'd have a lyric or an idea in my head. I'd jump out of bed and go write it down and then I go back to sleep. The same thing happened a lot there. That's how I came up with a lot of the lyrics.
ME: That's so creative.
JP: I almost thought this stuff was being sent to me, almost like a spiritual kind of thing going on.
ME: I totally get that. You're not distracted by other things, you're in that zone, and you just keep tapping into it.
JP: Yeah, we become like a vessel almost. Where Tab lives, it's in the middle of nowhere so there's nothing really around. No distractions. He actually came up with the lyrics for one of the songs called, "Lonely Fire." I had the "Lonely Fire" chorus perfect, but I had no idea what to write next when we were recording it. A couple days later, Tab came in the morning and he said, "The lyric fairy came and visited me last night." He had the lyrics for the tune written up.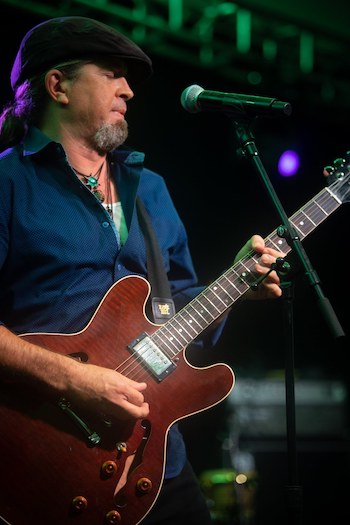 ME: Can you tell me about the new album?
JP: It's called, Let Go of the Reins. The reason I titled it that was because all my blues CDs that I recorded, I put out on my own label, so it was our productions with no management and no label. The title, Let Go of the Reins is because I relinquish all control in signing to a label. It will be a mid-summer release on Whiskey Bayou Records. Tab's playing drums on the whole thing. There's definitely some of the funky vibe of New Orleans.
ME: Tell me more.
JP: It's really fun. I can't wait to go out and play this stuff with Tab. I'm supposed to be touring with him and we'll open the show for him. He'll play drums. I don't know how he does it or where he finds the energy to play a set on drums and then get up and do his own show as well, but he does.
ME:  Are you going to become part of the Whiskey Bayou Revue?
JP: That's exactly it. There's plans for doing that. I actually just met Eric McFadden for the first time who has a CD out on Tab's label. He came to a show we were playing a couple of weeks ago at the Funky Biscuit and he sat in. We really hit it off and had a blast jamming. I'm looking forward to winding up on Whiskey Bayou Review with Eric McFadden. I jammed a lot with Eric Johanson too, Eric's great.
ME: He's a hell of a player. Well, I've taken up enough of your time. Is there anything else that you'd like to include today?
JP: Just that I'm very thankful that I get to do what I do. I feel blessed every day that I get to do it and there's nothing else that I'd rather be doing. I play music for people and put smiles on their faces and that's the reward for me when people come up and they say thank you after a show and they're happy. I'm very blessed. Thanks to all those people that allow me to do what I do.
ME: That's so cool.
JP: And thank you for the interview, Martine, it's really made my day.
ME:  It's been so interesting talking to you. Thank you for making the time today.
For more information on JP Soars: