By Tom O'Connor
Carlos Santana will be releasing his latest album Africa Speaks on June 7th through Concord Records. This eleven song, Rick Rubin produced, collection is an arresting and significant piece of work from the already beyond legendary Rock/Latin/Jazz guitarist and musical/cosmic ambassador.
After five decades of ground-breaking musical explorations, Carlos Santana is at the enviable point in his long career where he is free to follow his musical heart wherever it leads him. This time around, the 10-time Grammy winner and Rock & Roll Hall of Famer has focused his energy on returning to the ultimate "source" of all things musical, and human: Africa. While I'm sure spinning these tunes would energize any Summer party, this isn't a Summer party album. Africa Speaks isn't background music. These are beats and sounds that instantly grab your attention not by clamoring for it, but by touching something deep and unnamed that you might not have known was a part of you.
Playing with family, familiar friends and some ridiculously talented guests, Carlos Santana and Rick Rubin have, seemingly casually, captured some musical magic on Africa Speaks that sounds both new and ancient, both spontaneous and pre-destined, both otherworldly and DNA-familiar. You'll want to strap in and listen close.
Title and opening track "Africa Speaks" introduces itself with a spoken monologue, clearly stating the theme of the album and letting you know what you're in for; a celebration of the sounds and rhythms that have been the soundtrack to our human journey since long before guitars were invented. A full two minutes after the opening spoken word section, the song finally settles into a piano and conga driven rhythm that supports a choir of vocals and Santana's piercing guitar breaks. Carlos then ups the ante on "Batonga," an aggressive, jazzy excursion driven by the poly-rhythms of the drums and congas, and aided by some equally fierce Hammond B3 work from guest David K. Mathews.
Guest Spanish vocalist Buika, a force throughout the album, is especially riveting on "Oye Este Mi Canto." The tune launches itself sounding like a seduction until about halfway through, when the vibe gets funkier behind another crisp and astonishing Santana lead break. But even that remarkable tune feels like table-setting once "Yo Me Lo Merezco" starts flowing from your speakers. You don't have to speak the language to be moved and transported by the absolute power of these vocals and mesmerizing music. In the lead break you can't help but hear Santana's heart and soul getting pushed out of his guitar. You're hearing a pure musical vessel responding to the vibrations around him.
After all the chaos and catharsis of the previous two songs, "Blue Skies" slips in on quiet cat feet, with piano and bass building the foundation for a nine-minute jazz/rock odyssey featuring some luscious guest vocals this time from the UK's Laura Mvula. Expect this jam to go long and strong during some upcoming Summer shows because, in a live setting, this song could go anywhere.
Carlos and the band apply a bit more discipline to "Paraisos Quemados" keeping it (relatively) tightly tethered to a funky, good-time bass line and in-the-pocket guitar groove. You're not going to find anyone who can't bob their head, or shake their behinds, to this one. In a sentence I never thought anyone would (ever) have reason to write: Things get even sexier with the addition of an accordion on the next track. "Breaking down the Door," seduces you with a smooth and saucy rhythm, call-and-response verses and yes, an accordion line that feels just right – and all this before you even get to a remarkable trumpet solo that Santana uses to launch his own dazzling lead break.
Just when you think you've been as impressed as is possible, along comes album standout "Los Invisibles." This passion-driven song opens with a simple rhythm and an almost Middle Eastern riff/motif that snakes throughout and sets the stage for another brilliant vocal performance from Buika and some wah-heavy, grooved-out solo breaks from Carlos. The song pairs well with "Luna Hechicera," a lighter, but equally groovy and highly danceable workout that benefits from the spot-on percussion of Karl Perazzo and the powerful, all-in-the-family drumming of Cindy Blackman Santana. The listener is then eased into "Bembele" on soft chords and plaintive vocals, as the rest of the band slowly joins in to build a velvet freight train of a rhythm in spite of the gentler vibe. As always, Santana's lead floats on these poly-rhythms, exploring spaces and moments you didn't even know where there.
According to press materials, Santana and Rubin recorded as many as 49 tracks for this collection, and in case that isn't mind-boggling enough, dig this: They recorded them all in just ten days. This explains why all of these songs stand out the way they do – with so much new material to pick and choose from, every song had to be especially spectacular to make the cut.
Album closer "Candombe Cumbele" is certainly no after-thought. This climactic, cowbell-driven song proves to be a worthy, and at times epic, finale to the collection. All the elements you've been hearing come together here: the poly-rhythms of the percussionists, the heart-rending vocals from Buika, the agile bass and, hovering above it all, Carlos Santana channeling the vibe and translating the cosmos directly into your ears.
Together Santana and Rubin have created what might well become yet another career highlight for both of them. Taken together, these tracks transport you to someplace new by reconnecting you to some of the oldest ideas and grooves that exist. The result is a collection that will remind anyone who is willing to listen of our shared humanity and common origins.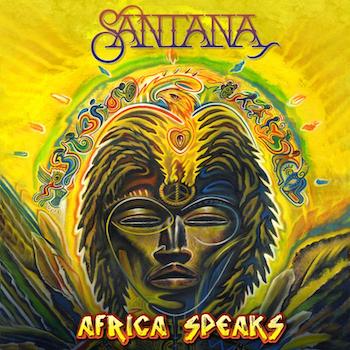 For more information on Africa Speaks by Santana: