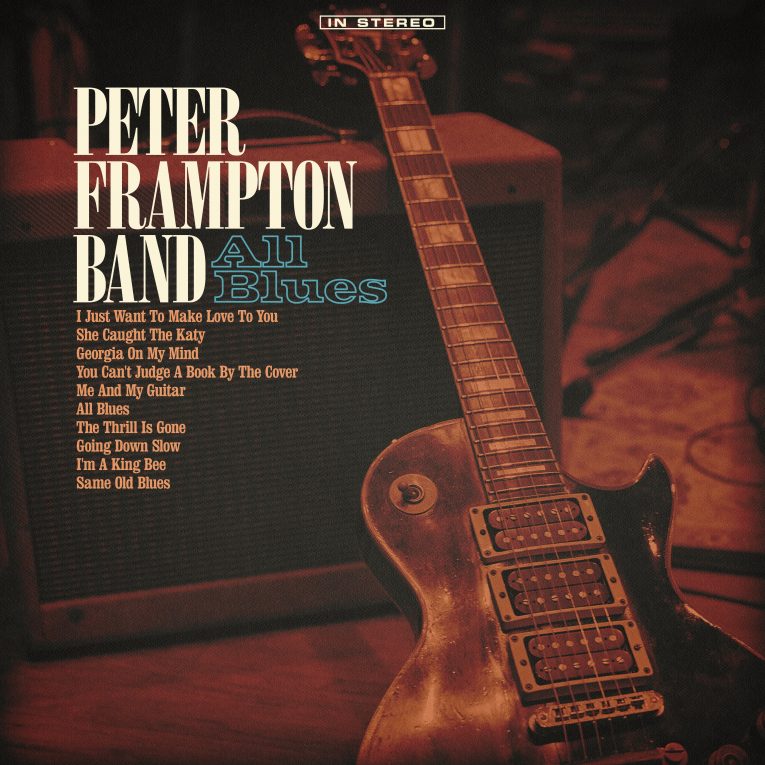 By Mike O'Cull
Enduring rock music legend Peter Frampton is set to release All Blues, an all-covers collection of Frampton's favorite blues classics that will be available June 7th, 2019 via UMe. Frampton tracked the album live in his own studio in Nashville with his mighty road band that includes Adam Lester (guitar/vocals), Rob Arthur (keyboards/guitar/vocals), and Dan Wojciechowski (drums). Peter also called upon some of his extra-talented friends for guest appearances, and listeners are treated to contributions from heavy-hitters Kim Wilson, Larry Carlton, Sonny Landreth, and Steve Morse.
Peter Frampton explains, "I have always loved to play the blues. When we formed Humble Pie, the first material we played together was just that. For the last two summers I had been playing a handful of blues numbers every night on stage with Steve Miller Band. I enjoyed this immensely and it gave me the idea of doing an 'All Blues' album live in the studio with my band."
The songs here are pulled from the canon of blues and jazz that include well-loved numbers from Willie Dixon, Miles Davis, Slim Harpo, B.B. King, Hoagy Carmichael, and others.
Sadly, the record is a farewell of sorts to his fans, as Peter has been diagnosed with the autoimmune disease Inclusion Body Myositis (IBM), a progressive muscle disorder characterized by muscle inflammation, weakness, and atrophy. This will affect his ability to play guitar and Frampton has decided to retire from the road after one last 50-some date run this Summer called the 'Peter Frampton Finale – The Farewell Tour' presented by SiriusXM and produced by Live Nation. The tour will feature special guest Jason Bonham's Led Zeppelin Evening, as well as Julian Frampton on select dates, with additional surprise guests. $1 of every ticket sold will benefit The Peter Frampton Myositis Research Fund at Johns Hopkins.
Peter Frampton, still at the top of his game, sounds great on these cuts and the vibe and energy of everyone involved tracking live is joyously reminiscent of The London Howlin' Wolf Sessions, a landmark record by any standard.
All Blues opens with Peter Frampton's take on Willie Dixon's "I Just Want To Make Love To You" that features Fabulous Thunderbirds frontman, Kim Wilson on harmonica. The two stars don't try to recreate the sacred Muddy Waters original version but play it like a new song written that day, keeping it fully in the present.
Next up is a sublimely grooving run at Taj Mahal's "She Caught The Katy" that gives Frampton the chance to display a high degree of melodic playing rooted in the B.B. King style and expanded by his own, personal vision. This is immediately followed by Frampton's gorgeous instrumental version of Hoagy Carmichael's famous "Georgia On My Mind." His playing is dynamic, expressive, and toneful, and Peter takes his melodicism even farther than the previous track while still maintaining a rock guitarist's identity. His switch to the rolled-off neck pickup sound midway through, adds a cool, subtle ripple and recalls Clapton's "Woman Tone."
These three consecutive tracks opening this record are a strong statement of his love for this music and, if you're not into it by this point, check your vital signs because something's wrong.
Frampton opens things up even more with a soulful cover of Miles Davis' "All Blues" featuring the great Larry Carlton that's full of the kind of late-night headspace and gentle brilliance. This one shows the versatility and artistry contained in this group of musicians and is one of the record's finest selections. Frampton also does an almost-straight cover of B.B. King's "The Thrill Is Gone" right down to the string parts. Slide guitar master Sonny Landreth guests on it, dropping some of his slippery magic, but Frampton holds onto the emotional timbre of King's original in a show of wisdom and respect.
Howlin' Wolf's "Going Down Slow" sees rock/fusion ace Steve Morse dropping in to bend the blues out of shape as only he can. His licks come from a whole different place than most guitarists do and he shows how far it's possible to stretch the form without sacrificing soul. The song is also an ironic commentary on Frampton's health situation and station in life, opening with the lines "If I never get well no more, I have had my fun… Oh, my health is fading. Oh yes, I'm going down slow."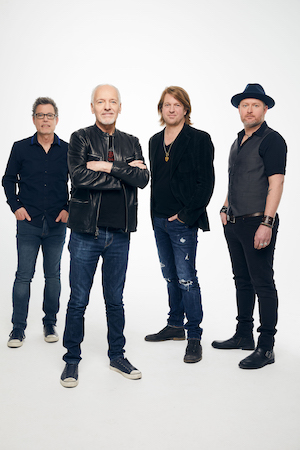 The record finishes with the piano-heavy jazz/blues of Don Nix's "The Same Old Blues," a song that brings the feel down low and the emotional content up high. The song comes across as an end-of-the-night goodbye from someone who really doesn't want to go quite yet and Frampton's performances on this are deeply touching.
All Blues is an obvious labor of love for Frampton, showing his fans his continued devotion to blues music and to the actual act of playing it. He's been as big as it gets but still digs in and plays hard when the red light comes on. Show him some love if he comes to your town this year. He deserves every bit of it. Well played, sir, well played.
For more information on All Blues by Peter Frampton: