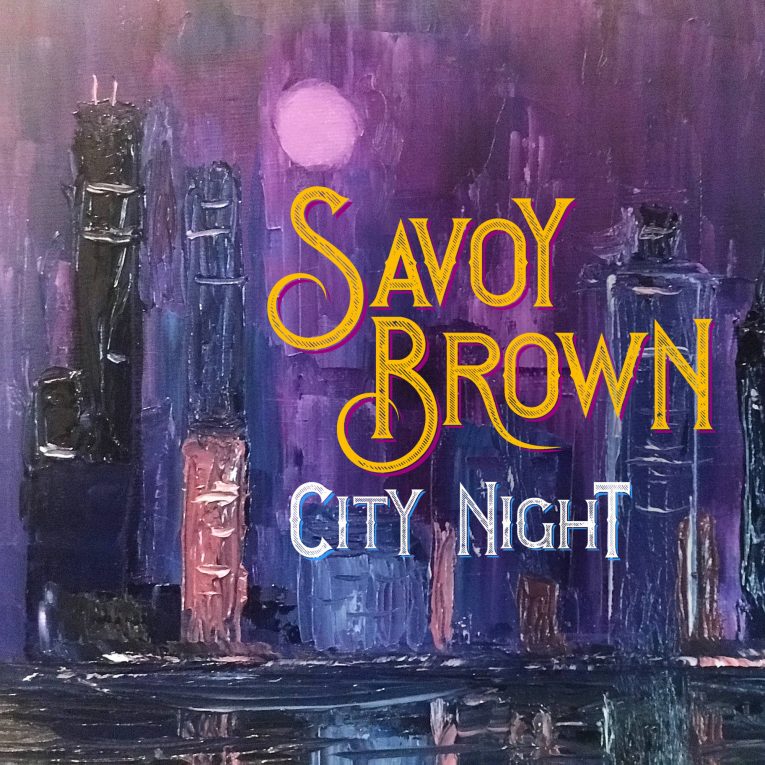 By Tom O'Connor
The legendary Savoy Brown band returns with the June 7th release of their new album City Night through Quarto Valley Records. Led by guitarist, founder and lately lead singer Kim Simmonds, the Savoy Brown band has been an unstoppable force in rock and blues for over five decades.
After finally landing a number one song on the Billboard blues charts in 2017, it is clear Kim Simmonds has plenty more to say and play, and it is all worth a listen.
Any band with a 50+ year history is bound to have a complicated genealogical chart of former members, and Savoy Brown is no exception. This band has spawned players who've gone on to further success in bands such as The Kinks, UFO, Foghat and Fleetwood Mac. The current "power trio" configuration with Pat DeSalvo on bass and Garnet Grimm on drums has been solidly in place for more than a decade and you can hear that mutual respect and confidence in every airtight tune in this 12 song collection.
City Night opens with the trio hammering a relentless, swaggering "Jean Genie"-like groove, on "Walking on Hot Stones" that gives way to some introspective, semi-spoken vocals from Kim Simmonds that, in turn, serve as a counterpoint to his brash and unapologetic guitar playing. This is the template you'll hear throughout the collection; somewhat laid-back vocals floating over full-tilt boogies and blistering guitar breaks.
This is a tight and powerful trio, so "nuance" isn't featured on the menu. That said, you're still going to hear plenty of variety here. "Don't Hang Me Out To Dry" is another straight-ahead rocker with just a taste of vintage ZZ Top hoodoo, that showcases Simmonds' confident, whispered vocals and confidently screaming guitar. Likewise, the hint of ska rhythms on "Payback Time" is just another flavor this band can casually pull out of its bag of tricks. Then "Red Light Mama" comes along sounding like a song the Georgia Satellites probably wish they had written.
As "Conjoure Rhythm" unfolds, you'll again hear initial hints of vintage Texas blues/rock a la ZZ Top in the relentless four-on-the-floor groove and the sly, knowing vocals delivered without any unnecessary flourishes. In a collection of tight rockers, this tune seems like it would be especially explosive live. The vibe turns to Chicago-style big city blues in "Neighborhood Blues." When Simmonds opens the song with the line "I'm tired of living in this neighborhood" you know he is talking about every level; from the dangerous local block to the national malaise, and even the bad neighborhoods we sometimes occupy in our own heads.
Kim Simmonds and the band turn yet another corner on "Selfish World," which dials back the volume and bluster to focus on some elegant chord work and graceful lead breaks with a smidge of broken-hearted Peter Green-like essence. The band comes roaring back sonically with "Wearing Thin," which opens with a salvo of guitars crashing against DeSalvo's breakwater of a walking bass line. There is nothing thin about the deep and wide groove here.
Title track "City Night" continues to play the same, strong cards we've seen so far, with its dialed-in rhythm and conversational vocals, but it is the masterful extended solo break by Simmonds near the end of this 6+ minute opus that sets it apart.
Ten songs in, the band throws a few unexpected curves at you, starting with a little extra guitar fuzz and a rolling Bo Diddley beat on "Hang in Touch." The result is a solid rocker that would have had my vote for album opener. We're then taken several miles deeper into the voodoo swamp on the dark and sweeping "Superstitious Woman." Simmonds and the band take their time exploring this song and mining every ounce of rock goodness it has to offer. Closing out the album "Ain't Gonna Worry" has the band driving into the sunset on the kind of powerful eight-cylinder groove necessary to keep up with Simmonds relentless (and peerless) guitar work.
As I said earlier, don't expect nuance from this dominating and deeply experienced power trio. Expect to be thoroughly and delightfully pummeled into rock bliss. That 2017 chart-topper was no fluke. Kim Simmonds and Savoy Brown still have something to say and plenty of vital music to make. I wouldn't be surprised to see them bobbing up near the top of the blues charts with this one too.
For more information on City Night by Savoy Brown: