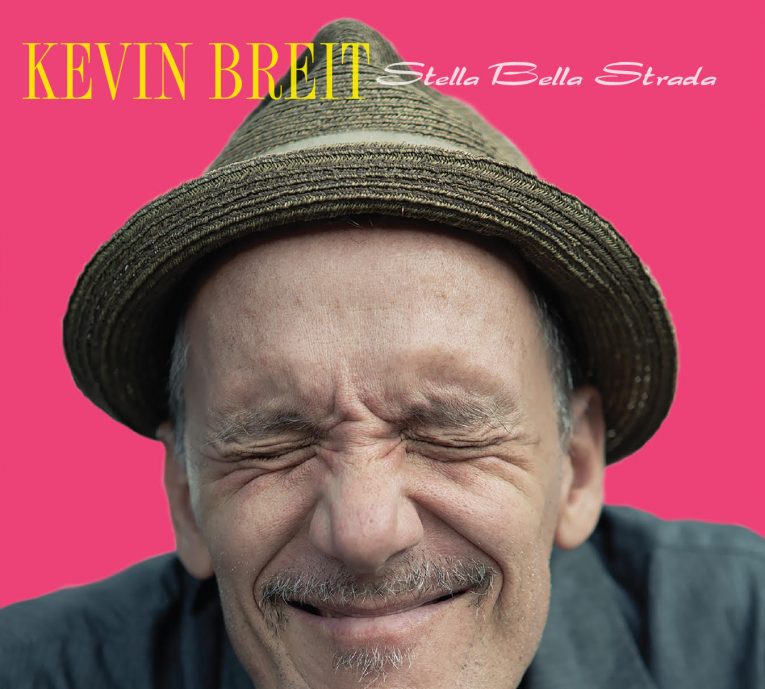 By Mike O'Cull
Multiple award-winner, Kevin Breit is an iconoclastic guitarist and musical visionary who exists in a land somewhere between Derek Trucks and Frank Zappa. He has worked with luminaries including Cassandra Wilson, Norah Jones, k.d. lang, Céline Dion, and Roseanne Cash and has appeared on recordings that have earned a total of ten Grammy Awards. His latest release as a leader, Stella Bella Strada, hits retail June 7th, 2019 on Stony Plain Records and is an innovative, expansive effort that puts Breit's border-less creative style on full display and is recommended to those fans who think they've already heard it all.
Folks, we're pretty certain you haven't heard anything like this yet.
Like Trucks, Kevin Breit has a beautiful, blues-influenced slide guitar style that he uses like a vocalist. It's clean, expressive, and entrancing. Where this all gets interesting, however, is listening to Breit inject his playing into places slide guitar normally doesn't go. He also avoids every typical slide player cliché, has an outstanding ear for melodies, and a willingness to go outside and dissonant where most would play it much more safely. Just like Sonny Landreth, Breit has developed his own dialect of slide. He plays up the contrast between sweetness and grit and has a unique, self-assured sense of phrasing that's all his own. Imagine Marc Ribot playing more slide and you'll start to get the picture.
Kevin Breit has been honored with a Maple Blues Award, Gemini Award, National Jazz Award, Canadian Folk Music Award and two Juno Awards.
Stella Bella Strada opens with "A Common Vow," a short, beautiful track that finds Breit doing his melodic vocal sound over a string section. It has a quiet majesty to it and lets you know that whatever is coming next isn't going to sound anything like Elmore James. Next is "Buttons And Zippers," an engaging cut that features Kevin getting down over a horn-backed New Orleans funk sort of verse that connects to a soaring, major key chorus almost reminiscent of Chicago. Breit isn't afraid to employ unusual lines and note choices over the funk sections and lets them crash freely into the melodic bits that bring everything home again. He clearly has bigger ears than most guitarists do and seems to work from a place where nothing is off the table.
"Kick At The Grape" touches on Zappa-esque lunacy and sounds like Kevin Breit playing with the world's weirdest marching band. You won't know what to make of this one at first, so best to let it wash over you a few times until you start to get it. "Marcello Loren" sounds like the theme to a 1960s Italian romantic comedy and emphasizes horns, organ, and vocals more than guitar, which shows off Kevin's composition chops. Breit writes fearlessly and never treads the well-travelled path. "Mother's Cupboard" again balances sweet, dissonant, and unexpected sounds in a way that will keep listeners hanging on every bar to find out what Breit is going to play next.
The title track, "Stella Bella Strada," is more avant-garde slide and compositional brilliance and is impossible to describe as being part of a single genre. Honestly, most of the music here falls into Breit's own genre and that what makes this album so much fun. If you're looking for another paint-by-numbers slide player, you'd best keep looking. This is intellectually-crafted music and true personal expression that stands in no one's shadow. Kevin Breit smashes expectations to smithereens in a most glorious way and will leave you with a new conception of what slide guitar is all about. There are plenty of hot-lick artists capable of keeping the roadhouses of the world juiced up and dancing. Kevin Breit vibes like someone doing art for art's sake and belongs in a category of his own. Bored with guitar music, you say? Try this one on for size.
Kevin Breit Online