Jontavious Willis the Future of Acoustic Blues
By Martine Ehrenclou
To listen to Jontavious Willis sing and play guitar, is to witness the future of acoustic Blues. This 23 year-old multi-instrumentalist just released his newest album, Spectacular Class, produced by Grammy award-winning artists, Taj Mahal and Keb' Mo'. Willis wrote all the lyrics himself, and the timeless album features his dynamic, soulful vocals and all types of Blues: Delta, Piedmont, Texas and Gospel. His fingerpicking and slide chops dazzle, but what stands out is his style of playing multiple instruments and a voice that touches the roots of country Blues.
There is a definite authenticity about Jontavious Willis, something Taj Mahal spotted in him, describing Willis as the "Wonderboy" and "the Wunderkind." He's a natural entertainer, infusing humor and stories into his music and performances.
Hailing from Greenville, Georgia, Jontavious Willis' debut album, Blue Metamorphosis, won Best Self-Produced CD Award 2018 in The International Blues Challenge. Willis has been on tour solo and opening for Taj Mahal and Keb' Mo'. He took the time out of his busy schedule to speak with us by phone.
Martine Ehrenclou: I recently saw you open for Keb' Mo' in Thousand Oaks, California.
Jontavious Willis: That was fun. We did it a little over a week ago.
ME:  You looked like you were having a great time. It was a fantastic show.
JW:  Thank you.
ME:  I love your new album Spectacular Class. Can you tell me a little bit about how it came about?
JW:  I met Keb' (Keb' Mo') through Taj (Taj Mahal) and me and Keb' started talking about the possibility of doing an album.
ME:  How did you initially connect with Taj Mahal?
JW:  Taj had seen a video of me on YouTube and we met in 2015. When I opened for him in March 2017, It went so well that he got me in contact with Keb'—both of them were doing a tour together. I opened about 30 shows with them across the U.S. and that's how I got to know Keb'.
ME:  I read that Taj Mahal gave you your first break. Can you describe it?
JW:  It was August 2015. I had never played for more than 75-80 people and Taj Mahal invited me on stage and the Piedmont Park in Atlanta. It was about 2500-3000 people. He called me up for two songs and that was it. People started to know me then. He did a great thing for me.
ME:  He called you "The Wunderkind" so he must love you.
JW:  Yes, I love him too, he's a good man. He and Keb' are both that way. They act the same way in person as they are on stage.
ME:  You can tell. It's in their music. There is something really special about both of them. So, let's back up—Taj Mahal saw you on YouTube, he somehow found you, and did he just say, "I want you to come play a couple songs, so just show up at my concert"?
JW:  Yes. I did one song, they asked for one more. I wasn't so nervous by 2000 people–I was nervous that Taj (Mahal) was sitting right beside me while I was playing. And then it just spread like wildfire.
ME:  How did the songs come together for Spectacular Class?
JW:  I think it's unorthodox, some of the songs were literally off the cuff like (the song) "Liquor"–it just happened. That happened in the studio where some of the songs had music and some of the songs had the words. When I got in the studio, once you start doing the song, then it just comes to you.
ME:  What was it like working with Taj Mahal and Keb' Mo' in the studio?
JW:  It was good. In the beginning it was kind of hard working with Keb' who's a four-time Grammy award winner. It was kind of hard to work with somebody at the beginning thinking about that. Once I got to know him better it was pretty easy. He made me see a lot of things that I probably wouldn't have seen by myself.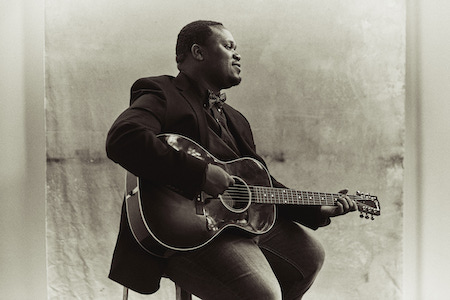 ME:  Like what?
JW:  Different musical things. I had never really been in a proper studio before. I'd been in a makeshift studio but never a proper studio, so a lot of the technology stuff I didn't know.
ME:  And you wrote all of the songs yourself.  Tell me about writing your song, "Take Me to the Country." The lyrics are so poetic. I love that song.
JW:  Well, thank you. I wrote that tune about where I'm from. I'm from the country so I just wrote about what I have seen and what I deal with on a daily basis. I'm from a little town called Greenville, Georgia with a Population of 864. I just wrote a wrote a song based on real life stuff.
ME:  Your lyrics are beautiful and funny too. It makes a nice mix.
JW:  It does, it doesn't have to be all serious.
ME:  You were really funny at the show with Keb' Mo'. I mean you had the entire audience laughing. It was great.
JW:  Well, thank you.
ME:  So, tell me a little bit about how you got into the Blues and how you started playing guitar?
JW:  Well, I got into the Blues about age 12. I started playing when I was 14. My dad bought me a guitar on December 24, 2010 and then I started playing. I had it pretty good by February 2011, I was playing pretty decent I guess.
ME:  I read that you watched a Muddy Waters video and it changed your life.
JW:  Well, there are a few things that happened. One of the stories I normally don't tell, but you sound nice so I'm going to tell you this story.
ME:  Does this mean I can't put it into the interview? (Laughter)
JW:  (Laughter) You can, that's fine. My cousin and my god-sister were in the front room talking and I heard my cousin tell her that she wanted a man that can play the guitar. I figured, if these two women sitting up at 12 o'clock on a Saturday morning are talking about wanting a man that can play a guitar, there's got to be a woman out there who's also saying she wants a man who could play the guitar. So, that was one thing that made me want to start playing.
The second was Etta James was angry at Beyoncé for singing "At Last" at the Inaugural Ball and I was watching it on YouTube. TMZ had posted a clip of the edited version. I wanted to hear the unedited version because I was a bad child….
ME: (Laughter)
JW: (Laughter) I heard the unedited version with all the swear words. YouTube was fairly new then. I saw Muddy Waters "Hoochie Coochie Man." When I heard that, he reminded me so much of church and I saw how people eat out of your hand and I wanted to kind of possess that.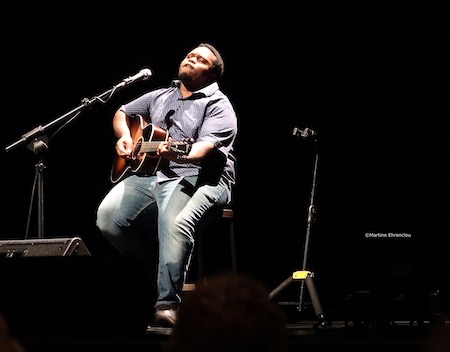 ME:  So you started playing the Blues then?
JW: Yes. I have always been into the church. I have been singing gospel as long as I can remember. A lot of the old-time Baptist church music is the same (as the Blues) because it's just the same people that are producing the music, it's just the words that are different.
ME: That's interesting.
JW:  As far as the music, you could not tell the difference but one is talking about religion and the other one talks about secular stuff—that's the primary difference. I would play the same way as I did in the church.
ME:  Where did you get that great voice? Do you come from a family of singers?
JW:  My granddaddy sings…I always wanted to be like my granddad. My grandmother sings also.
ME:  Have you always sung in the church?
JW:  Yes, I have been singing since I was three.
ME:  That is really young.
JW:  You would have to put me up in a chair so I can stand up and so people could see me.
ME:  Where did you get the confidence on stage? When I saw your show with Keb' Mo', it was really impressive that you were so comfortable up there. I mean, you were talking to the audience, you were weaving stories, using your guitar for sound effects for your stories and you just seemed so at ease. Where did that come from?
JW:  Well, if you play to the church crowd and you play for the church long enough they will bring it out of you. Anything that you do bad they will let you know.
ME:  (Laughter) I had no idea you were such a good harmonica player. Can you tell me about your harmonica playing and how you played it and sang without a holder? You had the audience in the palm of your hand.
JW:  Well, I starting to play harmonica when I was 17. I'm not really a good harmonica player. I have some friends, they are harmonica players.
ME:  Do not tell me that was your first time doing that. (Laughter)
JW:  (Laughter) No, it was not the first time. I had probably done that a few times.
ME:  Tell me about all the instruments that you play.
JW:  Banjo, harmonica and guitar. I'm revisiting piano. I have an electric piano in my apartment. I'm going to start back and play a little bit.
ME: I'm sure it will take no time at all.
JW:  I don't know, it's kind of rough, there is a lot of stuff going on with the piano.
ME:  I agree with you. I play guitar too and piano I just could never get a handle on.
JW:  You touch one wrong key and the whole song goes.
ME:  That's right. You can get away with a lot of that on guitar with the Blues. (Laughter)
JW:  (Laughter) You're right.
ME: Where do you see the Blues headed?
JW:  Some say that the Blues are dying– it is really not–people are just not sure where to look for these young musicians.
ME:  I think that's true.
JW:  I mean it's funny– everything happens in cycles. Every 30 to 40 years the Blues resurges. It kind of came back with folks in the late eighties, early nineties, so it always comes back. I will be sitting here when it happens.
ME:  (Laughter) How's life on the road?
JW:  It's wonderful, I love it. I get to see cities and then I don't stay long enough to see what bad about them. I just see the good stuff and move on. I like seeing new things, experiencing new things, different cultures around the U.S. because the U.S. is a pretty amazing place. The landscape–we were in New York in February and if you think of New York, you automatically think of New York City. You don't think about Albany, you don't think about north New York. North New York is like a whole different thing with mountains.
I love playing live and love engaging with people in general–let them know a little bit about me and learning stuff about them as well.
ME:  Anything else you would like to include in the interview?
JW:  I am happy to be a graduate from Columbus State University. I just turned 23 and I am so glad that you called and spent the time interviewing me. You could have been doing anything else but you wanted to talk to little old me.
ME:  (Laughter) It has been a pleasure. It's been so much fun talking with you. Congratulations on your college graduation, your birthday, and your new album.
JW:  Thank you so much.
For more information about Jontavious Willis: