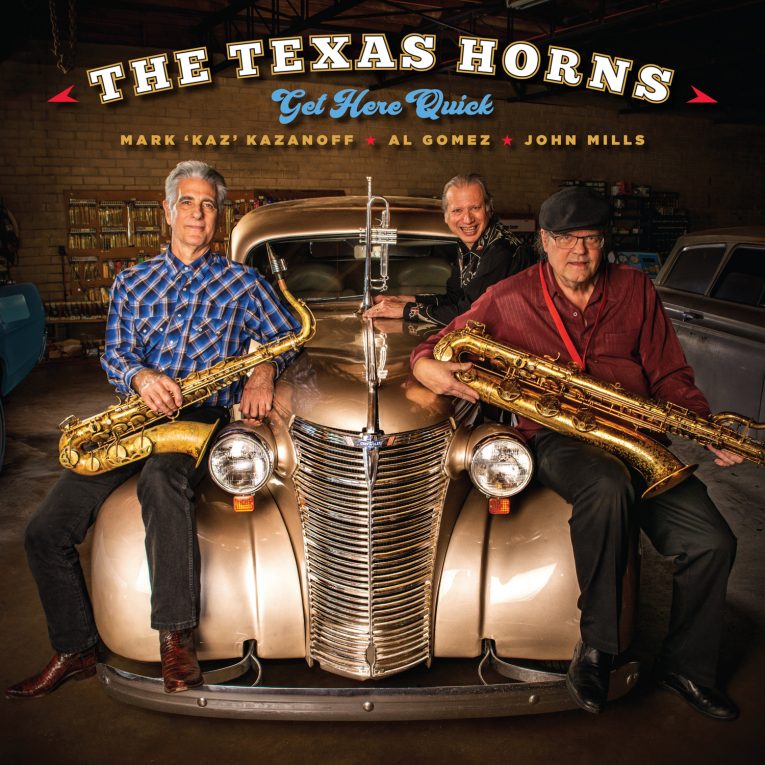 By Mike O'Cull
The Texas Horns is one of the finest horn sections working in roots music today. Comprised of Mark 'Kaz' Kazanoff on tenor saxophone, John Mills on baritone saxophone, and Al Gomez on trumpet, the group has consistently worked in high-profile situations since forming in 1997. The Texas Horns recently signed with Severn Records and has its debut release on the label, Get Here Quick, out May 24th, 2019. The record is a stone gas that features The Texas Horns doing its thing over an all-star band of special guests that includes Curtis Salgado, John Nemeth, Gary Nicholson, Guy Forsyth, Carolyn Wonderland, Ronnie Earl, Anson Funderburgh, Johnny Moeller, Denny Freeman, Derek O'Brien, and Jonn Del Toro Richardson.
Get Here Quick is an extraordinary set of roots, blues, and soul music sounds that strikes a perfect balance between the smooth fire of the three horn players and the considerable power of the rest of the group assembled. The record is a mix of vocal and instrumental tunes capable of raising roofs, filling dance floors, and, if it were a live show, getting you to stay out way past bedtime. Individually and collectively, The Texas Horns has worked with preeminent artists ranging from Howlin' Wolf, Muddy Waters, and Los Lonely Boys to Willie Nelson, Jimmie Vaughan, and Anson Funderburgh. As you might imagine, they can throw down a pretty good party and Get Here Quick is it.
Things get going quickly on the opening cut "Guitar Town." It's an up-and-dancing soul-influenced number written by John Mills and spotlighting Guy Forsyth on lead vocals and the previously-mentioned Mr. Funderburgh on guitar. Underneath all the excellent performances from all involved, Mills' songwriting skills hold this tale of hard times together. Each line sung is real and meaningful and the chorus lyric of "I'm just searching for a girl named Mercy, she don't want to be found/Better luck finding some real sweet saxophone in this guitar town" seals the deal.
Carolyn Wonderland
takes center stage on both vocals and guitar on the
Kaz
original "I'm Doing Alright At Least For Tonight." The track grooves hard and will immediately elevate the temperature in your headphones.
Curtis Salgado
drops his usual dose of lead singer sagacity on the moody R&B cut "Sundown Talking," another Mills-written song meant to move the nighttime crowd. It has a heart-rending feel that's spiritual kin to the vibe of B.B. King's
Indianola Mississippi Seeds
album but keeps a distinctive identity all the way home. "Feelin' No Pain" is a lively instrumental that puts the Horns front-and-center on the hook and also features some fine keyboard work from Red Young. The title track, "Better Get Here Quick" is another cool instrumental moment that rocks a laid-back pocket and again lets our horn men shine.
As you might expect, the horn charts for every song here are well-written, creative, and light up everything they touch. The Texas Horns writes all its own parts in-house and it's easy to hear that these three players have a special touch when creating their arrangements. As a section, Kaz, Mills, and Gomez are a mighty force with an intuitive grasp of how this type of music should sound. Their performances on Get Here Quick are as good or better than anything in American music's glorious past and are made of that powerful stuff that changed all of our lives.
The Texas Horns has a winner in Get Here Quick and it's an excellent record with which to kick off the group's relationship with its new label. This music is soulful, fun, and practically compels you to dance. Get this one right away and play it loud. It's so good that your neighbors will crash the bash.
The Texas Horns Online