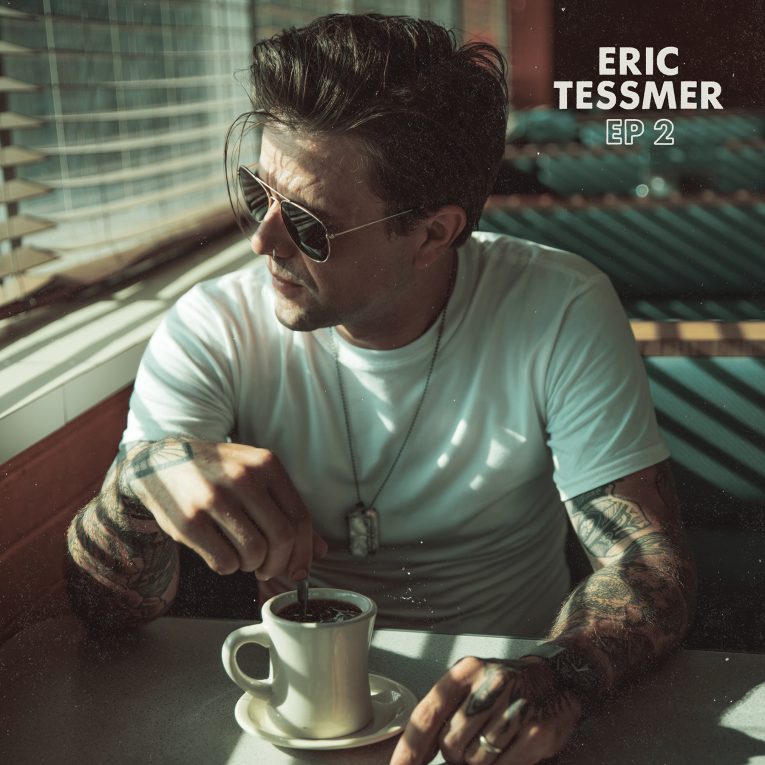 By Martine Ehrenclou
Austin based guitarist, singer-songwriter, Eric Tessmer releases EP II on June 21, the follow up to his EP I (2016.) EP II is one hot modern blues-rock six-song collection with plenty of groove by virtuosic guitarist Eric Tessmer, who might just blow your mind.
Produced by the acclaimed Sean Beavan (Nine Inch Nails, Guns N' Roses), these six original tracks feature Tessmer's explosive guitar riffs, soulful vocals with great tone, and simply outstanding musicianship by him and the band. EP II is packed tight with meaningful lyrics, some desolate and lonely, others insightful and wise. Tessmer and his band of stellar musicians have a finger on rhythm in each track, though the darkness and light that permeates the EP.
Sober since 2015, Tessmer's shining star awaits. He's primed for greatness, perhaps in part due to his ability to move beyond Texas blues-rock and into R&B territory, rock, even a little pop. But it's his songwriting and fine vocals that have pushed Tessmer to the next level. There are a number of styles blended into these tracks, some with crossover appeal. And the songs aren't created to serve the master guitarist either. Considering how good a guitar player Tessmer is, it would be easy to create songs to serve the skill. But Tessmer didn't do that. He wrote good songs with insight and vulnerability, which make up an even better whole.
Even though there are plenty of jaw-dropping guitar riffs to satisfy any guitar fanatic, there's more to this musician—Eric Tessmer pierces the boundaries of blues-rock and mines his life experience and channels it into well written lyrics and interesting melodies. He and his band members serve the songs and connect so well to each other, it sounds like they've been playing together a long time.
EP II blasts off with, "The Treatment" a powerful rocker with catchy guitar riffs. Powered by killer drummer Marc Redix, Jason Rathman on bass, Sammy Powell on keys, there's no denying that Eric Tessmer and band are one power unit. They are on point with rhythm and groove, and with vintage organ fills, this tune lunges forward with intensity. Tessmer's guitar solo is in the Chuck Berry style and blends neatly with the tune.
Listen to "The Treatment" below.
Another upbeat rocker with wisdom at its center, is "Simple Solution." With shades of
Jimi Hendrix
and beyond, this tune shines bright with Tessmer's muscular guitar chops. One listen to this and you'll think to yourself, like I did, this guy has all the skills to take his music where he wants it to go. Stunning.
Another musical stunner with an infectious funky style is "Po' Boy" a dazzler of an instrumental and its fun. This song demands peak volume on your stereo or headphones as you'll want to catch every nuance. It'll make you want to move.
And now, we get to the deep stuff. This is the flip side to the light of the previous three tracks, and I grouped them together because they all share a common theme—desolation, loneliness and darkness. But they are beautiful in their haunting melodies, sounds and rhythms, "Love Is Taking Its Toll" "Early, Early Morning" and "Good So Bad" turn vast personal emptiness into moving songs. But they have impact and you won't get away unscathed.
"Early, Early Morning" is interesting, with different rhythm and minor keys, reminding me a bit of Leon Russell's songwriting and musical flavor. It's an edgy tune, and it's dark, and Tessmer's crunchy guitar solo reflects that. When a song has the capacity to draw you into the haunting feel of it and you have a hard time pushing yourself away from the table, there's no doubting its power.
Tessmer did a great job of sprinkling light among the darkness, adding hope to the despair, and created a dynamic EP that surely will propel him forward in his career.
For more information about EP II by Eric Tessmer: