By Martine Ehrenclou
We are pleased to premiere "Cake" by Nashville blues singer-songwriter Lauren Anderson from her upcoming album Won't Stay Down, to be released July 26, 2019.
With a funky vibe, "Cake" showcases this fabulous vocalist who not only sings it like she means it, but also brings it with power, sass and style. A mix of blues and roots with great groove, we love this tune. With Won't Stay Down, Anderson stakes her claim as an ever-evolving songwriter whose music is a modern interpretation of the blues. On "Cake" she turns the 12-bar blues format on its head, lacing the arrangement with blasts of brass and funky guitar.
Lauren says, "One day, I woke up with the phrase, "You can't have your cake and eat it too" in my head and suddenly realized how much it annoys me. I had the 1st line in my head already, "I want my cake and eat it too" and the rest of the song just spilled out of me. I want my family life, I want my rock n' roll career, I want it all and no one can tell me otherwise. The only one standing in the way or your dreams is you, so if you want something in life, go after it."
We like that kind of confidence and commitment to having it all.


Lauren Anderson's third EP, Won't Stay Down is a mix of original blues-rock, roots and elements of Americana, soul and country. She's been playing sold out shows since 2014. She loved the work but grew frustrated with the industry, especially the demands thrust upon her as a female artist. She started writing new material about strength, endurance and female empowerment, drawing on her artistic journey for inspiration.
And she pulled it all together with her bluesy, powerhouse voice.
Raised in Chicago, Anderson began lessons at an early age, starting with piano at age eight and followed by classical voice lessons as a teenager. A member of several choirs, she brought her love of singing to college where she earned her master's degree in Music Therapy from the University of Kansas.
After her release in 2014 of her debut EP, Do & Hope, to her 2015 full- length release of Truly Me and 2017's The Game, Anderson's audience steadily grew. She earned a number of accolades, including being named "2015 Female Vocalist of the Year" by the Midwest Music Awards, as well as first place in the 2018 Wing Dang Doodle Competition. The Game cracked the Top 50 on the Billboard Blues chart for five weeks straight. After moving to Nashville in early 2017, she established herself as one of the city's beloved blues musicians with a monthly residency at the Bourbon Street Blues and Boogie Bar and a handful of gigs across the Bible Belt.
Written and largely self-produced by Anderson, Won't Stay Down is a battle cry from a songwriter whose powerful, soulful voice and personal songwriting have reached a high-water mark. With one foot planted in the territory of her influences and the other pointed in an unexplored direction, she straddles the border between the blues, soul and guitar-driven rock & roll and finds her own sound in the middle.
Lauren Anderson is currently on tour. Tour dates here.
Lauren Anderson Online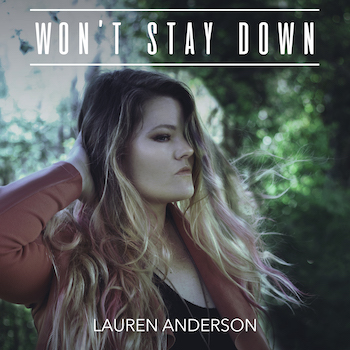 Pre-order link for Wont Stay Down