By Tom O'Connor
The Supersonic Blues Machine serves up a huge helping of rocking blues magic with the July 12th Provogue/Mascot Label Group release of their new live album, Road Chronicles Live! Recorded in Italy on the final night of a European tour, this seventeen song set is a powerful document that finds the band pulling gems out of their two well-received studio albums (West of Flushing, South of Frisco and Californisoul) and exploring some good-time classics guaranteed to make some folks wish this album was available on 8-track, because it would all sound even better blasting out of the Jensen TRIAX in your '69 Chevelle.
You might come to Road Chronicles Live! for the legendary Billy F. Gibbons, but you'll stay for the rest of the band too. I've already been impressed with the solo work of singer/guitarist Kris Barras. Taking lead vocals and handling a lot of the guitar work for the SSBM, his pretense-free singing and playing here is no less intense and memorable; made even more remarkable by the fact that this was his first tour with the band. You would never guess it.
Add in a rhythm section of prolific producer and bassist Fabrizio Grossi (Steve Vai, Glenn Hughes, Alice Cooper, Joe Bonamassa, Zakk Wylde) and the downright iconic Kenny Aronoff on drums (John Mellencamp, BB King, Paul McCartney) with Serge Simic adding some additional guitars, and this band has an almost unfair advantage over any other group vying for your time and attention.
The list of collaborators on Road Chronicles Live! includes Billy F. Gibbons, Walter Trout, Warren Haynes, Robben Ford, Eric Gales, Joe Louis Walker, Steve Lukather, and Chris Duarte.
After a pre-recorded vocal chant focuses the crowd's attention, opening track "I Am Done Missing You" kicks into gear off of Aronoff's powerful drumming before it quickly shifts into an almost reggae-esque stroll elevated by some haunting backing vocals and harmonica fills. They follow this up with the straight-rocking "I Ain't Falling Again," a galloping tune of both defiance and trepidation. The band then starts stretching things out, seemingly in no hurry as they ease into the soulful mid-tempo "Remedy," a favorite from their studio album West of Flushing, South of Frisco. Things swing to the darker, bluesier side on "Can't Take It No More," an epic and inspirational blues for those dark nights of the soul, delivered with purpose, from the vocals to the unhinged lead break from Serge Simic that takes the song, and the audience, to the next level.
After all that emotion, the band knows enough to lighten things up next with "WatchChaGonnaDo." A funky opening drum beat, paired with a skroink-y guitar riff makes a frothy and fun party out of this tune, complete with some good-time call-and-response audience participation. The soul-fired almost-psychedelia of "Elevate" keeps the uplifted vibe going. After a hypnotic round of "Elevate my soul" chants, the song lands on a killer riff that the band rides hard to the end in true rock fashion, right down to the extended drum solo. The beat gets even more syncopated, and the guitar tone even more buzzy on "Bad Boys" which initially feels like it is going to lean heavily to the soul-side, before it switches into a densely woven rocker of a song, pushed by keyboards and a heavily-phased and fairly impressive bass solo from Fabrizio Grossi to compliment the always-impressive guitar work.
At roughly the halfway point, Road Chronicles Live! moves into a cluster of songs that "feature Billy F. Gibbons." If you still weren't sure whether or not you were at a good party, at this point, you'll know. It doesn't take a genius to understand what is called for here: Cue the drums and fire up "La Grange." There is nothing in the world left to write about this tune. It is and has always been, a party in song-form. Don't think about it, just lean in and rock out. Have Mercy.
Dipping into studio album Californisoul, and still "featuring Billy F. Gibbons" the song "Broken Heart" is remarkably upbeat given the title. The song is Arena Rock-ready with its four-on-the-floor beat, organ swells and unstoppable chord-riff with a guitar tone that lives somewhere between Judas Priest and vintage ZZ Top. Gibbons then has his way with blues classics "Dust My Broom," and "Got My Mojo Working," knowing that, at this point, you'll gladly follow him anywhere. In between, the band revisits their early and very popular single "Running Whiskey," which clocks in as one of the shortest tracks in the collection but still manages to be an impressive and rocking tour-de-force. Gibbons' final "featured" tune "Going Down" follows with his guitar trading licks with harmonica and his vocals trading off with a no-nonsense vocal chorus. This is a straight-up rocker with bit of sonic shenanigans when Billy breaks out the talk box effect in the lead break.
Even in the final three tracks, this sounds like a band that is just getting started for the evening. "L.O.V.E" is a teasingly light-hearted tune of tinkling pianos, warbling harmonica and swooping guitars that slowly locks into the kind of in-the-pocket vibe that would make The Black Crowes jealous. All that sets the table for album closer "Hard Times." Not just a closing song, this is an eleven-minute opus that runs the gamut from stunningly contemplative to a bit mind-blowing. I'm bummed out that I've already used the term "tour de force" in this review because this epic song is a trip all by itself. The fact that it comes at the end of this already dialed-in and thrill-packed collection is kind of jaw-dropping.
I'm glad someone was smart enough to hit 'record' on that night in Italy. You will be too. Nothing beats a hard-rocking 'double live' album by a band that seriously knows what they're doing. Don't be surprised if you end up playing this album all Summer.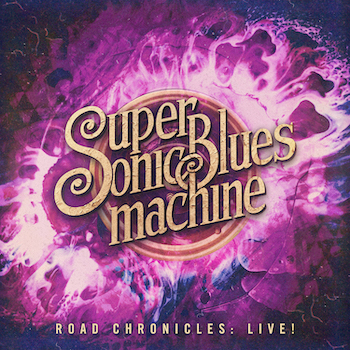 For more information Road Chronicles Live! by Supersonic Blues Machine: