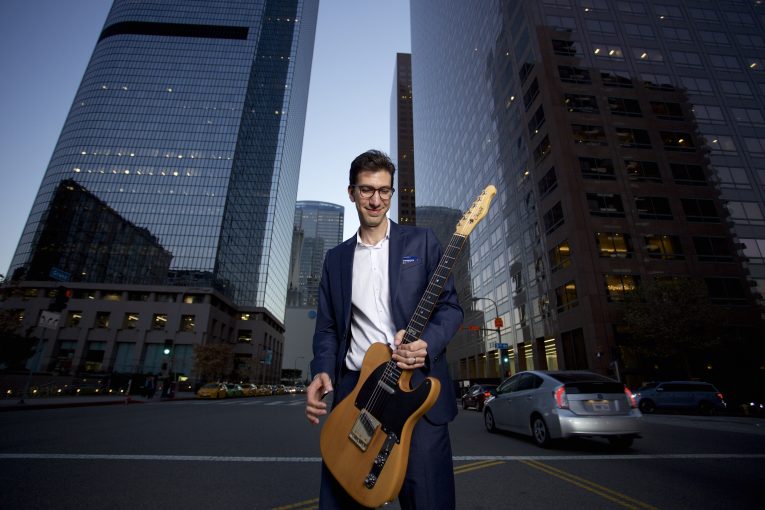 This is one funky blues-jazz groove by the stunning guitarist Jamey Arent. One listen to "The Back Burner" and you'll see why I chose it for our "Video of the Week."
"Back Burner" is from Jamey Arent's upcoming EP The Back Burner out July 19 and produced by the renowned guitarist and producer, Josh Smith.
Jamey Arent is a guitarist, songwriter, and singer based in Los Angeles.
Born in Denver, ​Jamey Arent picked up the guitar at the age of 12 when he first heard the Beatles. After completing a degree in jazz studies from the Oberlin Conservatory, he moved to Los Angeles to get a master's degree in studio/jazz guitar from USC and begin his career as a gigging musician.
As a sideman, Jamey has performed and recorded with Franki Valli and the Four Seasons, Matthew Morrison, Grammy nominee B. Slade, Spencer Day, Nigel Hall, and Raquel Rodriguez. His guitar playing can also be heard on the soundtracks for Netflix, TBS, and Comedy Central shows.
With his debut EP, The Back Burner, Jamey Arent steps into the spotlight as a solo artist with a guitar-driven blend of blues, funk, jazz and soul.
His guitar playing can be heard on ​Comedy Central's ​The Daily Show with Trevor Noah,​ Ed Helm's ​Ted Nelms​, the Netflix Original series ​Special​, and backing artists like ​Smokey Robinson and ​Trombone Shorty on the soundtrack to the Netflix series ​Motown Magic​. For the last eight years, Jamey has been touring and recording with indie R&B/Soul artist​ Raquel Rodriguez.
Listen to "The Back Burner" below. Turn it up!
Through all of this, Jamey has learned not only the art of guitar but also the art of songwriting. Drawing from fellow contemporary guitar masters like Derek Trucks and Joe Bonamassa, as well as legends like B.B. King and Stevie Ray Vaughan, his debut EP, ​'The Back Burner,'​ sees Jamey step out from the sides of the curtain and take center stage.
For his debut, Jamey recruited esteemed producer/guitarist ​Josh Smith​. The two of them worked side-by-side to make this dynamic project come to life. Also featured are ​Nigel Hall (​Lettuce, Soulive​), ​Charles Jones (​Raphael Saadiq, Andra Day, Vulfpeck​),​ Amber Navran (​Moonchild)​,​ Spencer Dayand Jamey's collaborator and friend Raquel Rodriguez​.
For more information on The Back Burner by Jamey Arent: