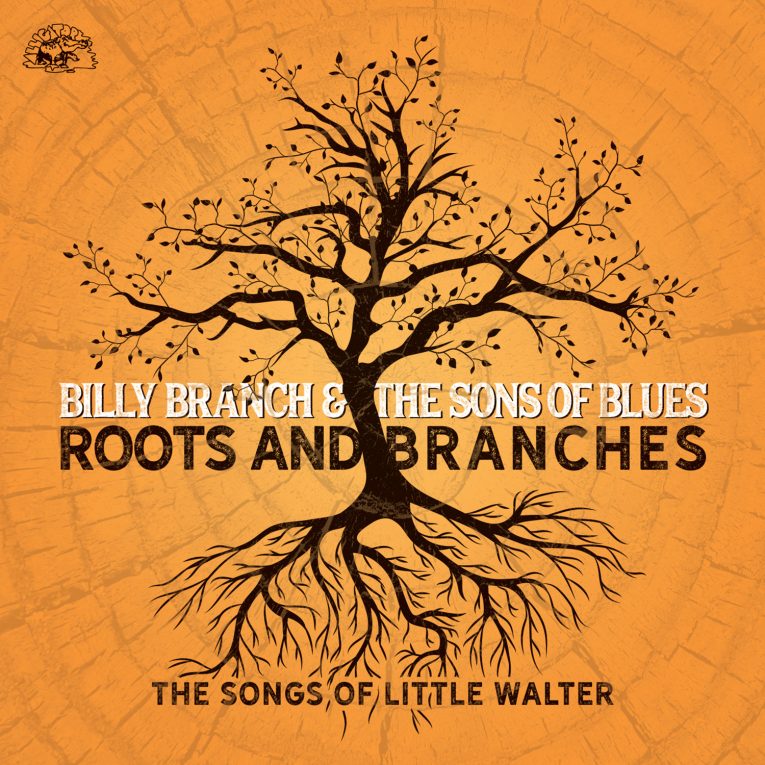 By Mike O'Cull
Billy Branch is one of the greatest living blues harmonica players who learned the Chicago blues tradition firsthand from A-List mentors like Big Walter Horton, James Cotton, Junior Wells, Carey Bell, and Willie Dixon. Branch and his stellar band, The Sons Of Blues have a new album, Roots And Branches – The Songs Of Little Walter, coming out July 5th, 2019 on Alligator Records that's an homage to the greatest blues harmonica player ever, Little Walter Jacobs. Rather than making a note-for-note recreation of Little Walter's songs, however, Billy Branch and the band have instead reinvented and reimagined Walter's material in new ways. Blues, soul, funk, and even gospel sounds are brought to bear on these classic tracks and the record handles Little Walter's legacy respectfully while also going its own way artistically.
Little Walter, whose recording career lasted a mere couple of decades, is the most influential and honored harp player in blues history. From his days with Muddy Waters to his early 1950s hit singles like "Juke" and "Off The Wall" to a large body of influential recordings like "My Babe," "Boom Boom Out Go The Lights" and "You're So Fine," Walter defined his instrument as no one ever had. His songs and licks have been required learning for all emerging harp players for a long time. This material is some of the most revered music in the canon of Chicago blues and only an artist of Billy Branch's talent and stature could take it and make it his own. Thankfully, Branch handles his business here and skillfully breathes new life into these immortal cuts.
Roots And Branches opens with "Nobody But You," a body-shaking shuffle and an affirmation of the timeless guitar/harp/piano Chicago sound. Branch and his band are energetic flame-keepers and their performances here make this an excellent choice to get things going. "Mellow Down Easy" starts with a gritty, syncopated groove that supports Branch's smooth vocals nicely before kicking into a deeply-swinging pocket for his solos. Songs built on one-chord vamps like this are trickier than they often seem but this bunch knows just how to rub each section for maximum musicality.
"My Babe," often considered Little Walter's signature song, gets treated to an ultra-slinky, almost Latin feel that takes it to another place before breaking into another powerful Sons Of Blues shuffle. The band features Sumito "Ariyo" Ariyoshi on piano, Giles Corey on guitar, Marvin Little on bass, Andrew "Blaze" Thomas on drums, and Shoji Naito on guitar and shows itself to be a tight, competent unit that swings hard and continually creates interest.
Billy Branch takes on "Juke" and displays the touch, tone, and phrasing of a true master on this instrumental gem. He captures the essence of Little Walter's sound and lays it down over a simmering shuffle. Branch gets that beautiful, gritty timbre Walter used to light up generations of harp players and puts on a clinic for those aspirants who are most certainly listening.
"Boom Boom Out Go The Lights" is another magic moment on Roots And Branches and takes the song back from the rocked-up Pat Travers' version many of us initially discovered on 1970s FM radio. Branch brings it back to the barroom from the first notes he plays and The Sons make it a house-rocker and a late-night dance floor filler. Branch sings with wild abandon and keeps the menacing vibe of the lyrics intact.
The album ends with Little Walter's daughter Marion sharing a few brief moments of memories of her father. She gave her blessings to this project and her words here do much to humanize Walter and give us a sense of the man behind the legend. Roots And Branches – The Songs Of Little Walter is an amazing, next-level tribute record that carries Little Walter's spirit forward and shows no need to imitate his recordings. Billy Branch has another winner on his hands with it and harp fans are going to love every single note.
Pre-order link and Track Listing/Song Samples 
Billy Branch Online