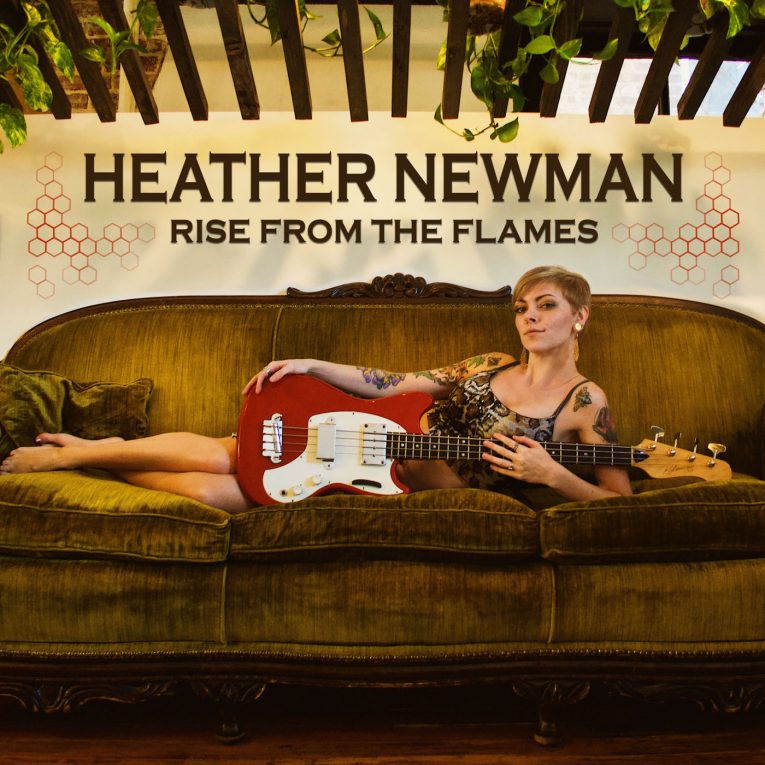 By Robert Rheubottom
Singer-songwriter, bassist, Heather Newman sizzles on her new album, Rise From The Flames, which drops July 5, 2019 via Vizztone Label Group. The follow-up to her 2017 debut album Burn Me Alive, the 2019 Blues Music Award nominee continues her evolution as a solo artist with a fiery blend of soul, funk, blues and rock.
Rise From The Flames features 13 original tracks, co-penned by Newman and her band. The two-time Blues Blast Music Award winner's powerful and soulful voice shines bright as she explores themes of love, loss and moving past broken relationships.
The album opens with the slow-burning blues-rocker "I'm Coming for You." Anchored by the Omaha native's simple but insistent bass line, the track has an ominous feel as Heather Newman weaves a spell with her sultry vocals and entices her audience to listen up as lead guitarist Keith Ladd and keyboardist Ryan Matthew let loose during the solos.
With a syncopated beat, "Zackery" hints of a Bonnie Raitt tune, complete with a swampy blues feel and organ fills. Newman reaches deep on this one, her voice a mix of sweet and growl. The track features a popping horn section on top of the rhythm section's funky groove.
A 12-bar blues, "She Sure Looks A Lot Like Me" Newman sends a message to her ex that it's time to move forward and she sings it with sass and swagger. The song features some choice blues riffs from Ladd.
The Kansas City-based singer experiences a baptism of fire on the journey to achieving her dreams in the elemental "Rise From the Flames." Standing strong in the face of adversity, Newman fights back with her full-bodied voice. On "Water and Wine" she warns those who play mind games with Ladd tearing it up on the solo once again.
"Lonely on Beale" is the album's lead single and one of its strongest tracks. A blues tune with syncopated rhythm, Newman demonstrates excellent phrasing and grabs the song with hands and sings about personal mistreatment, only to rise up to embrace her self-worth. This track has one soulful groove.
The track "Coming Home" features a funky drum intro from Adam Watson, as well as a blistering guitar solo from Ladd as the powerhouse vocalist ruminates about returning to the waiting arms of her lover. Newman proceeds to channel her inner Amy Winehouse on the neo-soul influenced "What Goes Around," which sends a cautionary message to those who kick people when they are down.
The album wraps up with the gospel-tinged "That's All." Newman expresses a world weariness in the track that belies her young age. The song closes with percussion and an acapella vocal refrain of the first verse, during which the singer expresses gratitude to the power of the blues to "help through the torment and pain" of life.
Rise From The Flames serves as an impressive second entry in Heather Newman's emerging career. As a solo artist, she's still paying her dues, but continues to show strong progress as a singer, musician and songwriter with a knack for turning life's personal hardships into inspired music. That's what the blues are all about.
Heather Newman Online