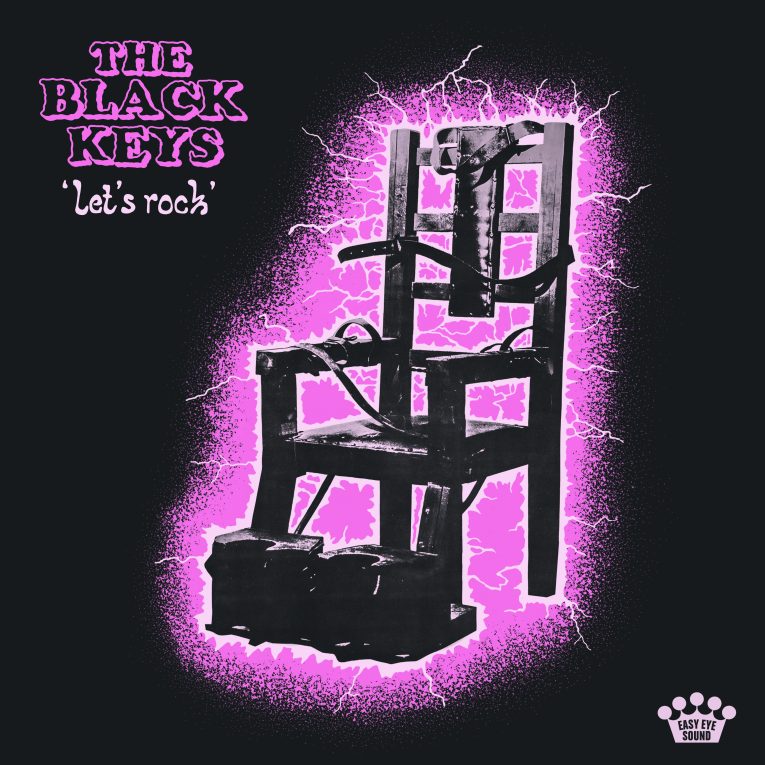 By Tom O'Connor
The Black Keys presented their patient fans with their first new album in five years with the June 28th release of Let's Rock through Easy Eye Sound / Nonesuch Records. This 12-song collection is the powerhouse duo's ninth studio album and most fans will discover it was worth the wait.
According to singer/guitarist Dan Auerbach and drummer Patrick Carney, the longer than usual gap between records was largely due to burn-out and tour-related "PTSD." While the bandmates used their hiatus/recovery time to work on some remarkable side projects, there was never any real doubt that these guys wouldn't eventually regroup and come back strong.
The canny duo is smart enough to open a long-awaited release with a big squall of guitar noise, in case you've forgotten who you're dealing with, but the cacophony that launches "Shine A Little Light" soon gives way to a mature and multi-layered steady rocking tune that is both radio and arena-ready.  They follow this daunting opening track with "Eagle Birds," which finds them sounding more like the two-piece they are, with just a few backing vocals added in, as the tune rides on a strong riff and tick-tock drums, before giving way to an impressively disheveled lead break. Again dancing with the one that brung 'em, The Black Keys keep it stripped down on the buoyant and occasionally brutal "Lo/Hi." Definitely an album standout with its buzzy and percolating central riff, driving drums and down-and-out lyrics.
After that high-energy opening trio of tunes, Dan and Patrick take a deliberate turn into slow dance mode with the woozy and romantic "Walk Across The Water." Sticking to that mid-tempo vibe but leaning away from love and into an intense kind of lust, "Tell Me Lies" is a slinky and heavily produced 70s throwback with a touch of hoodoo in it. Another opening tempest of guitars starts off "Every Little Thing," which turns out to be a bit of a misdirection as the song switches into the kind of dream-pop verses and semi-trippy chorus' that pull a listener deeper and deeper into the song as it unspools.
Speaking of hoodoo, "Get Yourself Together" has more than a dash of the stuff, along with an infectious, hand-clapping rhythm and a big chorus. This is as close to Country as The Black Keys are likely to ever lean, and it sounds like a real crowd pleaser. It is immediately followed by what might be a crowd puzzler. I cannot be the only person who hears "Sit Around and Miss You" and immediately thinks of Quentin Tarantino's favorite Stealer's Wheel song. No way.
Not at all puzzling will be the mass appeal of "Go." Clocking in as the shortest song of the collection it still packs a punch, not wasting a single second before elevating you with a fat riff, a rough rhythm, and some ghostly backing vocals. Things turn back toward the sophisticated with the complex, multi-parted "Breaking Down." The tempo and rhythm shifts between sections make this one ripe for headphone journeys, all the better to appreciate Dan Auerbach' s subtle guitar genius that sometimes gets overlooked because it all just sounds so obviously right.
Let's Rock
closes strong and keeps you guessing right until the end. First "Under The Gun" has The Black Keys again pulling back to the somewhat basics; a multi-part riff over a galloping beat with some backing vocals to heighten it all to arena-filling levels, just in case there was anyone left out there still dubious about the sonic possibilities of a two-person band. And finally, they close with "Fire Walk With Me." The obvious Twin Peaks reference aside, this good time tune cooks along like a finger-snapping Eddie Rabbit ditty before it shifts a bit, then locks in and sounds like a no-BS, riff-driven Black Key's classic-to-be. It is yet another one of those tunes that pulls you in closer and closer with the verses and then blows your hair back with the chorus. The final guitar break buzzes and chirps over the rhythm like a low-flying UFO; attention-getting and unusual.
As I said in the opening, most Black Keys fans are going to find this record well worth the wait, and I think new listeners are sure to start googling for the back catalog (pro tip: start with Brothers and/or El Camino.)
Good rock this.
The Black Keys Online