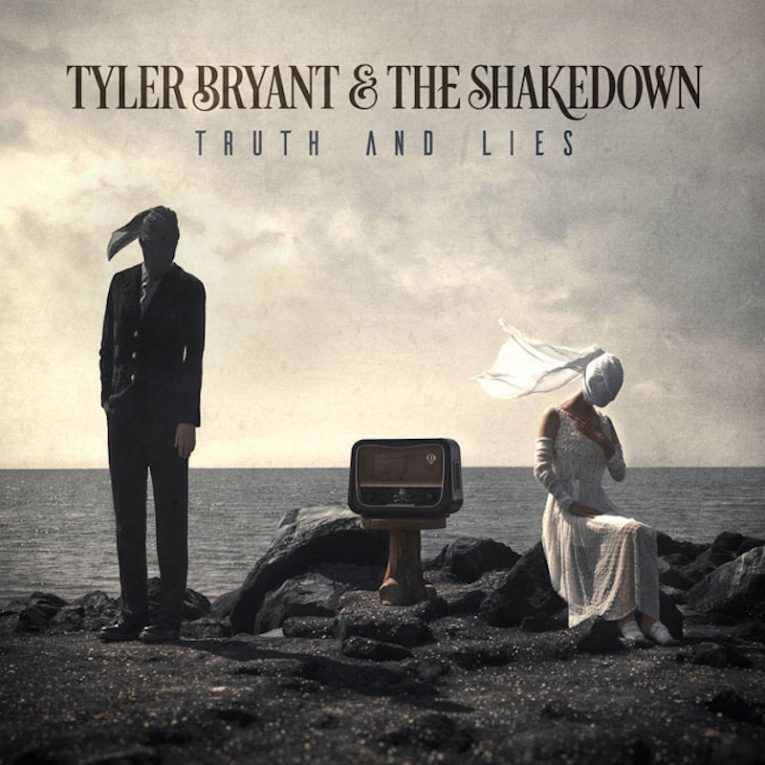 By Mike O'Cull
Texas guitar slinger Tyler Bryant and his band The Shakedown have been building themselves a heavy reputation as one of the best new rock bands going for a few years now. The band has a new album, Truth and Lies, out now via Snakefarm Records that is its strongest and most evolved effort so far and shows fans what an incredibly powerful unit it has become. Bryant and The Shakedown have already received ringing endorsements from legends like Jeff Beck, AC/DC, Guns N' Roses, ZZ Top, and Chris Cornell and have toured with Angus and Axel, so you know they're doing a whole bunch of things right. Truth and Lies should do a lot to level Bryant up closer to the stars he has supported and will reel in fans of quality modern rock.
Tyler Bryant's name may be out front but this is very much a "band" record. The Shakedown is made up of four musicians who have played so many shows together that they are now telepathically linked and groove as one. Besides Bryant, The Shakedown is drummer Caleb Crosby, bassist Noah Denny, and guitarist Graham Whitford and the lot of them share that "thing" that separates the great from the good. They're skin tight, highly dynamic, and always play for the song, even when rocking hard. The group cut the 13 tracks on Truth and Lies mostly live at Studio G in Williamsburg, New York and this "playing for keeps" approach adds a lot to the drive and energy of the record. They recorded everything in a little over two weeks with six-time Grammy-nominated producer Joel Hamilton (The Black Keys, Highly Suspect, Tom Waits) at the desk, who captured it all beautifully.
Where Tyler Bryant & The Shakedown truly rises is in the songwriting department. Bryant reached deeper into himself than ever before while writing this batch of music and it shows. Yes, Bryant is a top-notch player with a knack for original riffs and unique phrasing but his songs make this record happen. "Shock and Awe," the opening song, is a gritty rocker with a tight verse featuring Bryant spitting his lines with an almost Bon Scott-like sneer that opens up into a huge chorus with strong vocal harmonies. It's full of all the elements that make rock music great but combines them as only The Shakedown could.
"Ride" is a mid-tempo number about seeing life as a journey instead of a destination. The verses have a hypnotic feel and are built on a tough-sounding open position riff with dead-thumb bass notes holding it together. There are some melodic stops that come out of nowhere, which lead into a chorus that's smooth like a Cadillac. Through it all, Bryant's lyrics hold center stage and communicate his message well.
Even though Tyler Bryant & The Shakedown can rock like thunder, some of the best moments on Truth and Lies merge from its moodier, more reserved songs. "Shape I'm In" is a gripping track that deals with Bryant's own struggles with anxiety and panic attacks. It's a soulful interior monologue about coming back from being down with the hook line "Don't judge me by the shape I'm in / I'll find a way to shine again." "Shape I'm In" shows true personal vulnerability and risk, which are at the center of all great art, and is proof that the best songs often come out of life's most hardcore experiences.
"Judgement Day" is another brilliantly brooding song that features an entrancing slowly-picked resonator-sounding riff and Bryant's apocalyptic vocals and brimstone lyrics about black cats and cracked mirrors. The chorus preaches that "Bad luck's about to drop that hammer down / It's my time to take what's coming now" and packs that Hell-bound Robert Johnson feeling that burns through the heart of the blues tradition. Turn you ice cold, this one will.
There are no bad songs on Truth and Lies, so you drop the needle anywhere on it and be guaranteed a good time. Bryant is a highly individualistic guitarist who doesn't sound like the other cats and kittens and The Shakedown is the band he belongs in front of. You'll get it as soon as you hear it. This outstanding blues-based modern rock overflowing with identity and you absolutely need to encounter it.
Tyler Bryant & The Shakedown Online