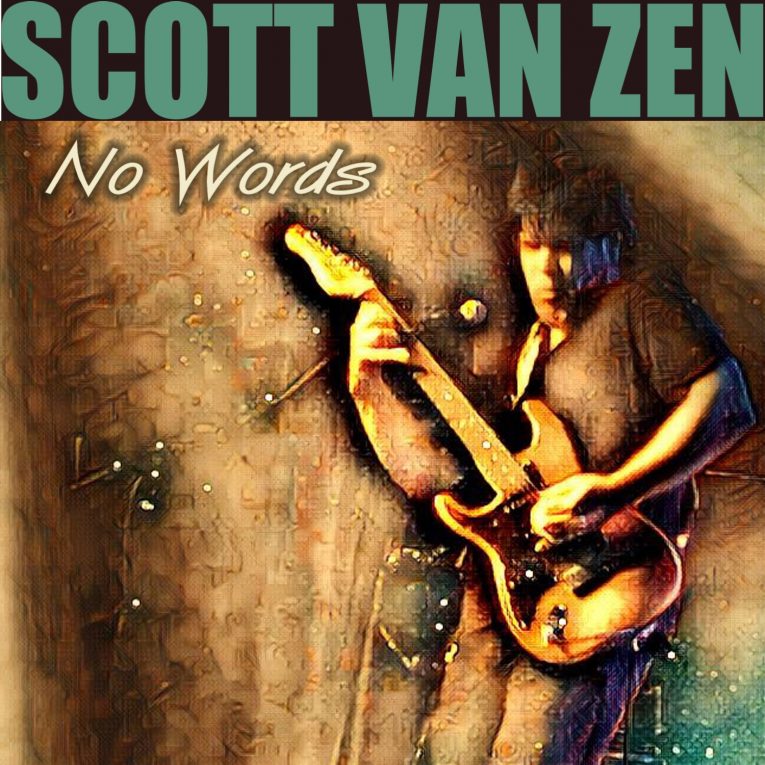 By Mike O'Cull
Instrumental guitarist Scott Van Zen is a hugely talented musician and composer who's capable of pulling every possible human emotion out of his ax. A pro since age 14, Van Zen attended the Guitar Institute of Technology in Hollywood, California and has written and produced music for NBC, Fox, Paramount Television, Warner Brothers, MTV, ABC, and more. Van Zen worked on albums by Kiss, toured with Brian Howe of Bad Co., and earned a Dove Award with recording artist Ken Tamplin. His latest solo release, No Words, is a supremely listenable blast of singer-free rock music that shows Van Zen and his heavenly Strat tones getting things done at an elevated level.
No Words is more interesting and fun than most instrumental guitar albums, mostly due to Van Zen standing his rock and roll ground and never lapsing over into New Age happy jazz, inauthentic blues, or country. Van Zen has a strong identity as a guitarist with a genuine affinity for rock and blues-influenced playing that runs through everything he does without apology. You can tell he's much more than a roadhouse rocker and that he has chops to burn but he keeps every note real and never sounds academic.
The record was tracked over the last year and a half and features Scott Van Zen playing the styles he loves. This record is meant for all you guitar fans out there who just can't get enough hot licks to be satisfied. The cuts here are all cool and memorable and are much more than just vamps to shred over. Van Zen packs considerable compositional muscle and wields it well, which makes No Words engaging, accessible, and artistic.
"Goes To Eleven" is an up-tempo rocker with a hard funk influence that opens this set well and gets the obligatory Spinal Tap joke out of the way at the same time. Van Zen launches his solos into the stratosphere but has enough tension and dynamics written into the track to keep it compelling all the way through. He even ends it on an unresolved V chord that hangs in space and avoids the typical rock band flourish ending. "Zen Swing" flirts with the jazz lifestyle in the same way as
SRV's
"Stang's Swang" did but Van Zen gets a bit more chordal at the end of his form. He also keeps his rock vibe intact, even in this context.
"Steam" is a full-frontal blues/shred guitar attack that finds our man Scott working out at high speed over a "Hot For Teacher" sort of beat. It starts off in the 7#9 territory all guitarists love and Van Zen rips some tasty stuff before the next section of relentlessly-descending arpeggios that take the tune out of the blues completely. Here and throughout these sessions, Van Zen's tone is cleaner and more American-sounding than most rock players of this caliber. His sound has a Fender amp type of clarity that allows him to articulate every note and keeps him away from the overdone Ibanez/Marshall flavor so many rock players use.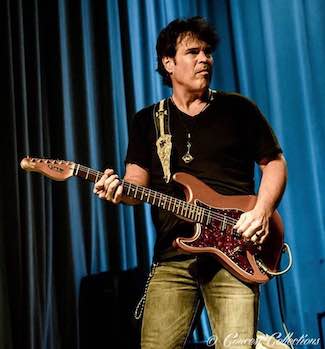 When he does finally play the blues on the album's last track "Say Hello Say Goodbye," he does it with the style and grace of someone who understands the genre. Van Zen's lines run through the changes beautifully and he has the aesthetic wisdom to know when he should pull back and when he should show some rock. It contains some of the most enjoyable guitar on the entire set and winds the party down in an effective, organic way.
Scott Van Zen is an ultra-hot guitar player who has formed rock, blues, and jazz into an individual sound that will attract music fans at large, not just other guitarists. Why isn't this guy more famous?
For More information on No Words by Scott Van Zen: