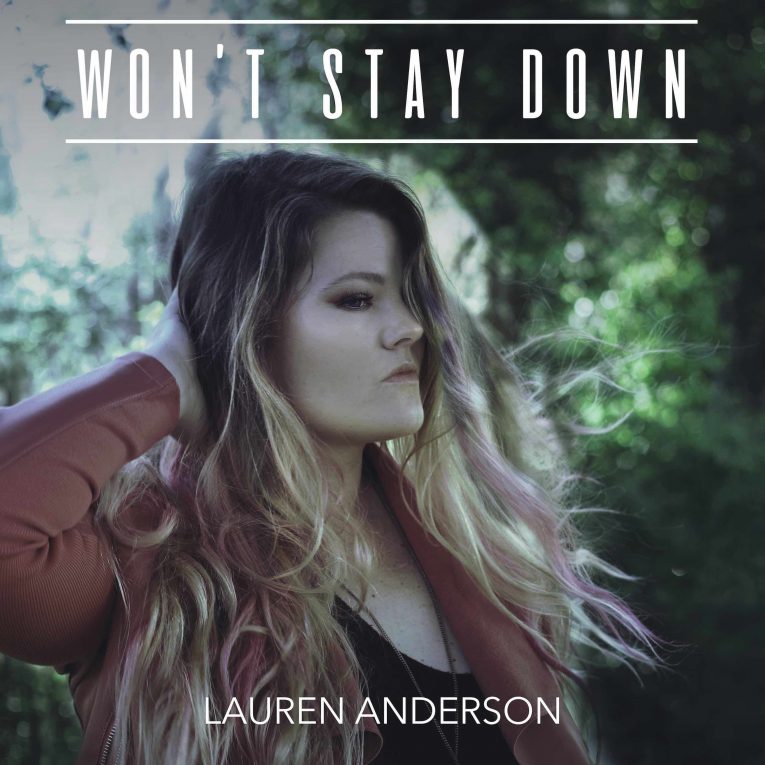 By Martine Ehrenclou
Singers like Lauren Anderson don't come along very often. You'll be glad she did when her blues, rock and soul EP, Won't Stay Down, drops July 26, 2019.
What a voice. A blues belter, sultry songstress and a fine songwriter, Lauren Anderson put together a collection of five original songs with grit, groove, and rock n' roll backbone, an EP she produced herself.
The road to Won't Stay Down didn't come easy. Anderson's debut EP Do & Hope followed by her full length Truly Me, and her 2017 EP, The Game, led her to Los Angeles for meetings with music industry executives, vocal rehearsals, record contracts, and ultimately a whole lot of empty promises. Upon her return to her home in Nashville, Anderson began writing new material that remodeled her frustrations with the music industry into themes of  empowerment, strength, and perseverance.
Lauren Anderson's Won't Stay Down is a fiery and soulful statement. She has the ability to transform frustration into a glittering gem of an EP. With killer vocal chops, catchy blues, rock, and soul songs, Anderson establishes herself as a badass artist who refuses to be marginalized.
After years of classical vocal training and a path leading her into opera, Anderson shifted gears when she realized that her calling was blues, rock and soul. In 2014 she moved to Nashville to commit to her solo music career full time. She won "Female Vocalist of the Year" for the 2015 Midwest Music Awards and established herself as one of the city's beloved blues musicians with a monthly residency at the Bourbon Street Blues and Boogie Bar, combined with a slew of gigs across the Southern and Midwestern states.
Kicking off the EP, "Honey, Call Me Baby" is a guitar driven blues-rocker with Anderson's soulful vocals leading the way. With hints of Susan Tedeschi and Joss Stone, Anderson doesn't just sing it, she brings it with confidence and attitude. An arresting tune with a brief but cool dirty blues-rock guitar solo, it's a preview of the quality music you'll find on the EP.
Lauren Anderson has what certain great singers of the past and present possess—deep rooted passion and an innate feel for how to use her voice in different ways to convey the emotion of the song. She has a firm grip on vocal dynamics and an insane range to back it up.
The title track, "Won't Stay Down" is a standout. A blues rocker with swampy groove, Anderson wraps herself around this tune. A slinky guitar solo breaks up the intensity just as Anderson throws herself back into this winner-of-a song with tasty guitar fills, tight drumming and bass lines. "Break me down, yeah,…I won't stay down." And I believe her.
Another standout is "Cake," a hip-shaking number with syncopated rhythms and an almost Cajun feel. In between blasts from a horn section and funky guitar, Anderson infuses power and soulfulness into this tune with a natural-born voice. She's as authentic as she is real with lyrics such as, "I want my cake and eat it too… who said that I can't have it all… I want my rock and roll career…I want my Hollywood premiere." A nice trumpet solo punctuates this tune along with tasty guitar riffs and a brief highlight on bass. This band is tight and together.
Closing out the EP, "Wild and Free" is a straight ahead rock n' roll number that alludes to a young woman's boundary breaking journey and the freedom that comes with it.
Won't Stay Down is an impressive release from Lauren Anderson, a multi-talented musician and evolving songwriter whose music is a modern interpretation of blues and rock, with a taste of Country.
For more information about Won't Stay Down by Lauren Anderson: