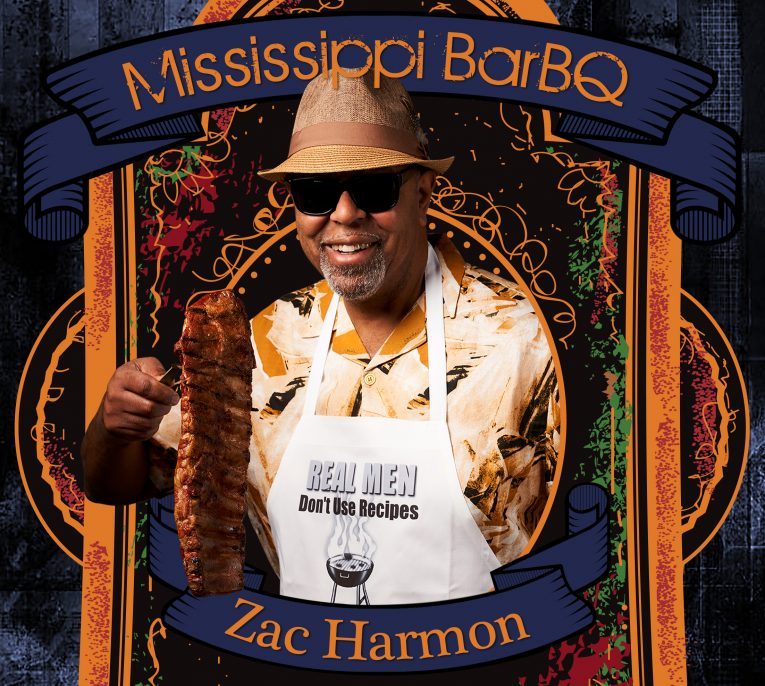 By Mike O'Cull
Award-winning blues vocalist and guitarist Zac Harmon recently became part of the Catfood Records family and his debut effort, Mississippi Bar BQ on the El Paso, Texas-based label, comes out July 19th, 2019. Produced by Grammy-winner Jim Gaines (Santana, Steve Ray Vaughan) Mississippi Bar BQ gives the world ten new original songs and a killer cover of Bob Dylan's "Knockin' on Heaven's Door." The record is the most progressive release of Harmon's career and he revels in the opportunity to take his Bobby "Blue" Bland-meets-Freddie King style anywhere he wants go under the watchful ears of a master producer.
Born and raised in Jackson, Mississippi, Zac Harmon is a true descendant of the music that poured out of the city's historic Farish Street district, home of blues legend Elmore James. He started his professional career at age 16, playing guitar with Sam Myers, a friend of his father. A short two years later, he was playing with Dorothy Moore, Z.Z. Hill, and other well-known blues artists. He has since gone on to have a long and illustrious life in the blues, and Mississippi Bar BQ is the beginning of an exciting new chapter in his story.
Harmon works with two distinct bands on these sessions and both outfits put down admirable performances. Seven tracks were cut with The Rays, an extra-solid bunch of studio veterans who fit Harmon's songs like a second skin. The other four cuts were done with Harmon's top-flight road band, who also know how to do it right when the red light comes on. This blended effort resulted in a supremely listenable record that showcases every bit of Harmon's talent and remains captivating from beginning to end.
"Gypsy Road" opens the album with a mid-speed funk/rock vibe that's instantly alluring. Zac lays down some extremely toneful guitar parts throughout the main groove and then demonstrates his deft lead phrasing during a solo bridge. His voice is warm, expressive, and smooth, with an uptown quality that allows him to stand apart from more rough-hewn blues singers. "Smoke and Mirrors" takes the funk deeper and tells the all-too-common tale of love gone wrong. Dan Ferguson of The Rays turns in a shark-toothed clavinet groove on this one that really propels the pocket while Harmon laments that "It wasn't love, just a hustler's con." If this doesn't make you dance, nothing will.
The title track, "Mississippi Bar BQ," is the kind of soulful R&B song most artists write about love gone right but Harmon uses these lush chords to sing about food, fun, family, and friends. It's a feel-good song that's right on target for Summer partying and makes the idea of ribs, beers, and blues at Zac's place sound like one heck of a good time. Harmon puts down some mellow and melodic lead guitar that goes well with the mood of the moment and makes all seem right with the world.
Harmon's take on "Knockin' on Heaven's Door" is heavily gospel and R&B-influenced and he breathes much freshness into a song that so many others have sung before him. He ups the intensity in the middle with some energetic blues/rock soloing and ample support from his Zac Harmon Band. Harmon finds something new in this familiar song and it's one of his best moments on the entire set.
Mississippi Bar BQ is a mighty first release on his new label and Harmon sounds ready and able to keep reaching for these type of heights. The writing, playing, and singing here all happen at a high level and Harmon sounds like he has another dozen albums of music inside him ready to burst out. If you're not already hip to him, you should be. You will absolutely love this record!
For more information on Mississippi Bar BQ and Zac Harmon: