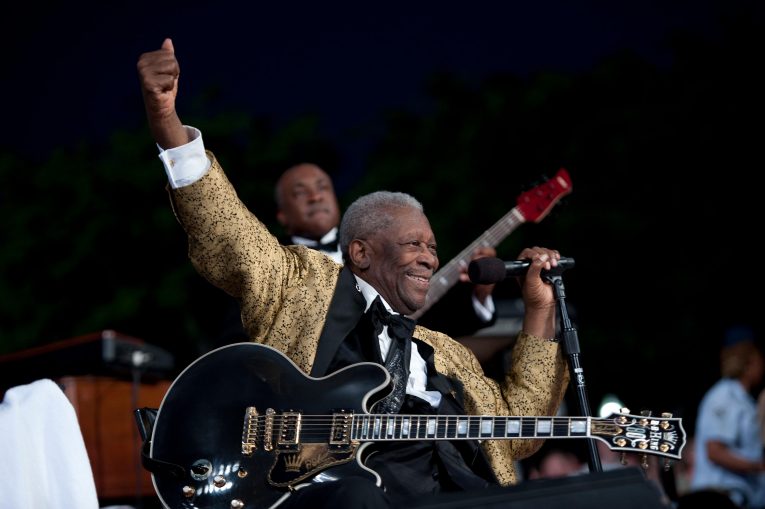 The legendary King of the Blues, B.B. King gave his black Gibson ES-345 a name and we know her as Lucille. Lucille is being put up for auction by the estate of BB King via Julien's Auctions, on September 21, 201 live at The Standard Oil Building in Beverly Hills and live online at juliensauctions.com. The revered fifteen-time Grammy Award-winning artist, singer, guitarist, and founding father of the electric blues, B.B. King  inspired generations of musicians including Jimi Hendrix, The Beatles, Eric Clapton, Jeff beck and more.
Julien's Auctions announced Tuesday that King's black Gibson ES-345 prototype guitar is among the items from his estate that will go up for bid.
Julien's said that this "Lucille" was heavily used by King and served as his primary guitar on tour in his later years. The head stock has "B.B. King 80" and a crown inlaid with mother-of-pearl, "Gibson" on a gold plate, and the pickguard reads "[crown] B.B. King" in gold. The pickups read "B.B." in gold and the back of the headstock reads "Prototype 1."The guitar is accompanied by a hard leather case with "B.B. King" embroidered in gold and is estimated at $80,000-$100,000.
Want to bet it goes for a lot more?
According to the press release from the auction house, in 1949, the famous legend of B.B. King's "Lucille" guitar was born when, during one of King's shows, a fire broke out during a brawl and King went back into the burning building to save the guitar, narrowly escaping his own death. When he discovered that the brawl was over a woman named Lucille, he named his guitar ⁠—and each one of his trademark Gibson guitars in the decades to come ⁠—after her to remind himself to never fight over a woman or run into a burning building.
In the 1950s, King was considered one of the most important R&B artists with his first Number One Billboard R&B hit, 1952's "3 O'Clock Blues," and the string of hits that followed which made him one of the top touring artists —as he clocked in a record-breaking 342 concerts in 1956.
In the 1960s, B.B. King's distinct guitar style of complex, vocal-like string bends and unmistakable vibrato developed a massive following and deep appreciation by the decade's greatest English rock legends including Eric Clapton, George Harrison and the Rolling Stones. The 60s also brought him greater fame with the release of Live at the Regal in 1964, the hits "Sweet Sixteen, Part I," "Don't Answer The Door, Part I," "Lucille" and his heralded opening act stint on the Rolling Stones' 1969 American Tour. In 1970, he won a Grammy Award for his most popular crossover hit "The Thrill Is Gone," which went to No. 15 on the Pop charts.
From the 1980s until his death in 2015, B.B. King toured extensively and appeared in numerous television shows and films including Blues Brothers 2000, where he played the lead singer of the Gator Boys along with Dr. John, Bo Diddley and others. He reached further commercial success with his 1988 duet, "When Love Comes to Town," with the supergroup U2 and the double platinum Grammy Award-winning blues album, Riding with the King (Reprise Records, 2000) with Eric Clapton.
From 1991-2000, five B.B. King's Blues Club locations opened in Memphis, Universal CityWalk in Los Angeles and New York City's Times Square as well as two clubs at Foxwoods Casino in Connecticut. In 1996, the critically acclaimed CD-ROM, On The Road With B.B. King: An Interactive Autobiography, was released as well as King's autobiography, Blues All Around Me (written with David Ritz) was published. By 1998, it was estimated that King had played more than 15,000 concerts during his 65 years touring on the road.
B.B. King's many honors included inductions into the Blues Foundation Hall of Fame in 1984 and into the Rock and Roll Hall of Fame in 1987; the NARAS' Lifetime Achievement Grammy Award in 1987; honorary doctorates from Tougaloo (MS) College in 1973, Yale University in 1977, Berklee College of Music in 1982, Rhodes College of Memphis in 1990, Mississippi Valley State University in 2002 and Brown University in 2007. In 1990, he received the National Medal of Arts and the National Award of Distinction from the University of Mississippi in 1992. In 2008, the B.B. King Museum and Delta Interpretive Center opened in Indianola, Mississippi. He died on May 14, 2015 at the age of 89 and is buried at the museum that bears his name.
B.B. King was 89 when he died in 2015.