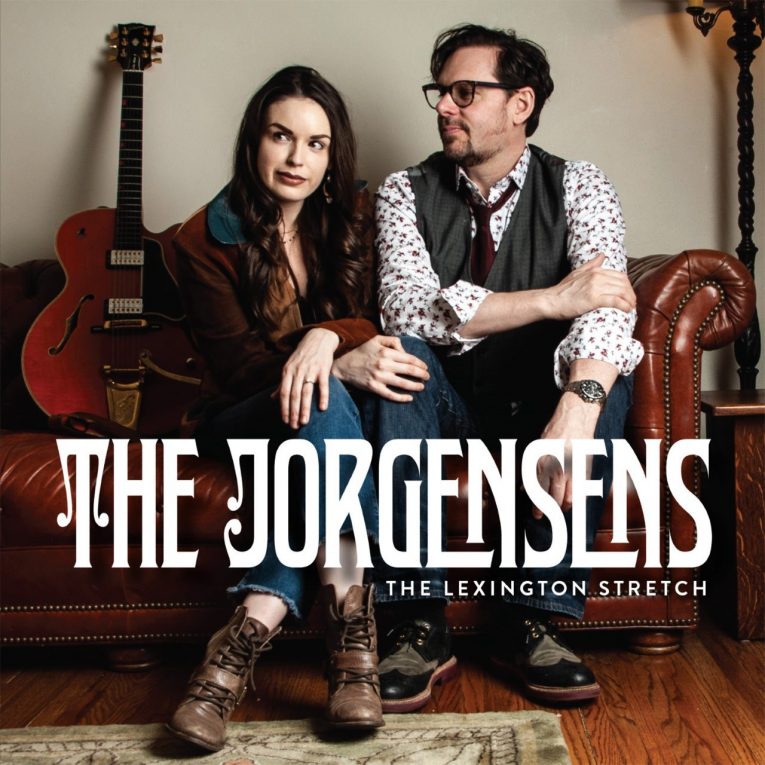 THE JORGENSENS ANNOUNCE GLOBAL RELEASE OF NEW STUDIO
ALBUM TITLED THE LEXINGTON STRETCH ON SEPTEMBER 13, 2019
Plus New Video "Goin' Goin' Gone" Video
St. Paul, MN — The Jorgensens return with a new studio album titled THE LEXINGTON STRETCH planned for global release on September 13, 2019.  The pre-order goes live today with LP and CD availability alongside bundles featuring a number of new t-shirt designs.
Kurt was acknowledged by the Minnesota Music Awards with Artist of the Year, Album of the Year, and Songwriter of the Year.
 Longtime leader of the Kurt Jorgensen Band, Kurt has released eight albums that garnered critical praise from critics and fans.
Brianna has toured as bandleader with a list of artists and as a solo act and has appeared at SXSW many times.
They joined forces and perform as The Jorgensens and will release The Lexington Stretch, the second album for the power duo. This roots rock, blues-infused Americana record will be released September 13, 2019
Connections between partners, whether they be spiritual, romantic or creative can be the origin of true magic. The journey of Brianna and Kurt, and evolution of their creative collaboration, has yielded an album that defines both of them through the vehicle of The Jorgensens. There is an honest authenticity of the repertoire they've created which is both timeless and classic.  Their performances are genuine, soulful and relatable for many who will hear these songs.
Listen to "Goin' Goin' Gone" below
Every week we'd get together and cut tracks at his studio, and in the process shared details about our lives. We saw one another through some tough times. It was a moment in time where Kurt was getting divorced, and I was getting sober. What a pair we were. The writing and recording gave us an out from each of our realities. Kurt felt the same way, and we decided we were going to write, produce, and record an album together, while playing acoustic gigs as a duo. We completed our first album titling it 'Love Wins' because in the process we fell in love with each other romantically."
For Kurt, he reflects, "I was interested in producing other musicians, but was not interested in just recording people for money. I had listened to some of Brianna's music and thought she had some well written songs and a very distinctive voice that separated her from other female singers. It is important to me to be unique or different, and Brianna felt refreshingly real in every way.
The repertoire that has become "The Lexington Stretch" album is an amalgamation of genres colliding with ease and flow that organically morphed into a sound that simply feels natural to the listener. Whether inspiration is drawn from the roots of the Blues, musicianship embodied in Jazz, or the heartfelt purity that defines great singer-songwriters and elements prevalent in Americana, this band's music is simply their own. Songs that define this realized vision include "Voodoo," and "Storyville," while others like "Goin' Goin' Gone" are simply genre-specific.
Alongside the original repertoire, the cover of Willie Dixon's "If the Sea Was Whiskey" is a standout tribute to the classic. Kurt recalls, "I have loved Willie Dixon since I was 15."
The album title celebrates the Jorgensens everyday life. It's a reference to an area where they live, write music, record their songs, eat dinner as a family, entertain, and reflect on all things that are life. But more broadly an ode to St. Paul, Minnesota. The Twin Cities have treated them well professionally, where they continue to perform hundreds of shows a year supported by the fans and musicians who have one of the greatest scenes across America's cities.
Kurt says, "With this album, I think we've finally reached that pocket where there is a balance of creativity, songs and the sound we've been hearing in our heads slowly refining themselves to become what is now "The Lexington Stretch.""
Whether as a duo or band, The Jorgensens stage more than two hundred performances annually. The duo has announced an album release concert planned to be staged at St. Paul, MN's The Como Lakeside on Saturday, September 14 at 7PM. Kurt and Brianna will be accompanied by eight additional musicians for this special event.
For more detail on the 10-piece ensemble and tickets click here
Additional confirmed appearances include see here. 
Pre-order goes live today with LP and CD Lexington Stretch.