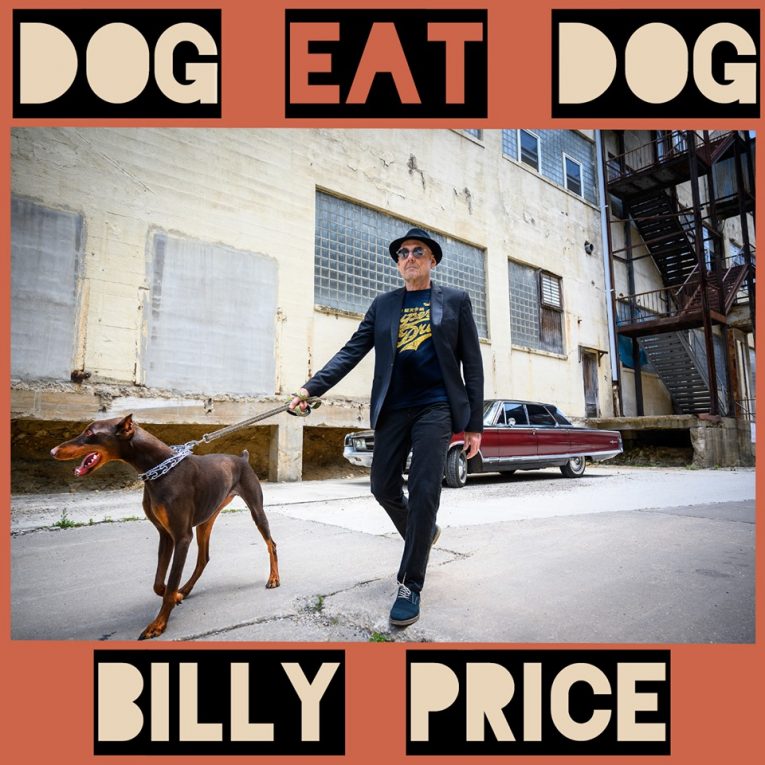 By Martine Ehrenclou
Critically acclaimed soul blues singer-songwriter Billy Price is back with an outstanding album, Dog Eat Dog, out August 2nd via Gulf Coast Records.
Right from the opening track, you'll know that Price, a 2016 Blues Music Award winner, has done it again in collaboration with producer Kid Andersen. The songs on Dog Eat Dog are a blend of funky grooves and soul shattering tracks with seasoned pro, Billy Price at the helm. On the heels of his last album, Reckoning, a 2018 Blues Music Award nominee, Price and Andersen have created a new album that will be hard to beat in 2019.
Billy Price's voice is unmistakable. You'd know it anywhere. And on each of these delicious tracks, eight originals and four covers, he reinvents his style and soulfulness to wine and dine the listener.
The world class musicianship extends to Kid Andersen (guitars) Alex Pettersen (drums), Jerry Jemmott (bass), Jim Pugh (keys), Eric Spaulding (tenor sax), Jack Sanford (baritone sax), John Halbleib (trumpet), Jon Otis (congas), backup singers (Vicki Randle, Lisa Leuschner Andersen, Charlie Owen and the Sons of the Soul Revivers), and guest appearances by Rick Estrin, Alabama Mike, and Mike Zito.
"Working On Your Chain Gang" written by Price and Jim Britton gets the party started with a light-hearted and humorous story of love with funky soul-R&B. The song is blessed with some kind of groove, a full band, horn section and backing singers. You can't help but love this track. Billy Price and the band kick off the record with an original that's as well-crafted as it is fun. And might I add, the guitar solo by Kid Andersen is blissful. Turn it up.
As if to break up the fun romp of the first track, in comes "Lose My Number" written by Price and Britton, a smooth groove number about breaking up with a love interest who duped her suitor. Billy Price sings it with restraint, laid back swagger, except when he floors it with lines that call for anger and loss. The sweet sax, guitar and organ fills work together with the rhythm section to create a haunting vibe.
The first cover on the album is a whopper of a song, a stunning reinterpretation of Bobby Byrd's "We're In Love." It shines bright with an irresistible rhythm and snappy beat. Price's strong sense of timing shows on this tune, riding the rhythm with vocal scatting that only a consummate professional could muster. Horns punch up the song, along with backing singers and Price singing, "Yeah Yeah Yeah, doo do." A beautiful but brief sax solo glides into the song before Price vamps in the outro. It's modern with old school references and one helluva song.
Price first gained national attention during his years with guitarist, Roy Buchanan, which tells you something right there. With the Keystone Rhythm Band, the Billy Price Band and solo projects, Price has recorded 17 albums and was inducted as a Pittsburgh Rock n' Roll Legend at an award ceremony.
In roars the title track "Dog Eat Dog," a swampy blues tune with a haunting Cajun feel. With his soulful and bluesy voice, Price makes you feel the powerful lyrics about the suffering world, asking not for a handout but a hand. Rick Estrin adds his dose of expert and soulful harmonica that heats up the moodiness of the song.
Enter the supremely funky "All Night Long Café." The horn section kicks the song into high gear. Price never misses a step, but on this track he grabs the rhythm with both hands and steers this song right onto the dance floor. As if the tune couldn't get any better, Mike Zito performs an exquisite guitar solo before Price grabs the reins again and kills it. This is first class funky R&B and one of the best songs I've heard in a long time. Yes, it's that good.
"Toxicity" another funky great number, features Price with his trademark cool vocal swagger with hints of Curtis Mayfield. You can't get away with sitting still on this one. The walking bass line and funky guitar are a ride down the dance line of Soul Train but with a modern take that's graced by Pugh's tasty solo on keys.
A couple of songs merge more into classic soul territory before the album closes with "You Gotta Leave" an R&B original by Price and Bill Troiani. Mr. Cool (Price) sings it with style. The edgy guitar solo and organ fills intensify the mood.
A first class soul/blues/R&B album with superb musicianship, Dog Eat Dog, is a contender for album of the year. I'm certain it will rake in awards. Led by the great Billy Price, Dog Eat Dog is a magical brew of all the right ingredients that make this record really cook.
For more information on Dog Eat Dog by Billy Price: