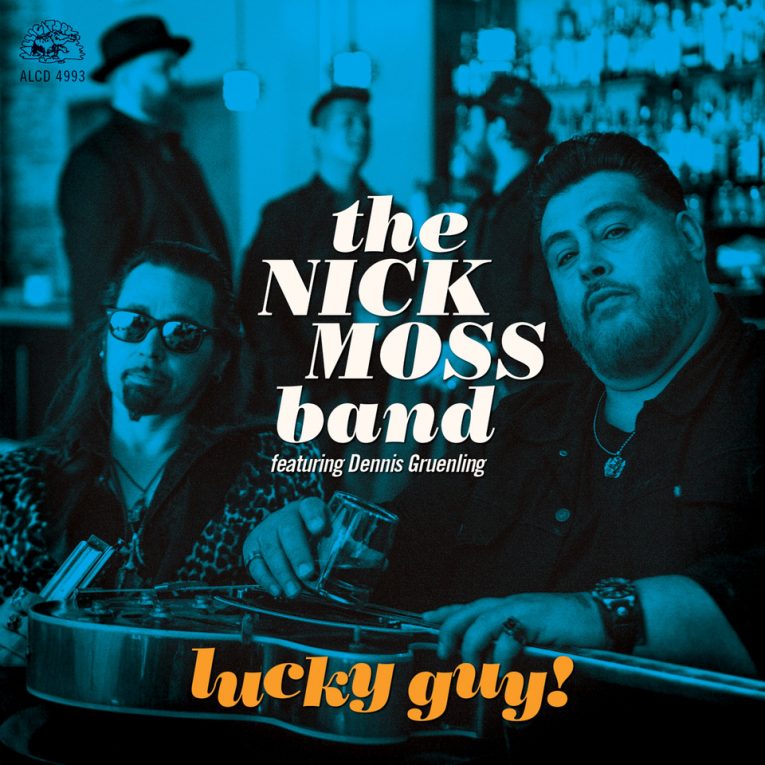 By Mike O'Cull
Nick Moss is one of the brightest stars in the contemporary blues firmament, a fact cemented by his recent win at the Blues Music Awards. The Nick Moss Band Featuring Dennis Gruenling has a new release called Lucky Guy! that comes out August 9th, 2019 on Alligator Records that's likely to garner more accolades in the coming year and shows Nick burning hotter than ever before. He and harmonica ace Dennis Gruenling, who also won a BMA this year, make an incredible team and bring much power and originality to the blues. Nick, Dennis, and the rest of the band are absolutely at the top of their form here and easily blend the soul of roots music with skillfully-written new songs that will expand the blues canon.
Co-produced by Moss and Kid Andersen, guitarist for Rick Estrin & The Nightcats, Lucky Guy! makes its bones with the timeless Chicago blues sound Moss absorbed directly from long-time mentor Jimmy Rogers but also sports some outside flavors, including Louisiana swamp pop, West Coast blues, New Orleans funk, and early rock and roll. The set packs 11 new Moss songs and two written by Gruenling that will take listeners from the dancefloor to the deepest parts of their spirits and back again, turning the highs and lows of human life into brilliant art just as blues music was meant to do.
The record kicks off with "312 Blood," a grooving mid-speed shuffle about Nick's love for his home city of big shoulders. Taylor Streiff checks in with some top-flight piano playing while Nick and Dennis put the blues down like they wrote the book on it. One thing that's immediately noticeable is the deep pocket the band has as a unit. The rhythm section of bassist Rodrigo Mantovani and drummer Patrick Seals puts on a clinic all the way through these sessions and the two men play like they've been scientifically melded into a single person.
Johnny Johnson's "Ugly Woman" is the lone cover song on Lucky Guy! and gets into a revved-up Louis Jordan-style hard swinging jump blues with horns that will energize any room in known universe. The entire band steps up its game on this one and the call-and-response vocal exchanges between Nick and the boys are more fun than Midnight on Saturday in Chicago. The title track, "Lucky Guy," is a rousing bit of houserocking music about good fortune in the romance game and shows off the smooth side of Nick's vocal range. The cut has a marvelous live feel to it that'll hold your attention from beginning to end.
"Sanctified, Holy, And Hateful" is a soulfully slow minor key blues that drops some social commentary on hypocritical Christians in politics and instantly turns Lucky Guy! into more than just a good-time album. It's a protest song done the Chicago way and Moss digs in lyrically and instrumentally to make sure nobody misunderstands his position on this issue. The song takes a clear moral stand, which is always a calculated risk, but Nick's convictions stand tall and he deserves mad respect for including this on the record.
Dennis Gruenling steps to the fore on his original "Movin' On My Way" and tears the roof clean off. Kid Andersen adds some of his stellar guitar work to the proceedings and Gruenling's gritty harp tones are simply magical. "Hot Zucchini" is a big helping of instrumental Booker T-ish Memphis R&B that sits in a perfect spot in the tune stack and is a fun break from the intensity of some of the earlier songs.
The record ends on an emotional and introspective note with "The Comet," a heartfelt tribute to Nick's former bandmate and friend Michael Ledbetter, whose tragic passing shook the blues world from top to bottom. "Monster" Mike Welch, who was playing with Ledbetter at the time of his death, guests on lead guitar on "The Comet" and he and Nick wind the album down with a quiet moment dedicated to their departed brother.
Lucky Guy! is a superb, well-rounded effort from one of the great blues bands of our time. It's the sound of musicians who have put in the work, expanded their parameters, and now speak as authorities in their own right. It's the kind of record that takes careers up a few levels and Moss sounds ready to go bigger than ever before. Buy it for everyone you know.
Watch "Wait and See" below
Pre-order link for Lucky Guy!
For more information on Lucky Guy! The Nick Moss Band Feat. Dennis Gruenling: