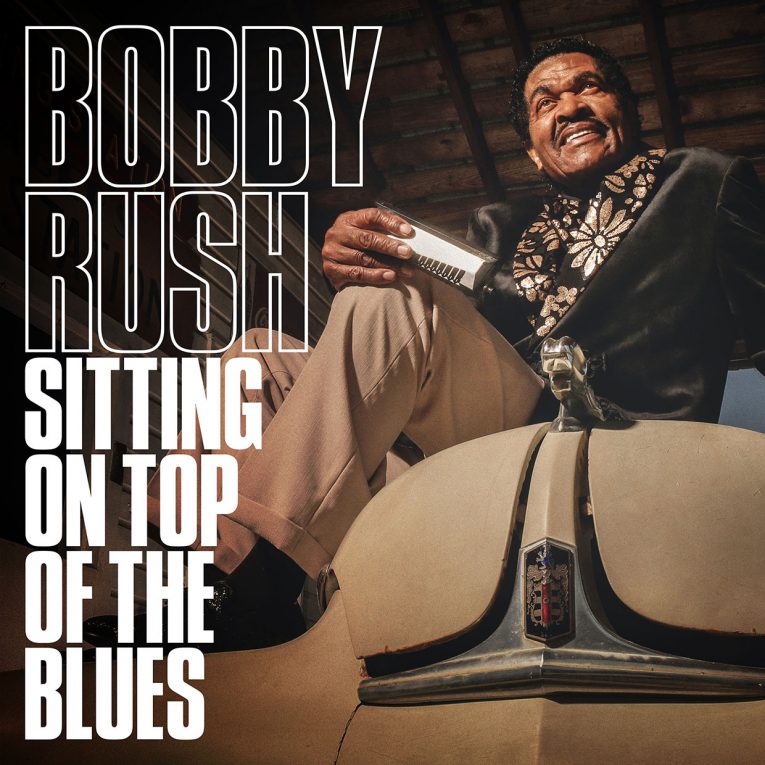 By Dave Resto
Vocalist/harmonica player/guitarist Bobby Rush is a living blues legend. He has walked with the giants of the genre and at 85, he's still around to tell his tale. His tale continues as his new album Sitting On Top Of The Blues, recorded on his label, Deep Rush Records, comes out on August 16th. Grammy-nominated guitarist and vocalist Vasti Jackson and Grammy-winning producer Scott Billington co-produced the effort.
The son of a preacher who played guitar and harmonica, Rush began performing in Pine Bluff Arkansas, with Boyd Gilmore and Elmore James. Later, in Chicago, he worked a circuit with Muddy Waters, Jimmy Reed, Etta James, Freddie King, Luther Allison and Howlin' Wolf. In more recent years, he has been inducted into the Blues Hall of Fame and he won a Grammy Award in 2017 for his album Porcupine Meat, produced by Billington. Rush has won 12 Blues Music Awards and the B.B. King Entertainer of the Year Award.
Sitting On Top Of The Blues gives us Bobby Rush still at his best, as he adds healthy doses of classic R&B, funk and soul, and blends them into his beloved blues.
The opening track, "Hey Hey Bobby Rush" is a slow-stomping, horn-punctuated funk grind, where in Rush simply but accurately states, "My name is Bobby Rush; I want you to know. I sing the blues, y'all; everywhere I go." There's real fire in his delivery when he later sings, "Somebody asked me where I've been; around the world and back again!" This man is clearly proud of what he does and of the fact that he's been doing it for so long. It does this reviewer's heart good to hear that the years have not robbed him of his vocal prowess. And about that harmonica…
"Bobby Rush Shuffle" is an instrumental placed midway through the album. It clearly showcases Rush's blues harp skills and proves that they are not just incidental to his singing. Rather than assault the listener with effects-driven, over-the-top playing, Rush charms us with his clean tone and melodic structure.
Rush has been around for so long that he can masterfully capture the essence of any decade's signature sound. There are several strong examples of this throughout Sitting On Top Of The Blues.
The songs "Get Out Of Here (Dog Named Bo)" and "Slow Motion" are a pair of unhurried, classic R&B gems. Both songs pack a great seventies-era vibe which owe as much to Vasti Jackson's tasty but spare guitar licks as they do Rush's soulful vocal performances.
The upbeat "Shake Til' You Get Enough" sounds like the more muscular R&B of the eighties. The fragmented bassline, driving drums, fat-toned keyboard and chirping funk-rhythmed guitar evoke visions of mirrored disco balls, spinning above the dancefloor. Putting things over the top are the great Pointer Sisters-style backing vocals, and the way Rush sings, "You twerk, twerk it here; you twerk, twerk it there; you twerk it, twerk it, twerk it; twerk it everywhere!"
With its softly swinging drums, gently walking bassline, feather light keyboards and jazzy rhythm and lead guitars, "Pooky Poo" is a giddy love song that would be a hit in any swanky night club worth its cover charge. Rush sings a vocal line, which is somewhere between Lou Rawls and Bobby Bland, yet distinctly his own.
Given Rush's rural upbringing in Louisiana and Arkansas, it's my guess that "Recipe For Love" may be the song which is closest to his heart. It's a spare, beautifully rendered acoustic guitar-driven, front porch blues masterpiece, with just a dash of harmonica for flavor. The fingerpicking is exquisite, and the imagery of the wordplay doesn't feel forced. Here, Rush gives us an important glimpse into his early years as a musician.
We can and should heap well-deserved praise upon Bobby Rush. He's a treasure. A pioneer of American music. A monument to longevity. But he's probably happiest to simply be Sitting On Top Of The Blues.
For more information on Sitting On Top Of The Blues by Bobby Rush: