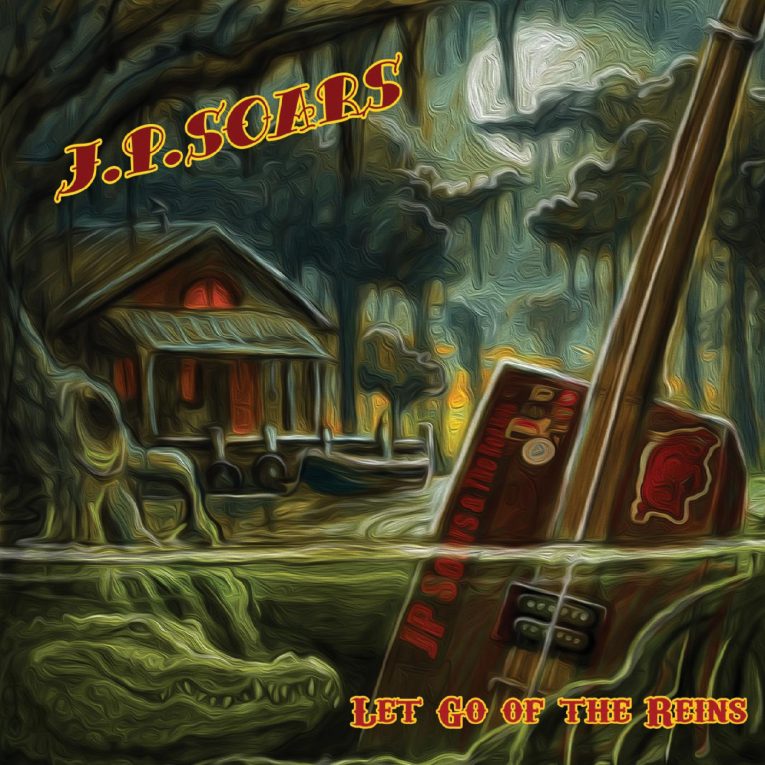 By Tom O'Connor
The pride of Arkansas, J.P. Soars is set to release his new collection, Let Go Of The Reins on August 23rd through Whiskey Bayou Records and produced by Tab Benoit. Fans can expect a strong dose of his familiar yet unique blues-rocking style and honest storytelling vibe.
Since making his big initial splash a decade ago with a first place win in the Blues Foundation's 2009 International Blues Challenge in Memphis plus the Albert King Award for Best Guitarist, Soars has only added to his good reputation with every subsequent release and tour. This collection of originals and a few covers is no exception. Supported by this outstanding crew; Tab Benoit's deceptively deft drumming and Chris Peet's always dialed-in bass lines, J.P. has plenty of room to express himself both lyrically and with his own formidable guitar work. The addition of Tillis Verdin's Hammond B3 on several tracks is icing on the cake; always delicious and never superfluous.
The album launches with a funky groove and a bulletproof riff on "Been Down So Long." As the lyrics spin a classic tale of bad times that have lasted so long they've become the norm, the 5:38 running time means there's plenty of room for some thoughtful guitar breaks, and a sweet solo turn by Verdin on his B3 on the way out. The band then leans heavy on the rock side with the galloping and crunchy "If You Wanna Get to Heaven." They then turn the tempo up yet another notch with the kind of scuttle-buttin' Texas-style blues you would expect from a song titled "Freddie King Thing."
Title track "Let Go Of The Reins" comes on thick and heavy, from J.P Soars' low and sludge-y central riff to the central lament that warns, "You don't get something for nothing and there's always a price to pay." As if to prove life isn't all doom and gloom, Soars follows up that heaviness with plenty of funky groove, some stinging keyboards and furious guitar on the instrumental "Crow's Nest." Stand-out track "Lonely Fire" rolls out with spare and precise playing from the whole band that makes this mature and slow-walking ballad sparkle like a quiet gem. Soars and the boys get back to the grime and grit on "Have Mercy On My Soul," as an especially gravel-voiced protagonist begs for some unlikely and probably undeserved benediction. Soars' guitar break is especially notable on this one.
Moving on, the bouncy "Let It Ride" provides some unexpectedly straight-up and poppin-fresh Country flavor, burnished by a remarkable turn at the pedal steel guitar by Tab Benoit. The band then explores the other side of the musical coin with the spooky and slow noir-blues instrumental "Minor Blues," a tune that could work as the soundtrack for your next caper. Some sophisticated songwriting then hides in plain sight on "Time To Be Done." While the band moves along on a deceptively upbeat cajun-flavored groove, Soars tells a break-up tale that might be about a person or a very bad habit; either way, it is honest, close-to-the-bone and sure to resonate.
The album closes with the most traditional track of the bunch. "Old Silver Bridge" is a musical "amen" powered by just an old-school porch-stomp beat and some sweet acoustic picking. In it, J.P. Soars paints a vivid picture of a lazy river and the kind of day that anyone would, and should, be grateful for, much in the same way Blues fans would and should be grateful for this vibrant and heartfelt collection.
For more information on Let Go Of The Reins by J.P Soars: