By Kevin Porter
Blues guitar virtuoso Nick Moss is considered a master of the Chicago blues sound and has released thirteen albums. Moss' fiery fretwork, soul-charged vocals and memorable original songs place him in a league of his own. He and harmonica wizard Dennis Gruenling joined forces in 2016, and since then, they have wowed audiences and critics around the world with their blues and roots music. Long-time friends, Moss and Gruenling effortlessly share the stage, trading off licks and solos while the rest of the band—Patrick Seals on drums, Taylor Streiff on keyboards, and Rodrigo Mantovani on bass—lay down a solid foundation. Their 2018 album, The High Cost of Low Living, was on many best-of lists, and the recently released Lucky Guy, will certainly be on many best-of lists at the end of this year. Moss won a Blues Music Award in 2019 for Traditional Blues Males Artist of the Year, while Gruenling won for Best Instrumentalist—Harmonica, also in 2019. Moss was kind enough to speak to us by phone.
Kevin Porter: Congratulations on the new album, Lucky Guy. I got a chance to listen to it and it sounds great. What were you trying to accomplish with the new record?
Nick Moss: We just tried to keep the ball rolling and showcase more of the band's cohesiveness. There's also a couple more flavors on this record that were not on the last recording, such as a little early New Orleans-style blues sound and a couple more instrumentals that we had fun with.
Kevin Porter: I wanted to ask about the couple more flavors because I did pick up on that. What's an example of a track of New Orleans-style blues?
Nick Moss: There's a song called "Full Moon Ache." It's kind of a nod to Guitar Slim and Lazy Lester. There's another one called "Tell Me There's Nothing Wrong."  Dennis and I are both fans of that early New Orleans stuff.
KP: You get labeled as a Chicago-style blues band, but from listening to the new record, it seems like you added a few wrinkles. On "Hot Zucchini," you sounded a little like Booker T and the MGs.
NM: You're not far off. There's that and Freddie King. He did a song called "Hot Tomato," so this is kind of my nod to Freddie King. I just called it "Hot Zucchini" and made up my own groove and played Freddie King licks. My keyboard player, Taylor Streiff is a huge, huge Booker T fan. Our bass player, Rodrigo Mantovani, man, he can play anything, but one of his favorite guys is, obviously, Donald "Duck" Dunn. There was a melding of sounds on that tune. We literally put that song together in the studio that same day.
KP: I have to say Taylor is an amazing keyboard player. You mentioned the New Orleans musical style—he really shines on that stuff.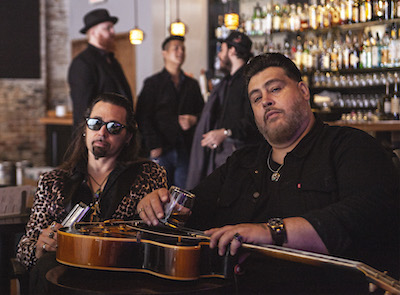 NM: I'm so happy to hear you say that because when Taylor first joined my band, he had no blues background. He comes from St. Louis and he was going to school in Chicago when I met him. Somebody gave me his phone number and said he's not a rock guy or a jazz guy, but he's a good keyboard player. When I met him, his knowledge of roots music was more Allman Brothers, more like Southern rock and soul with that kind of bluesy feel, but he didn't know who any of the masters were, like Sunnyland Slim or Otis Spann. I just told him that I can show you who to listen to, but you got to learn and you have to do the studying yourself. Over the years, he's developed into what I think is one of the finest blues piano players on the scene.
KP: It's an interesting story you're telling me because honestly, in listening to him play, I never would have guessed that was the situation. He's really come a long way in a just a few years.
NM: Oh, yeah, he really has. He makes me proud. One of the great joys of my career, is as I get older I've had the great fortune to pass on my knowledge to younger players that have come through my band, and it's only been in the last couple of years where I've realized the significance of it and how important it is for me to do that. I'm not tooting my own horn. When I came onto the scene, these legends were alive, and I got the benefit of their knowledge, but they're not around anymore. They're gone and I'm sad. They were my friends, but they're not here anymore. The young guys that are coming up, we (as in my generation,) have to be able to pass this down to these guys. There's plenty of stuff on YouTube and records to learn as I did, but there's also something to be said of playing with someone that has first-hand knowledge and experience.
KP: Let me ask you about a few more tracks on the record. The opening track, "312 Blood" seems to me to be like a love letter to Chicago.
NM: It absolutely is a love letter to Chicago. I could be biased because I live there, but it really is probably my favorite city on the planet. I've been all over the world and are there places that are more beautiful? Sure. Places with better weather? Sure. But I think Chicago has everything that you would want if you want to find it. You can find the best food in the world; you can find some of the most incredible architecture in the world. In the summertime, It's unbelievable. Even in the wintertime, Chicago is gorgeous. As far as people go, and as far as big cities go, it's one of the friendliest cities that I've ever been in.
KP: Another track I liked was "Me and My Friends." It has this nice little groove and background chorus, when you're talking with your lady towards the end.
NM: That was my favorite song on the record. It's a fun song. I tend to write a lot of songs that are just heavy, and I don't mean to do it. "Me and My Friends" is a song that I imagine that you would hear in a bar and sing along to it. Because that's what the song is. It's just me and my buddies going up and having some drinks, shooting the breeze, talking smack like guys do. You know, it was just my party song.
KP: Dennis wrote a couple of tracks on the record. How does that work? Do you set aside some time on the record for him?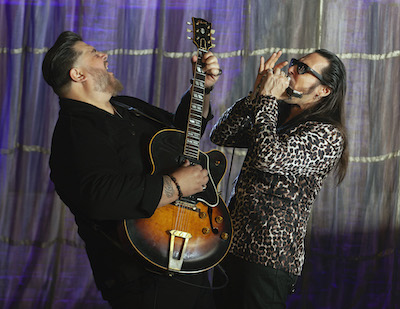 NM: It's always been that since Dennis decided to be a part of this band, he's the number one feature in the band. I've never been a guy that says, "This is my band, and we're going to do it my way. Here's the songs. Learn them and don't deviate." I share my stage openly with anyone if they have the talent to justify it. It's always been about the songs and group, not me. First of all, I'm not the most comfortable front guy in the world because I'm not a showman. You're not going to see me in a top hat and tails, prancing all over the stage and jumping around. I'm just a regular guy. Dennis, though, is like a neon sign and with the way he dresses, he's already a rock star. And his playing speaks for itself. I always tell people it's like lighting a Roman candle—you just light the fuse and then step back because he's going to go off. I love everything he did on this record. Not just the harmonica playing but his singing and songwriting. Yeah, when we do those songs live, they go over like gangbusters.
KP: It's great that you kind of have two front people, and your styles and sounds are different enough that it provides a nice contrast.
NM: I've been very fortunate for years to have guys in my band that I could do that with. The last guy I had before him was (the late) Mike Ledbetter. And that guy, he didn't need to dress up. He just opened his damn mouth and sang. It was incredible. I miss that dude every day. When Mike joined the band, I pretty much let Mike take over the front of the stage because he could sing so great. And when Mike left the band, Dennis came along at the right time.
KP: Well, you brought up Mike Ledbetter, the last song on the record ("The Comet"), that is obviously about him. That was a nice tribute. Tell me about that song and how it came about and how you got Monster Mike Welch to play on it.
NM: We recorded Lucky Guy at the beginning of January and finished a tour on the 17th of January, and we were coming home. Mike was always like my little brother but he was also my best friend. He had just moved into a new apartment with his girlfriend and his two kids. I remember driving home that night from a show in Denver. We both stayed up late, and we were always texting or calling each other at two in the morning because we knew we'd be up. I gave him a call when I got home, and he didn't answer the phone. I knew he had played a gig on Sunday night, so I figured he probably was sleeping, and I just let it go. I got a call at 6:30 at night that he had died. I remember getting in my car and telling my wife and daughter that I got to go. I ran over to his apartment, and I got there just as Mike's parents got there, and the coroners hadn't even got there yet. The paramedics were still there and they worked on him for two hours. It was a heavy night.
KP:  I can only imagine.
NM: I was really sick at the funeral. I had a 103.5 fever and they made me go home. I kept having these stupid fever pitch dreams, and I just kept coming back to "Mike was like a comet. He was in our atmosphere for a short time and he burned bright." I called Monster Mike Welch, and I said, "I've got this song, and we just recorded our record. I think I've got room to add one more song. I'm going to be in New England in a couple of weeks. Do you have a studio that we can use? It'd just be me and you – acoustic." After doing some shows in New England, I rented a car and drove to Boston, and Mike and I recorded the song. It is different from the rest of the tracks, but then again, to me, it all fits. And Monster Mike Welch is just playing so beautifully on there–he's just playing his heart out.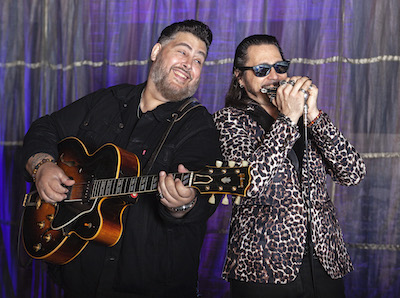 KP: How did you start working with Dennis Gruenling? I know you guys knew each other for like 20 years.
NM: It was perfect timing. Not to get heavy, but I'm going to get heavy. As I get older, I don't think there are any coincidences in life. I think things happen as they're supposed to happen, at the time they're supposed to happen. I also believe that there are certain people on this planet that are links to joining certain parts of your life, and they come and they go. I think this was one of those moments. Mike told me in October of 2016 that he was leaving the band to tour on his new solo album. I kind of panicked for a minute, but then I just figured it's just going to be me again.
Literally two days later, Dennis called and said, "I've got this benefit concert that I'm doing in Grand Rapids, Michigan, and I don't have a band, can you guys back me up." Of course, I said yes. I'm standing on stage with Dennis, and he wanted to do all William Clarke songs that night. I hadn't played that kind of music in a while because with Mike, we were playing a little bit more jam and soul and R&B. I remember how much fun it was to play with a harmonica player and play some of that West Coast jump and swing. During the break, I pulled Dennis aside and said, "Just between you and I, because nobody else knows yet, but Mike's getting ready to leave my band after we do the Blues Cruise. Would you be interested in coming and playing some shows with me?" And Dennis said, "Yeah, man, let's give it a shot." I gave him all the dates I had and, literally, he came out the next week and started touring with us. It was just as easy as that. It was meant to be, and it was perfect timing.
KP: Is that about the time you signed up with Alligator, too?
NM: It's interesting that on that cruise ship, as all this stuff was happening, Kid Andersen was on the cruise, and he kept coming up to me and Dennis and telling us that we sound great, we should record a record, and he would like to produce it. We set up some recording dates in the spring of 2017, and Kid flew out to my house, because I have a studio in my house, and we recorded the record. I decided to approach Alligator. Bruce (Iglauer) and I had talked over the years, so when the CD was done, I sent Bruce an email about the record. I figured he'd write me back in a week or two but he emailed me back 30 seconds later and said, "Absolutely, please send it to me." That was pretty much it. I'm very happy to be on Alligator Records. I grew up listening to music on Alligator and learning about the blues from my mother and brother.
KP: How did you start playing the blues?
NM: I just grew up listening to it. I was fortunate to have a mother and father that loved music. My older brother, Joe, inspired me to play the guitar. I started as a bass player – I was his bass player – so that I could hang around and listen to him play. Whenever he would leave, I'd put the bass down and grab his guitar and try to play what I saw him play. To me, Joe is still one of the best and underrated guitar players out there. He's been putting out his own records for a long time, too. He's one of those guys that has flown under the radar for years. He raised a family first, and he played mostly around Chicago until his daughter got older. It's only been the last couple of years since he's been going out.
KP: Nick, it was a pleasure talking to you. Good luck with the new record—it's great.
NM: Thanks, it was nice talking to you, too.
For more information on Nick Moss and his band: