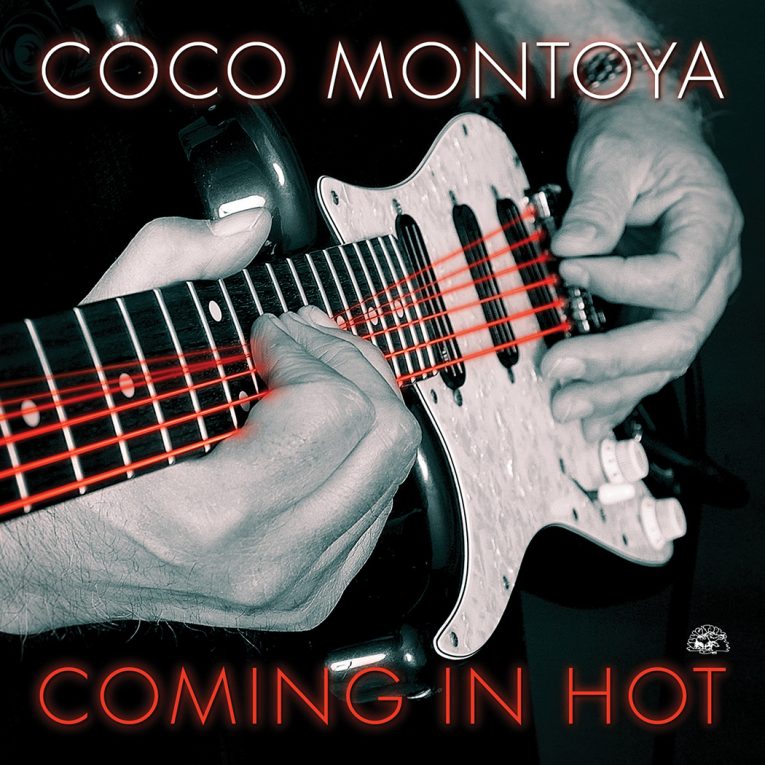 By Mike O'Cull
Red-hot blues/rock guitarist, vocalist, and fan favorite Coco Montoya is revved up and rocking the house on his new album Coming In Hot, which hits the pavement August 23rd, 2019 on Alligator Records. Montoya is almost four decades into his blues career and displays the kind of masterful touch as both a guitarist and front man on his new record that only comes from giving one's life over to the musical art. Produced by Tony Braunagel, Coming In Hot features Montoya doing his guitar-and-vocal show in front of an A-List band and contains no shortage of wonderful moments. Coco shows more taste, melodic sense, and creativity than most modern-day blues guitar players and he becomes more inspiring and engaging the closer you listen.
Montoya began his life in the blues playing drums for the legendary Albert Collins in the mid-1970s, later becoming the band's rhythm guitarist under The Iceman's tutelage. His guitar talents were later spotted by the equally legendary British bluesman John Mayall and Montoya became the lead player in Mayall's Bluesbreakers outfit, a spot originally held down by Eric Clapton. By the time Montoya went solo in 1993, he'd developed his own incendiary style of singing and playing that made him a rising star almost immediately. Coming In Hot is his tenth solo effort to date and his fifth on Alligator. Even with all that music behind him, Montoya continues to grow as an artist and push himself to new heights.
Montoya's material is particularly well-chosen on Coming In Hot and that's a huge deal in roots music. Too many artists track generic three-chord songs that are little more than vehicles for extended soloing. The tunes here would stand on their own without any guitar bravado and that's what makes this set so listenable. The opening cut, "Good Man Gone," is a thoroughly contagious blend of blues, soul, and rock influences that relates the eternal story of bad luck in love in a way that people will understand and, more importantly, will remember. Montoya shows more identity than most and easily stands out, even in a crowded playing field like the modern blues scene.
The title track, "Coming In Hot," is, indeed, a high-temperature affair that's built on a tom-tom-based groove that is a certified people mover. Montoya drives the song hard and shows it who's boss and turns in impressive performances on both guitar and vocals. A couple unexpected breakdowns keep it interesting, as does the tight, strong ending. Coco also does a fine job on Albert Collins' "Lights Are On But Nobody's Home." It's a slow blues with a jazzy turnaround that gives Montoya plenty of space for emotive vocals and deeply melodic and well-phrased guitar solos. He can sting it like his old boss did but adds his own lines that are packed with color and vibe.
"Stone Survivor" is a mid-speed strut all about the resilience it takes to succeed in the blues and sports some fine piano playing by keyboardist Mike Finnigan. Coco sings it the way he's lived it, putting down some Truth and turning up the heat. "Witness Protection" is funky and unpredictable, featuring the band grooving hard and Montoya hiding out from yet another evil-doing lover. It's a deep cut but well worth investigating.
The closer, "Water To Wine," is a rollicking shuffle with fun, slightly bawdy lyrics and more hot guitar slinging that takes Coming In Hot out on an upbeat feel. It comes across like the final song of a great live show and will send blues aficionados home talking and ready for more. Coco Montoya sounds better than ever on this set and that's saying something. Give it a spin and hear the man firsthand.
For more information on Coming In Hot by Coco Montoya: