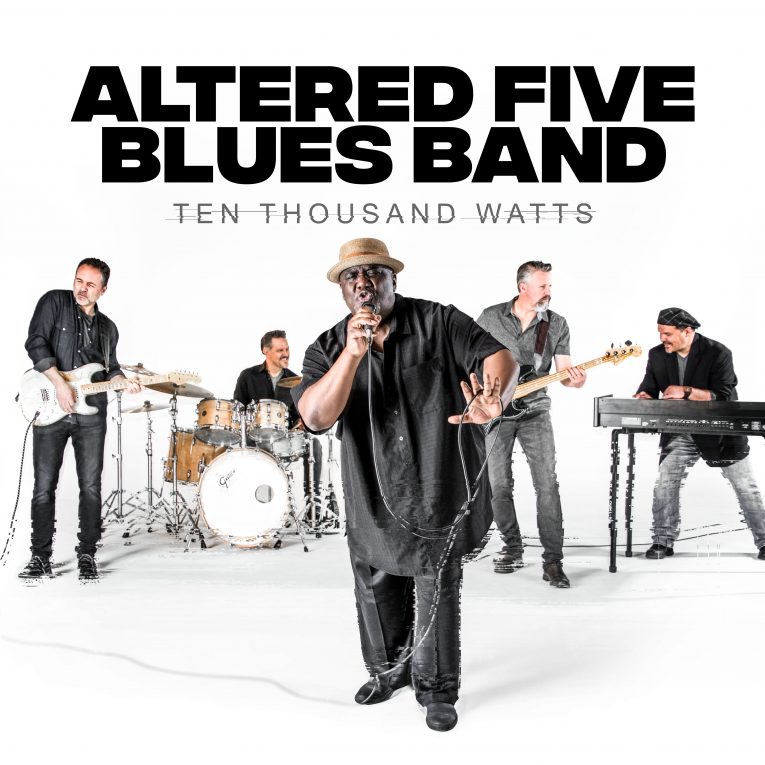 By Mike O'Cull
The Altered Five Blues Band is a barn-burning outfit from Milwaukee, Wisconsin that puts down a roots-rocking sound with the lumens required to light up any crowd within earshot. The new Altered Five release, Ten Thousand Watts, sees daylight September 6th, 2019 on world-renowned Blind Pig Records and shows the group at the peak of its powers. Produced by three-time Grammy-winning producer Tom Hambridge (Buddy Guy, Susan Tedeschi), Ten Thousand Watts was recorded in Nashville at Ocean Way Studios over the course of just four days and Hambridge captured the shack-shaking authority of this bunch with style and grace.
Altered Five is no stranger to attention, having been nominated for a Blues Music Award in 2018. The band also won Song of the Year in 2018 for the track "Charmed & Dangerous" at both the Independent Music Awards and the Wisconsin Music Awards and Best Self-Released Album for its record Cryin' Mercy at the International Blues Challenge in 2015. The Five has also performed many incredible live sets at major festivals and venues including Grolsch Blues Fest, W.C. Handy Blues Fest, Ann Arbor Blues Fest, King Biscuit Blues Fest, Baltic Blues Fest, Milwaukee Summerfest, Magic City Blues Fest, Fargo Blues Fest, B.B. King's Blues Club, and Buddy Guy's Legends. The lineup of frontman Jeff Taylor, guitarist Jeff Schroedl, bassist Mark Solveson, drummer Alan Arber, and keyboardist Raymond Tevich make much magic together and blues fans all over the world are definitely taking notice.
Ten Thousand Watts by Altered Five Blues Band wastes no time grabbing listeners by the headphones with the overdriven boogie of the first song "Right On, Right On." It's a "Wang Dang Doodle" type of party call that lets everyone around know which way the night is going to go. Jeff Taylor is a formidable presence on the microphone and his low-toned voice immediately gives the impression that he's here on business. Jeff Schroedl's slashing, impassioned fret work also adds fuel to the fire and helps make this one of the best opening cuts on any blues album in recent memory.
"Too Mad To Make Up" is a straight-on rocker in the Fabulous Thunderbirds mold that's been revved up for today's generation of blues lovers. It's the kind of track that hits you hard from the first bar and rolls over you like a truck with a brick on the gas pedal. If this was a just world, this song would be all over rock radio like the T-Birds were in the 80s. The title song, "Ten Thousand Watts," details vocalist Taylor's considerable offstage abilities and backs them up with a gritty, rump-shaking groove that will hit you where you live. Like all the songs on the record, the band locks into an unstoppable pocket that needs no interpretation. You'll shut your mind off and let your bones start moving the second it starts.
"Dollars & Demons" is an intense track about someone being dragged down by a "Devil on my shoulder leading me around." Taylor delivers the lyrics well, getting us to feel the pain of a man who knows he's doing wrong but can't stop himself. His desperation is palpable and gets down into the emotional essence of blues music. "I Hate To Leave You (With A Six-Pack In The Fridge)" is a tremendous breakup song that features Jeff Schroedl slinging some hot Freddie King-influenced guitar solos and Taylor belting out lyrics anyone can get behind.
The last song, "Let Me Be Gone," takes the record out on the same kind of 100-proof boogie it started on and features Steve Cohen contributing some high-energy harmonica to the proceedings. The band builds up energy and tension extremely well and will leave those listening spent on the dancefloor long before these tracks run out of steam. The Altered Five Blues Band is a flat-out amazing crew of musicians who put a lot of identity into their version of American music. Ten Thousand Watts is on this year's must-hear list for anyone who loves the blues.
For more information on The Altered Five Blues Band and Ten Thousand Watts: