By Martine Ehrenclou
To see the Southern rock jam band Gov't Mule live in a small outdoor venue tucked in an enclave of the Hollywood Hills, CA, was a mind blowing experience. The backdrop to the stage was a steep mountain incline topped with palm trees, and a rustic stone wall lining the back of the hill. The Ford Theater was a bit magical, setting the stage for one of the best concerts I'd seen in a long time.
Opening for Gov't Mule was Nikki Lane, a talented country band led by singer-songwriter Nikki Lane, a fiery and spirited front woman who entertained the crowd with her dynamic, gritty voice and humorous stories. She and the band are known as "outlaw country" and were solid as they come, revealing some great songwriting.
After a short break, and the crowd now back in their seats after visits to the bar and for other indulges, Gov't Mule appeared on stage. Grammy Award-winner, Warren Haynes arrived last, greeted by heightened whoops and hollers from the crowd. I wasn't the only one who thought that Haynes' soulful vocals and guitar chops were extraordinary. And with that kind of talent, Haynes carries the cache of immense cool. He was the guitarist for The Allman Brothers Band and put together Gov't Mule with the late Allen Woody (bass) in 1994 as a side project.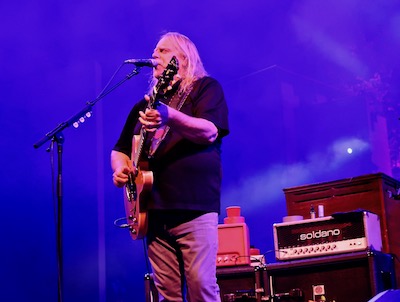 This was my second time seeing Mule, but on this night I was front row center, which gave me a window into their music and superb musicianship I'd not experienced fully before. Led by the great Warren Haynes on lead vocals and guitar, and accompanied by Jorgen Carlsson on bass, Matt Abts on drums and Danny Louis on keys, being that close to the stage screened back some of the crowd of die-hard Mule fans and allowed me to experience the band's music with my eyes and ears solely on them.
I don't think I had previously grasped the electrifying supergroup-like quality of Gov't Mule's musicianship before this show. I took in the acute nonverbal connection between Haynes and bass player Carlsson and Abts on drums and quickly became completely immersed in not just their musicianship but the songs themselves. And each tune was performed to perfection with Haynes' soulful voice and virtuosic solos with expansive guitar tones, Carlsson's expert bass playing, Abts locking it in with insane drumming, and Danny Louis dazzling the crowd on keys.
There was no need for a video screen displaying psychedelic images at this performance. The special effects fog billowed out plenty of atmosphere throughout the show, enhancing the multi-colored light show as Gov't Mule began their set with "Traveling Tune" part 1. The song was resonant with sounds of The Allman Brothers Band both in the melody and in Haynes' guitar riffs and solo. You could pick out Haynes' vocals anywhere, they are that distinctive. I just wish I could have heard them more clearly. If there are any drawbacks to sitting in the front row at this venue, perhaps it was being in front of the giant speakers hanging from the ceiling behind me.
With rock at its core, Gov't Mule integrated a gamut of musical styles including blues, jazz, Soul and some funky rhythms. Each member of Gov't Mule is such an exceptional musician, I found myself in awe, struck not just by Warren Haynes but by the bassist, the drummer, and keyboard player who graced the audience with a couple of fine trumpet solos.
After the opening number, Haynes asked the crowd how we were doing. As you can guess, the crowd went wild and hollered and whooped in praise of the band and the evening itself. This was a pilgrimage for many to attend this show, some driving from Orange County, a good three hours in traffic.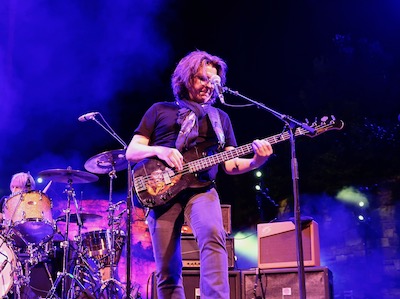 "Thorazine Shuffle" was next, the groove-jam with its catchy bass line and psychedelic overtones, Warren Haynes absolutely killed it on guitar. A fluid and soulful player, I'm not alone in thinking he is simply one of the best. Louis treated us to a solo on keys that harkened back to the late 60's and 70's, a theme Gov't Mule is known for. The combination of Abts' dynamic drumming and Carlsson whipping up fresh bass playing, I was mesmerized.
At this point, after the soulful and moving "The Man I Want To Be" with Haynes singing from somewhere deep about not wanting to lose the love of his life, I relinquished taking notes and simply gave into the Gov't Mule experience. And what an experience it was. The musicianship blew my mind.
Eight more songs of staggering brilliance, improvisation a cornerstone of many of the tunes, the band's encore included "Bring On The Music" and Travelling Tune" part 2.
This was two hours of rock music of the best kind. I was overwhelmed by the time the last song ended, and left the Ford Theaters ears ringing but with a full heart.
Watch Gov't Mule perform "Thorazine Shuffle" Here. 
Set List:
Traveling Tune part 1
Thorazine Shuffle
Banks of the Deep End
Game Face
Man I Want to Be
Kind of Bird
Thorns of Life
Revolution Come…Revolution Go
No Need to Suffer
Dreams and Songs
Stone Cold Rage
Mule
Bring On The Music
Traveling Tune part 2
For more information on Gov't Mule: