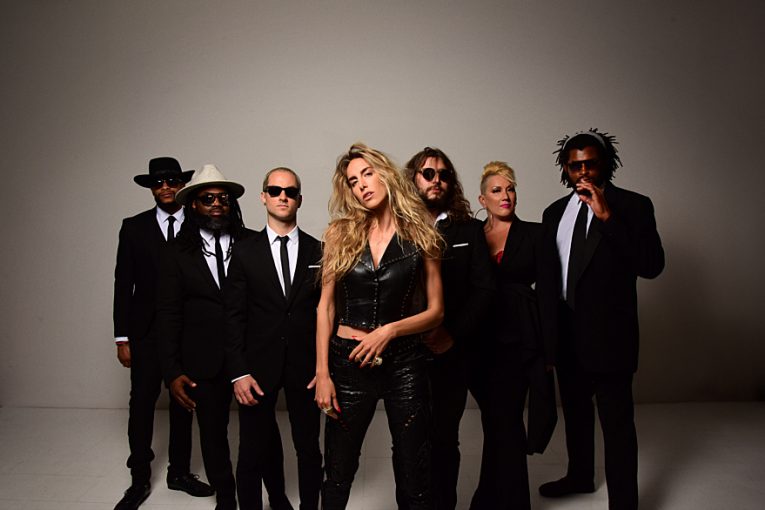 By Mike O'Cull
New York-centered funk rockers and George Clinton protégés Miss Velvet and The Blue Wolf are hitting the music world hard at this very moment with their sophomore album Feed The Wolf. The record broke out August 23rd, 2019 on Isotopia Records and is an amazing tour de funk that features Clinton, himself, mixing and mingling with powerhouse vocalist Miss Velvet and the rest of the superheroes in this exceptionally talented outfit.
Produced by Constance "C-Diddy" Hauman and Nick "Drum Nicky" Carbone, Feed The Wolf lives right on the border between funk and hard rock. The record is packed to the rafters with equal portions of deeply-grooving beats, loud, tough guitar rock, and heavy-duty horns, which all get topped off with the soon-to-be-legendary voice of Miss Velvet. Clinton has described her voice as "the definition of rock and roll" and, as usual, he's right on target.
Miss Velvet and The Blue Wolf have been touring with Clinton for the past couple of years and have been warmly embraced by Dr. Funkenstein and his legion of fans. They are the direct descendants of the pioneering work Clinton unleashed with Parliament/Funkadelic in the 1970s and have expanded the style and infused it with the energy and fire of modern rock. Miss Velvet is in possession of one of the finest and most original singing voices to be found in rock music today, one that combines elements of Janis Joplin, Robert Plant, and Nina Simone with her own true self and is more than capable of stopping traffic in Times Square.
Feed The Wolf  kicks off with the immediately-hypnotizing "Super Bon Bon," a no-holds-barred heavy funk track that lets Miss Velvet showcase multiple sides of her God-given instrument while the band flexes its considerable muscles. It's an instant attention-getter and a strong statement of originality and intent. The Blue Wolf lineup of Constance "C-Diddy" Hauman (Keyboards), Nick "Drum Nicky" Carbone (Drums), Henry "The Dude" Ott (Guitars), James "Jimi Beamon" Jones (Bass), Trevor Neuman (Trumpet), Dan Levine (Trombone), and Timothy "TJ" Robinson (Trombone) is a high-level human music generator that has the skills and the soul to match Miss V step-for-step, a task that would obliterate a weaker band.

The lead single from Feed The Wolf is "Phat Blunt (feat. George Clinton)," a bare-knuckle funk/rock cut that throws the Funkmaster right into the mix with these audacious players. Clinton stands strong in the storm, delivering flows that offer listeners a textural contrast to Velvet's huge vocal tones and adds to the unpredictable nature of this entertaining set. Few besides Clinton have the funky cred to get up with this lot and survive and it's easy to see the respect he and the band have for each other. Clinton blesses them with his presence and, in doing so, publicly acknowledges that Miss Velvet & The Blue Wolf are among the chosen few elevating his legacy to new heights. He collaborates on multiple tracks on the record but this one needs to be heard first.
The title cut, "Feed The Wolf," is a driving rock song that lets Velvet rage and roar. The true majesty of her voice comes out when she pushes like this and it's an incredible thing to hear. The harder she goes, the stronger she gets. Her top end is as mighty as any in rock history and never displays even a hint of weakness or instability. She's never harsh or brittle, even at full intensity, and easily ventures into realms many singers fear to attempt. Velvet never misses a step anywhere on these sessions and each song is a highlight in its own way. Still, the tracks "Nasty Freak" and "Bitch Honey" deserve extra immersion.
Miss Velvet and The Blue Wolf are a ridiculously brilliant crew who are obviously on their way to big things. Together, they make music that builds on the greatness of the past but turns it into a cutting-edge, relevant sound meant for 21st Century ears. This isn't old school funk, rock, or anything else. Miss Velvet & The Blue Wolf are 100% now and happening as we speak. Feed The Wolf is all about the new style and you're going to love it.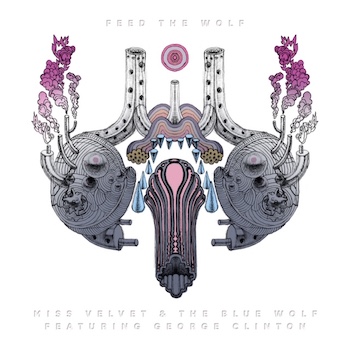 For more information on Feed The Wolf  by Miss Velvet and The Blue Wolf: