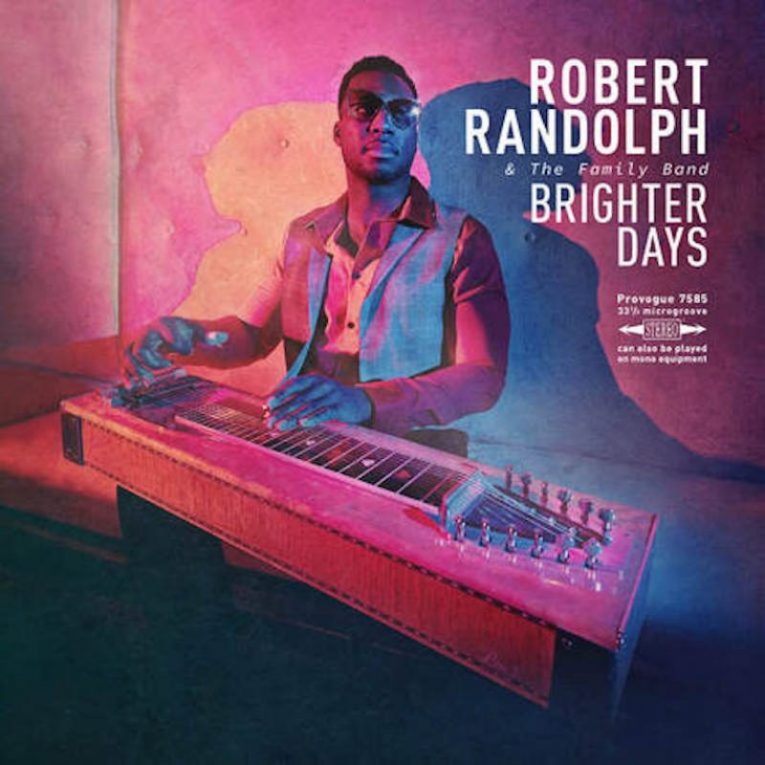 By Dave Resto
Soul rockers Robert Randolph and the Family Band just dropped their new album, Brighter Days on August 23rd. Produced by Dave Cobb (Jason Isbell, Brandi Carlile, Chris Stapleton), it was released by Provogue/Mascot Label Group.
The band, hailing from Orange, New Jersey, is led by pedal steel guitar virtuoso and vocalist Randolph. He grew up in his church, playing a distinct genre of African American gospel music known as 'sacred steel,' referring to the pedal steel guitar. Randolph has toured with Eric Clapton and was recognized by Rolling Stone as one of the "100 Greatest Guitarists of All Time." The rest of The Family Band includes Randolph's sister, Lenesha Randolph on vocals, cousin Danyel Morgan on bass and cousin Marcus Randolph on drums. Together, they perform a unique hybrid of gospel-inspired funk and soul with leanings toward jam band and rock. It all comes together very successfully on Brighter Days.
Artist Randolph and producer Cobb make very clear their intention to get back to the band's early gospel roots on this album with the opening track, "Baptise Me." The band seamlessly blends traditional sounding lyrics like, "Dirty water, red clay mud; I need redemption, saved from the blood" with thoroughly contemporary music. The powered-up groove is used as a jumping off point for Randolph's fiery and unorthodox pedal steel playing. This ability to blend musical ideas is what Randolph and the Family Band have become known for.
Several other songs offer more traditional gospel.  The duet between Robert and Lenesha, "Have Mercy" features stirring church choir choruses, which takes things back to the band's origins. "I Need You" is a piano-heavy ballad, which ends with Randolph's pedal steel reaching notes that sound beautifully other-worldly. "Don't Fight It" and "Strange Train" are a pair of foot-stomping, handclapping up tempo odes to joy.
Although Randolph is a singular instrumentalist with a unique approach and sound, I did hear things on this album which evoked other great artists who may have influenced him at some point. The signature slide phrase in "Cry Over Me" reminded me of George Harrison's slide guitar playing throughout his album "All Things Must Pass." The funky "Second Hand Man" is reminiscent of the great Bill Withers song "Use Me." Sharp and soulful, "I'm Living Off The Love You Give" sounds like a track which could have been found on either of Eric Clapton's two most overlooked and under appreciated R&B/soul albums, "Pilgrim" and "Reptile."

There is one cover song on the album, "Simple Man" by Pops Staples and the Staples Singers, which is appropriate here. It's an unassuming country/soul ballad, where Randolph's playing is more rooted and less flashy. His choice to sing the songs lyrics earnestly, as he tastefully mimics the vocals on his pedal steel, serves the song well as vocalist and instrumentalist. Thus, he honors its intention.
Robert Randolph and the Family Band have enjoyed an almost two-decade long journey. It began in their church in New Jersey and it has taken them farther than they'd imagined. Brighter Days brings them right back to those humble beginnings.
For more information on Robert Randolph and the Family Band: