By Martine Ehrenclou
Twenty-year-old blues virtuoso guitarist, singer-songwriter Christone 'Kingfish' Ingram has accomplished what many musicians twice his age would hope to. He released his debut album, Kingfish, in May of 2019 via Alligator Records, on which Buddy Guy guested. In 2014, Christone performed for Michelle Obama at the White House as part of the Delta Blues Museum. He's appeared on national TV shows such as Rachel Ray and The Steve Harvey Show and has shared stages with Buddy Guy, Tedeschi Trucks Band, Robert Randolph, Guitar Shorty, Eric Gales and more.
But there's something different about Christone 'Kingfish' Ingram. He is more than just an exciting blues artist with mad skills. There's so much passion and emotion in his guitar playing and singing, you'd swear he was three times his age if you closed your eyes. His mind blowing guitar technique is something else altogether. Christone is a prodigy who plays as if he's lived the blues for lifetimes.
To witness Christone play guitar and sing is to take in the forefathers of the Delta Blues, and yet with a modern freshness, a unique spirit. He performs with the maturity of a seasoned professional.
From Clarksdale, Mississippi, Christone 'Kingfish' Ingram was raised in a musical family and fell in love with music as a young child. Born to parents who are active in the church, he grew up attending gospel performances. By age 11, this young prodigy had mastered the guitar and performed on stage at Clarksdale's Ground Zero Club. He immersed himself in the music of Muddy Waters, Lightnin' Hopkins, B.B. King, Robert Johnson, Jimi Hendrix and Prince, and before long was winning awards at the age of 16, and turning heads, including Buddy Guy and Bootsy Collins.
Christone 'Kingfish' Ingram is considered the future of the Blues and is taking the world by storm. He was a delight to talk with.
Martine Ehrenclou: I love your new album, Kingfish. Congratulations on your big success. It's well-deserved.
Christone 'Kingfish' Ingram: Thank you.
Martine Ehrenclou:  Before we talk about your new album, can you tell me how you first started getting into the Blues and how old you were when you first started playing?
Christone 'Kingfish' Ingram:  I was around eight. My dad showed me a PBS documentary on Muddy Waters. B.B. King was in it. I started playing bass and I played with some of the different bands from town. And then I started playing guitar with a man in town and after that, that's when I started doing my own thing.
ME:  And what is it about the Blues that you love so much?
CKI:  Everyone knows that the Blues is life pretty much and it was just a cultural thing for me because it's our history. And it was just something that I always wanted to show that young African-American kids are getting into.
ME:  You play guitar and sing beautifully. Tell me about how your album Kingfish came about.
CKI:  Thank you. We got a call one day from my God-dad and he was saying Buddy Guy wants to help with my album. And then I got with his producer Tom Hambridge and we had a few meetings and I told him what type of album I wanted to make. And I went to his house in Nashville and we got six songs going on one day and then the month after that we went to Nashville again and recorded the record in three days.
ME:  Wow. That was fast. You recorded a song, "Fresh Out" with Buddy Guy too.
CKI:  Oh yes. Buddy chose that one for the album. And we were like, "We want to give him one song" and I thought that'd be the closest one and it all worked out so well, so, yes ma'am.
ME: It sure did. You also wrote a song with Jontavious Willis on your new album.
CKI: (Laughter) That's one of my big brothers. I talk to him every day.
ME: He's a cool guy. Can you tell him about the song "If You Love Me." How did you write that with him?
CKI: Well, I told Jontavious that I wanted a song with a type of style and I was like "Man, you just take care of the lyrics." I did the arrangement. One day he sent me the video of him playing the song and I was like "Dope, man." We recorded it and I put it in another key and I brought the tempo up a little bit more and I played it for him and he liked it.
ME:  In one of your songs on your album, you wrote that you feel different, that your friends are listening to the greatest hits and you're into guitar…
CKI: Most definitely.
ME: Since you are so into the Blues, and also Hendrix and Prince and some funk, I'm just wondering how it is with your friends when they play music and you're like, "Hey, listen to this. It's blues." (Laughter)
CKI: (Laughter) When I was in school, the teacher would say, "You guys could pull your songs out and just listen to music." I guarantee everybody else pulled out rap and hip-hop and I would pull out some Lightnin' Hopkins. They would always ask, "What draws you to that type of music?" I would just sit there and tell them. They didn't really get it. Some of them made fun of me for it but you know how that goes, you know how kids are.
ME: I do. Your singing and guitar playing is so soulful. Can you tell me how you got to be so good? Have you always played guitar 24/7? Where did that expertise come from?
CKI: I just practice a lot. I don't have a regimen or anything. Whenever I'm feeling good I just pick up the axe and start playing or if I hear something that's inspiring. Right now I'm trying to learn more the technical stuff like theory and everything.
ME: Is that fun or not?
CKI: It's definitely fun—it opens your mind and your skillset to do stuff wide and beyond.
ME: You've shared the stage with some of the greats. Buddy Guy, Susan Tedeschi, Robert Randolph, Eric Gales, Keb' Mo'. Who would you like to be playing and singing with next?
CKI: Hopefully Santana, maybe, (Laughter.) Slash, I like Slash a lot. I can't wait to meet him one day. There are a whole lot of others.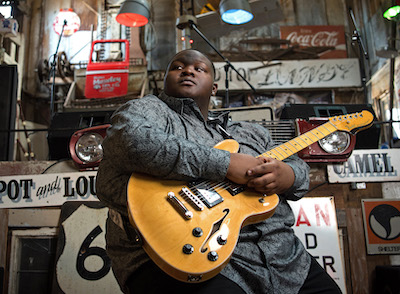 ME: What you do think makes a great guitar riff?
CKI: Melody, phrasing. I would definitely say melody and phrasing for sure.
ME: What were some of the first guitar riffs that really inspired you?
CKI: The riff that Muddy Waters did on "Catfish Blues AKA Rollin' Stone." Also "Maggot Brain" by Eddie Hazel from Parliament-Funkadelic.
ME: Oh yeah. My first Parliament album was Mothership Connection.
CKI: Oh, cool, cool.
ME: Before your record deal with Alligator Records, did you always know that you wanted to be a professional blues singer, guitarist, songwriter?
CKI: Most definitely, because whenever I would try to go for a different hobby when I was a kid, I always ended up coming back to music so I knew that's where I wanted to be.
ME: You kept coming back to the guitar?
CKI: Yes, ma'am. Most definitely. There was one time I got big into sports and I wanted to learn how to wrestle—I always circled back to music.
ME: Did you envision yourself as a professional musician?
CKI: I always thought about it. It has been my dream but I never thought it would come this early.
ME: I can understand that. You must be on a rollercoaster ride right now.
CKI: I am.
ME: You're on your first headlining tour now through the end of November. What's next for you?
CKI: Well, we take a break in December and hopefully we'll start recording the next album soon because we already started writing for that one.
ME: You have?
CKI: Yes, ma'am.
ME: Tell me about the next album.
CKI: Pretty much it'll be me coming together with everything in my head. Just more blues, some more rock, some funk and you never know. I'm thinking about putting a gospel tune on there as well.
ME: That would be cool.
CKI: Yes, Ma'am. Most definitely.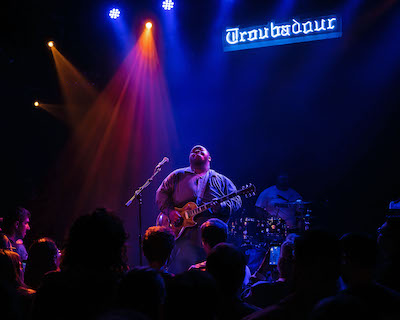 ME: Tell me a little more about the next album. Are you going to be working with Tom Hambridge again?
CKI: Yes, ma'am. It's going to be with Tom and a whole lot of other producers as well and different writers. The last album was primarily Tom but we're going to do different things.
ME: Any guest artists? The last one you had Buddy Guy. Do you think maybe you'll have Eric Gales?
CKI: Maybe, you never know. We haven't thought about guest spots yet but I'm definitely going to talk to some friends on this one. You never know who might show up for the party. (Laughter)
ME: (Laughter) Tell me about all your musical influences along the way. Who inspired you the most? You mentioned Muddy Waters, Lightnin' Hopkins.
CKI: I would say Prince inspired me the most because he was so versatile and his range of different instruments. And also Eric Gales as well because Eric was the first black guy that I've seen come from my area, the mid-south, but he would come with a lot of rock vibe and you don't see that from a lot of black people in the south. That's why he definitely influenced me a lot.
ME: He probably knows that already, right? (Laughter)
CKI: Most definitely. (Laughter)
ME: You played guitar on Eric Gales' album, Middle of the Road. Do you jam with him a lot?
CKI: Yeah, we just jammed together—we did a festival in Sisters, Oregon and also Mr.Sipp and we jammed. It was dope.
ME: How fun.
CKI: Yes, ma'am. We all had fun on it. Wednesday after we did the jam, Eric texted me and he was like "Dude, that jam was crazy last night." And I said, "I know, man. For sure."
ME: I'm sure he loves to play with you too.
CKI: Hopefully.
ME: I have no doubt. You grew up singing in the church, right?
CKI: Yes, Ma'am. My mom and my uncle and aunt they're at church and they preach and they play different instruments.
ME: Have you always sung or did the guitar playing come first?
CKI: Actually, singing came first because I didn't really have nobody to teach me when I was younger. No one really taught me the guitar so I was just singing a lot around that time.
ME: How did you learn to play guitar? Did you have a guitar teacher?
CKI: My dad brought me into education program in town (Delta Blues Museum Arts and Education Program) and my teacher Bill "Howl-N-Madd" Perry actually gave me the name "Kingfish." He and Richard "Daddy Rich" Crisman would teach us different stuff on the guitar and also the history of the Blues.
ME: Where did that name 'Kingfish' come from?
CKI: He (Perry) used to give his students different nicknames and we were thinking stage names and mine was from the old sitcom Amos 'n' Andy. There was a cat there by the name of Kingfish so that's a reference to that.
ME: Had you ever seen Amos 'n' Andy?
CKI: Not before that. One time after class—I YouTubed an episode and I loved the Kingfish character. I didn't see a relation to me to him but he said that I reminded him of that character.
ME: I think I've taken up enough of your time. Thank you so much for talking with me today. It's really been fun.
CKI: Thank you for the opportunity. I really appreciate it.
For more information about Christone Kingfish Ingram: