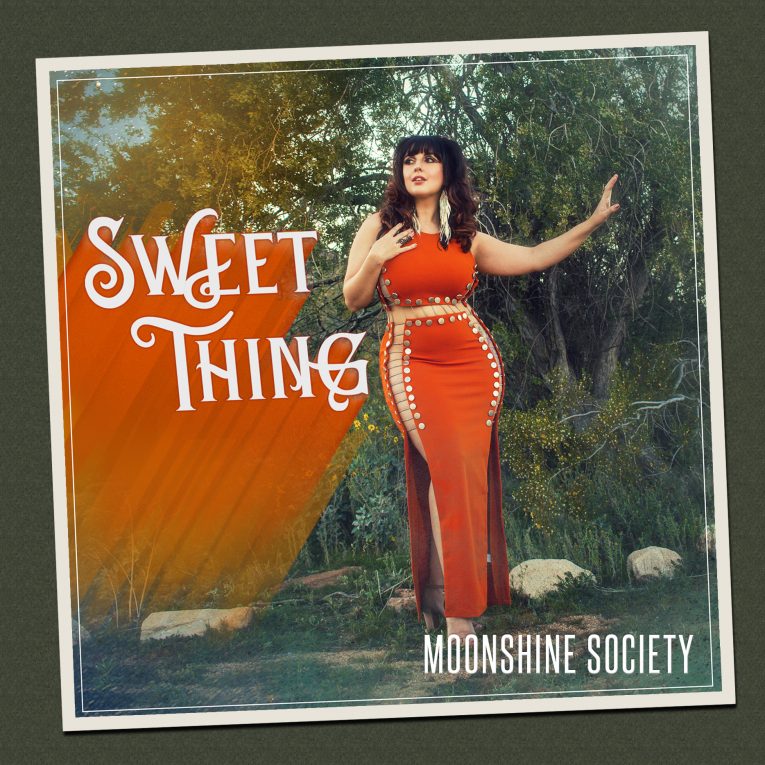 By Tom O'Connor
Rootsy DC rockers Moonshine Society released their new disc Sweet Thing in late July, through Distrokid and I don't think it has gotten enough attention. This tight 10-song collection is some of the most remarkably heartfelt roots-rocking I've heard this year. The core members of this band, all products of the Berklee School of Music, clearly have the chops to handle this elemental music with confidence and occasionally take it to some powerful and emotional places.
Hall of Fame guitarist Joe Poppen, along with harmonica wizard and BMA award winner Jason Ricci, can push their music as far as it'll go thanks to Rodney Dunton's dialed-in drumming and solid bass support from Tod Ellsworth and Christopher Brown. Combine all that musicianship with the powerful, soaring vocals of magnetic front-woman and Blues Hall of Famer Black Betty and you've got a musical machine that easily stands a cut above most bands.
An extremely slow fade in to album opener "Sweet Thing" eases you into a compelling, woman-power bump and grind kind of blues, written by vocalist Black Betty. The solos by Poppen and Ricci both set an incredibly high bar for the rest of the album, but this is a band up for any challenge. A light-hearted bit of dance-friendly blues follows with "Shake" that benefits from the addition of a more-than-able horn section including Ron Holloway on tenor sax, Vince McCool on trumpet and Ken Wenzel on bari sax. The band then flexes some of those Berklee chops on a reimagining of blues standard "Mama, He Treats Your Daughter Mean," turning it into a kind of Little Feat inspired, New Orleans vamp.
The band switches gears on the lush, future classic ballad "Come On Home." With its sophisticated but unhurried vibe, there is plenty of room for a show-stopping vocal performance and Black Betty delivers exactly that. Every vocalist who thinks she has some chops will want to take a crack at this tune, but few will be able to match this performance. Moonshine Society gets back to its rocking side on "Southern Road," with more blistering, Johnny Winter-vibing solo work from Ricci and Poppen. This is the kind of monster jam that could cripple an audience in a live setting. We go back to church for the opening of "Biscuits, Bacon and the Blues" with some thick organ work while Black Betty vamps the opening of this reminder of what's really important in life.
More PhD-level musicianship rolls out on "Use Me on Gilded Splinters," a mash-up of Bill Withers' "Use Me" and Dr. John's "Gilded Splinters." This seven-minute opus covers a lot of musical ground but, unlike many long-form excursions, the vocals manage to keep evolving and keep up with the music. It isn't exactly radio-friendly, but it is a riveting listen.
The next couple of tunes are all about Black Betty's lead vocals. Starting with her mesmerizing and delicate cover of Etta James' "I'd Rather Go Blind" where Betty showcases her soft power. This is followed by the jazzy-smooth "Deal The Devil Made" where she once again proves she isn't going to be a force to be reckoned with… she already is. The album closes with bonus track "The One Who Got Away" which Betty sings with a different backing band because it originally appeared on a benefit album for musicians dealing with cancer called Cancer Can Rock, but there is no mistaking those signature vocals.
In another time, this album would have already gone gold. Give it a listen.
For more information about Sweet Thing by Moonshine Society: