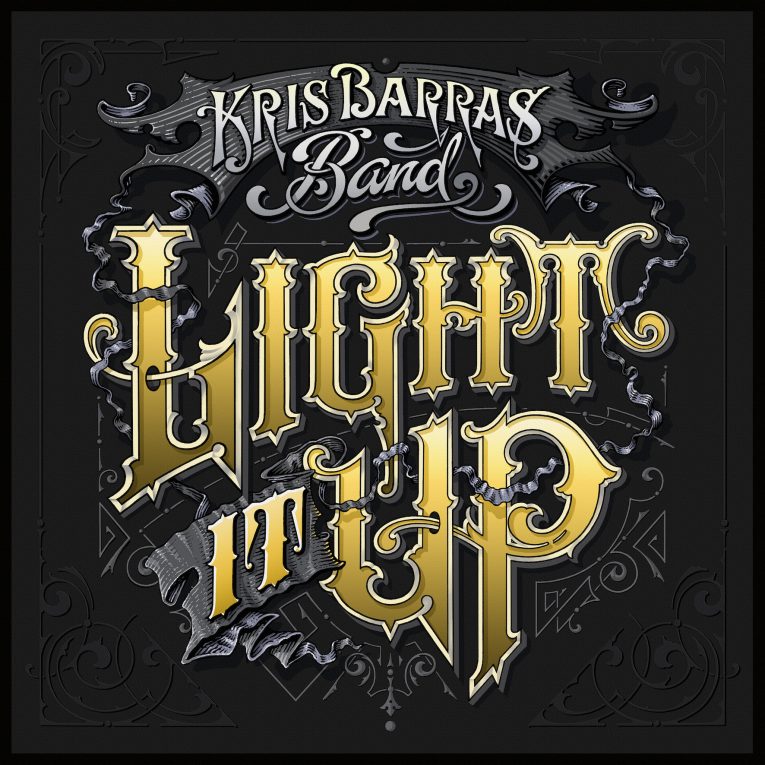 By Tom O'Connor
The sky still appears to be limitless for the Kris Barras Band, as the widely-lauded UK rockers drop their fearsome new release, Light It Up, on September 13th through the Provogue/Mascot Label Group.
Hype can be a dangerous thing. Not enough and even genius musicians can't fill a phone booth. Too much and you're likely to flameout when pushed to levels and venues you're not quite ready for. Kris Barras and his band have been the recipients of a lot of hype and high expectations and, so far, it has all just been fuel for their collective fire. If this new album is any indication, there is little risk of a flameout happening any time soon.
When you start with the already tight and road-hardened three-piece; Barras on vocals and guitar, Elliott Blacker on bass and the ever-steady Will Beavis on drums, occasionally layer in some well-placed keyboards from Josiah J. Manning and add some thrilling background vocals, then apply it all to Barras' still-evolving heart-on-his-tattooed-sleeve songwriting, you best believe the hype.  Coming close on the heels of 2018's rollicking The Divine and Dirty, this album is a worthy follow-up that finds a songwriter and a band further dialing in their sound and vision while still setting their sights ever higher.
Album opener "What You Get" will one day be referred to as "Classic Barras" with its swamp-rock feel, fiery guitar break, and big chorus. Keeping things on the hard side "Broken Teeth" is as gritty and stomping as the title would have you expect, with the added bonus of an unexpected banjo weaving through the background. You also don't want to miss the fat keyboards and the nice bit of rave-up at the end, an instant mosh pit creator. The groovier "Vegas Son" draws you in with some Texas blues-style riffage that morphs into tones, progressions and chorus' that will put you in mind of some of Bon Jovi's biggest crowd-pleasers. …and make no mistake, this band is aiming for arenas.
Title track "Ignite (Light it Up)" is a standout. Powered by an undeniable opening riff and some upfront keyboards, Barras digs deep on both the vocals and a remarkable guitar solo section. This is a tune that could open or close a set. Either way, it'll bring down the house. That sneaky banjo comes back to weave its way through "6AM" which automatically gives a Southern Rock feel to what would otherwise be almost a 70s style Deep Purple rocker. After all that bombast, the gentle, organ-driven ballad "Rain" is almost shocking in its tenderness; an indication of Barras' development as a songwriter and hint at some of the other directions this band will be exploring in the future. The band then goes full 80s on "Counterfeit People." While the lyrics are Barras at his usual direct and strident, the song swings with an almost nostalgic style and tone that would make Huey Lewis fans smile.
We go all the way back to the hoodoo swamp on the intro to "Let The River Run Through You." With a picking-style guitar riff holding things together and big background vocals on the chorus' to contrast the stripped-down verses, this tune is a dynamic journey through day and night, light and shadow. Two certified, but fundamentally different, rockers follow. "Bullet" is a red-hot Southern Rock furnace blast while "Wound Up" rolls out like a molasses-flavored
Black Crowes
song minus Chris Robinson's slinky hips. You can't have a rock album like this without some, make that plenty of ….cowbell, and "What A Way To Go" is a power/party rocker that rides that cowbell and a tough-grinding keyboard riff hard. Rarely does a song make you want to bang your head
and
smile.
As we get close to the end of the collection, Barras and the band pull out all the stops on "Not Fading," an intricate and at times dizzying display of the kind of super-tight, mind-meld musicianship that only happens when every member of a group is on the exact same mental page, thanks to a lot of gigs and touring. They take a surprisingly mellow (for them) turn on closing track "Pride is Forever." But the slower tempo does nothing to diminish the big sound and the big feeling of some of Barras' signature 'personal strength anthem' lyrical ideas. Closing the song by letting the backing vocals turn it loose makes the final fade-out feel like the end of a successful tent revival.
The elevator is still going up for the Kris Barras Band.
For more information on Light It Up by the Kris Barras Band: