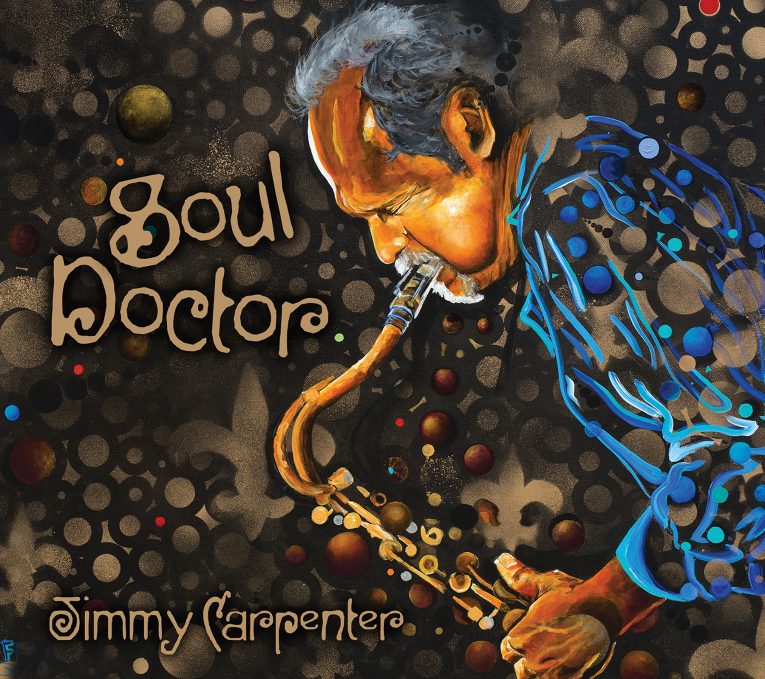 We are pleased to premiere the song "Soul Doctor" by saxophonist/singer-songwriter and four-time Blues Music Award nominee (Best Instrumentalist), Jimmy Carpenter from his upcoming album, Soul Doctor out September 20th, 2019 via Gulf Coast Records. The song features a guest appearance by guitar slinger Nick Schnebelen.
"Soul Doctor" is a blues rocking good tune with great groove and Jimmy Carpenter's smooth vocals and superb sax playing. With Nick Schnebelen's searing guitar riffs, and outstanding musicianship from Carpenter and the entire band, "Soul Doctor" is an exciting introduction to Carpenter's upcoming album.
"I have been a Jimmy Carpenter Fan for 20 years, from the first time I heard him play with Jimmy Thackery. He's always been one of the premiere sax players around. But Jimmy is also a stellar songwriter and singer. His voice is at its best on 'Soul Doctor', Jimmy's best record to date. This album oozes cool and rocks hard with a classic sound that only Jimmy carpenter can bring to the table." –Mike Zito.
Soul Doctor is Jimmy Carpenter's fourth solo project, produced by Jimmy and recorded in Las Vegas at Nonebody Studio 1.
Jimmy assembled a first class group of musicians on Soul Doctor, which features Jimmy Carpenter on saxophone and vocals, along with Cameron Tyler (drums/percussion/background vocals), Jason Langley (bass), Trevor Johnson (guitar), Chris Tofield (guitar/background vocals), Red Young (keys), Carrie Stowers (background vocals), and Queen Aries (background vocals).
Soul Doctor also features special guest appearances by The Bender Brass: Doug Woolverton (trumpet), and Mark Earley (baritone, sax), and Al Ek on harmonica on "Wrong Turn", and Gulf Coast Records co-founder Mike Zito on guitar and slide on "Wild Streak"
Listen to "Soul Doctor" below. 
Soul Doctor
contains 10 songs, seven of which are original compositions that Jimmy Carpenter wrote or co-wrote. Carpenter began his career 35 years ago. He has toured internationally with
Tinsley Ellis
, Jimmy Thackery, Walter Wolfman, Eric Lindell, and more. In 2012, he joined Mike Zito and recorded and toured as a member of
Mike Zito
and the Wheel. Jimmy has also written, arranged and recorded horns for many artists and has gained a reputation as a master blues, rock n' roll and R&B saxophonist. In addition to leading his own band and playing with numerous others, he is the musical director for The Big Blues Bender and leader of the Bender Brass, the Bender's house band. In 2019 he was nominated for a Blues Music Award, his 4
th 
nomination for Best Instrumentalist/horn.
For more information on Jimmy Carpenter and Soul Doctor: