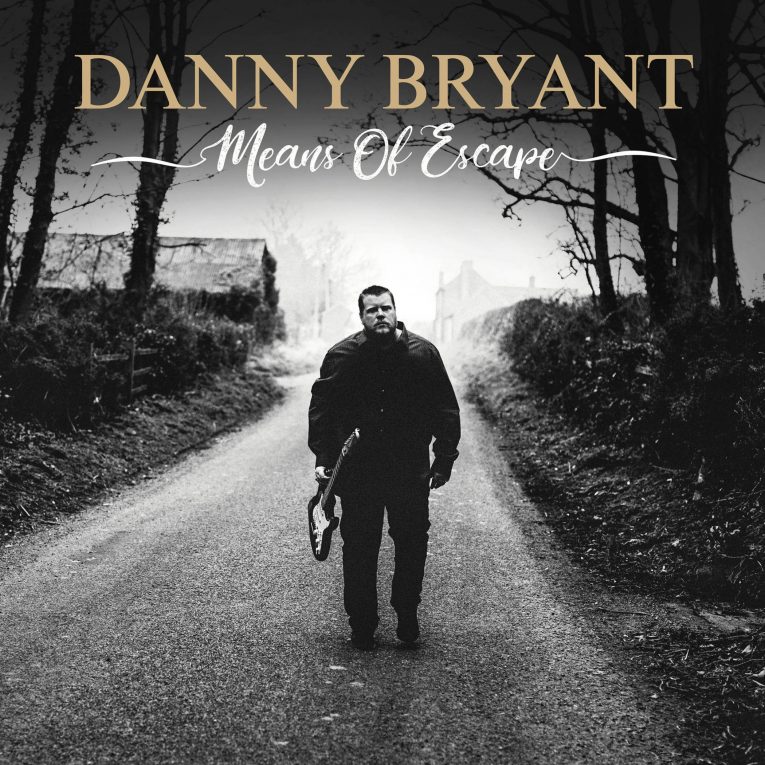 By Mike O'Cull
Critically-acclaimed British blues/rock guitarist, singer, and bandleader Danny Bryant unleashes the heat on his 11th studio album Means of Escape. The record comes out September 20th, 2019 on Jazzhaus Records and will be available on all streaming platforms, CD, and extra-cool 180g white vinyl. It's a nine-song set of inspired, rock-drenched blues that hits you like the greatest 70s album you somehow never found.
Self-producing for the first time, Bryant assembled a collection of heavy hitters to help him make the album he considers the high point of his career. The set was engineered by Grammy Award-winner Ian Dowling (Adele, KT Tunstall) and laid down at Lincolnshire's famed Chapel Studios. It was mixed in Nashville by the legendary Eddie Spear (Rival Sons, U2, Chris Stapleton) and mastered at London's world-renowned Abbey Road Studios by another Grammy-winner, Sean Magee (Gary Moore, The Rolling Stones).
Bryant is a bicep-flexing guitarist, vocalist, and songwriter with a style that leans more to the "rock" side of the blues/rock continuum. He comes on loud and proud, putting down tough, rough-hewn vocals and a fat, saturated guitar tone that'll make fans of the late, great Irish six-stringer Gary Moore quite happy. Bryant used both formats of his touring group, four-piece and Big Band, on the sessions for Means of Escape and cut the tracks with minimal overdubs and studio trickery to capture the in-the-moment magic of his live show. This strategy worked swimmingly well and the record packs the visceral punch of music caught happening, not being sculpted.
Means of Escape opens with the chugging, distorted, mid-speed blues of "Tired of Trying," an intense track that Bryant immediately fills with angst and frustration. His vocals float above the band's heaviness while his guitar licks cut right through it. From the first note he plays, it's obvious that Danny is here on serious business. "Too Far Gone" follows and lets Bryant dial the rock back just a hair to make room for one of his most emotional vocal takes on the album. He wrings every bit of pain out of his guitar in the solos, playing like a man who knows he's "over the edge and too far gone." His phrasing is excellent and he builds his solos chorus by chorus, continually increasing the tension until you're hypnotized and living for the next note.
The title song, "Means of Escape," is a dynamic rock song with an "All Along The Watchtower" vibe to its verse that transitions nicely into an identifiable chorus section. "The title of this song is a reference to how I have always felt about creating and being surrounded by music," Bryant says, continuing, "Through all periods of my life, music has been a constant. Through good and bad, it has been my focus and my release, my means of escape." It's an exceptional cut that plays out the truth behind Bryant's words.
"Skin and Bone" is a hushed and honest acoustic guitar song that's a one-sided conversation between Danny and his deceased father about watching him succumb to illness and everything Danny has felt since his passing. It's a painful song that shows Bryant's willingness to dig deep into his own life without fear to create something with undeniable personal authenticity. It's a quiet spot on the album but you won't soon forget it.
Bryant busts out the bottleneck on the slow blues "Hurting Time," playing some hot slide guitar in front of his Big Band. His performance here gives listeners an idea of what Elmore James might have sounded like with a larger amp and a horn section.  Bryant strikes melodic, instrumental gold on the vocal-free closing track "Mya." He gives us all the soul he's got, taking his time and building his energy. What's even hipper to know is that this whole cut was done as one live take in the studio, as was SRV's famous "Riviera Paradise," and Bryant does a similarly fine job getting across the kind of feelings that exist beyond words.
Means of Escape
is a career record from a seasoned artist who knows exactly what he's doing. Fans of well-executed blues-based rock might want to get bigger speakers for this one.
For more information on Danny Bryant: