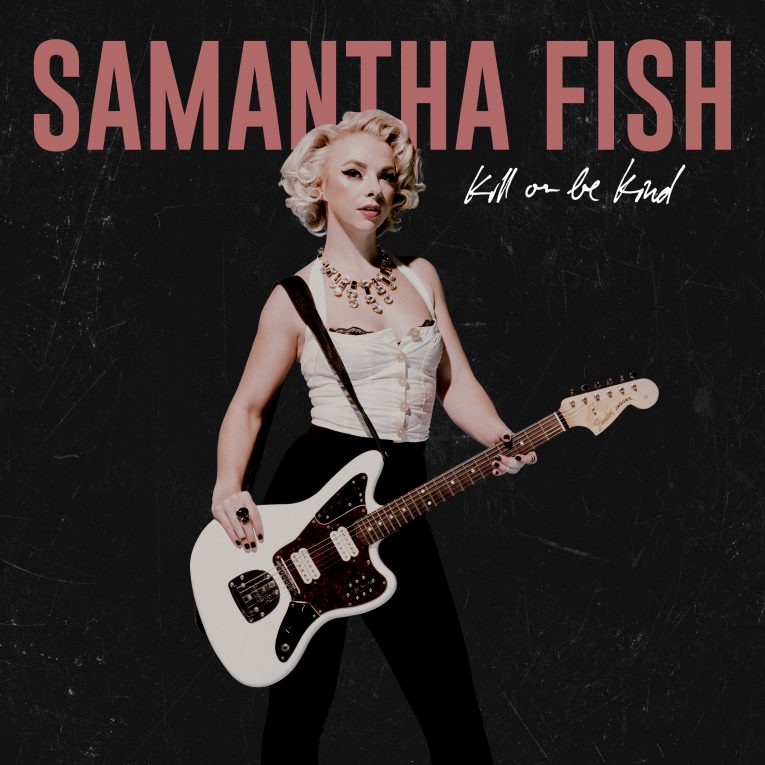 By Martine Ehrenclou
Genre-bending guitarist, singer and songwriter Samantha Fish is set to release Kill Or Be Kind on September 20th, 2019 via Rounder Records, Fish's sixth album and her debut with Rounder.
Samantha Fish has earned a place in the top ranks of contemporary blues artists and is known for her incendiary live performances. With 11 original tracks of roots-rock, R&B and Soul, Kill Or Be Kind is a standout release, certainly her best to date, complete with Fish's dedication to songcraft with emotional impact. A dynamic musician, Fish has the musical chops to handle different genres on her record, which keeps things interesting. And keeping things interesting is a signature for this artist.
Produced by three-time Grammy winner Scott Billington and recorded at the legendary Royal Studios in Memphis, Kill Or Be Kind features songs with moving melodies and lyrics that speak of passion and loss, but also of growth for this artist. "I've become more respectful of the melody," Fish explains, adding that you can run up and down the fret board or your vocal register, but the melody is what catches people's ear. She's accomplished that on Kill Or Be Kind with the help of top pro songwriting collaborators such as Jim McCormick, Kate Pearlman, Patrick Sweany, Parker Millsap and Eric McFadden.
Kill Or Be Kind is a winner of an album that has some crossover appeal while still maintaining Samantha Fish's artistic integrity, unique style and sound.
On tracks like album opener "Bulletproof," a mesmerizing electric cigar box guitar rocker, the use of synthesizer, guitar effects and vocal effects play a large part in the overall feel of the song. In the beginning, the tune almost lulls you into a passive listening experience until the chorus blasts open with Fish's firey vocals, packing an emotional and edgy punch that's enhanced by her slide guitar riffs.
Title track, "Kill Or Be Kind" kicks off with a seductive, R&B groove with a popping bass line. This is a standout track on the album, with backing singers and a horn section (Jim Spake on sax, and Tom Clary on trumpet.) With a contemporary sound, this tune has a great melody and interesting chord changes. Fish sings at her best on this tune, building from sweetness and light to strong and passionate, right in sync with the foot-tapping rhythm.
Tunes such as "Love Letters" cross over a bit into roots-rock-pop. This is another example of a great melodic love song on the album and backing singers (Anjelika Joseph, Kayla Jasmine) layer the sound. Fish makes the second half of this track a helluva rocking number, complete with a tasty but brief dirty guitar solo. Amen. Love to hear a female musician just kick a**. And Samantha Fish does just that on this tune and others.
Of course, Fish couldn't do it without a killer group of musicians backing her. The band includes Austin Clements on bass, Rick Steff on Hammond B3 and synthesizer, Andriu Yanovski on Moog synthesizer, and Doug Belote on drums.
With an emphasis on songwriting, the ballad "Fair-weather" is a parting song of love lost with a beautiful melody and moving lyrics.
Each song on
Kill Or Be Kind
has its own groove, choice guitar riffs, and lyrical songwriting. Conflict in love, the allure and the risk, is a prominent theme on the record. There's soul/R&B flavored tunes, some blues-rock and pop flavored rock but with good storytelling at the heart of most tracks. "Dirty," co-written with
Eric McFadden
, is about loving someone who is committed to another and the lyrics are vulnerable with visual images. Fish's vocals are strong, powerful, sometimes tinged with anger, and her guitar solo is equally moving.
Closing the album is "You Got It Bad," a bookend of sorts to the opening number with similar themes and rocking vibe. With synth and tasteful horns weaving through distorted guitar riffs, Fish ends Kill Or Be Kind with a moody blues-rocker, as if to remind her fans that blues still remains at the root of her music.
Creative drive and license are a cornerstone to Samantha Fish's body of work. Kill Or Be Kind is an impressive record that showcases her multifaceted talents as a songwriter, singer and guitarist.
For more information on Kill Or Be Kind by Samantha Fish: