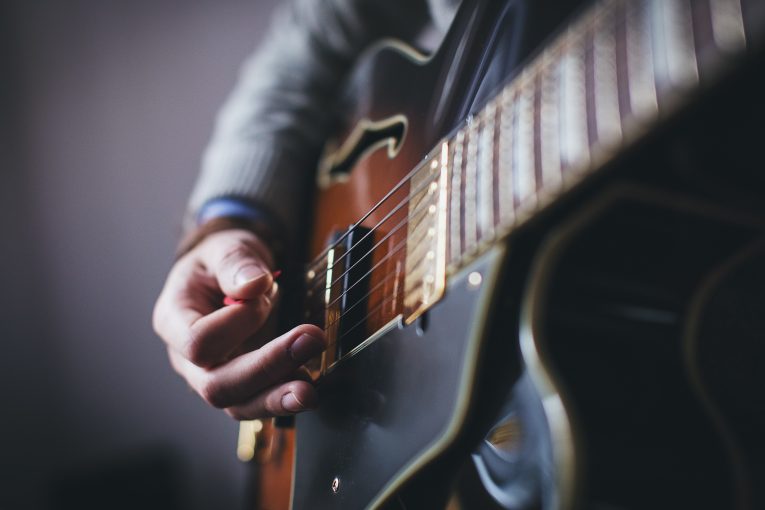 By Mike O'Cull
Guitars are the center of the blues in sound, style, and spirit and few could imagine the music without them. The right guitar gives its player the tone and feel they need to express themselves, rock the house, and do their part to keep the music we love alive. Today, we're going to examine the five best blues guitars under $1000 currently available. A grand buys a lot of guitar these days and all the instruments covered below will perform well on gigs ranging from a dive bar to a sold-out festival.
What is a blues guitar? Ultimately, it's whatever ax that's handy when you start feeling the music. That being said, most blues folks seem to prefer the more traditional guitar designs that debuted in the mid 20th Century. Some players like straight-up replicas of planks from decades past while others want a combination of old-school looks and modern features. You'll need to do some shopping and taste-testing to find the perfect guitar for your needs but these are our picks that we feel represent some of the best values on the market in this price range.
Ready to dig some guitars? Here we go!
Fender Road Worn 60s Stratocaster Electric Guitar

The Fender Road Worn 60s Stratocaster represents everything cool about playing the blues to a lot of people, especially all you SRV fans out there. It's a 60s-style Strat with a reliced three-tone sunburst finish wrapped around an Alder body, a Maple neck with a Pau Ferro fingerboard, and three of Fender's Tex-Mex Strat single-coil pickups. Every part of the guitar is pre-aged to provide the look and feel of that vintage Strat you've always wanted at a price that won't make you afraid to take it to a gig or session. It also sports the expected compliment of Stratocaster features we've come to know and love, including a five-way pickup selector, a vintage-style tremolo bridge, a Master Volume knob, and two tone controls.
Fender's Road Worn instruments are all excellent values but the 60s Road Worn Stratocaster may well be the best of them. It delivers the classic Fender tones and styling that have inspired generations of blues players and does so at an extremely affordable price. It's a tough guitar to beat and deserves a serious look from anyone dreaming of a perfectly broken-in old Strat.
PROS:
It's a genuine Fender Strat!
Punchy Tex-Mex pickups!
Pre-worn for vintage coolness!
CONS:
Relic finishes aren't for everybody.
Pickups aren't hum-canceling.
Fender Classic Series 60's Telecaster Electric Guitar

The Fender Classic Series 60s Telecaster gives guitarists a handful of the biting single-coil tone that put Leo and his creations on the map all those years ago. Teles have always had a place in the blues and have been used by icons like Muddy Waters and Keith Richards. The Classic Series 60s Telecaster is built around an Alder body, a Maple neck, and a Rosewood fretboard and is all done up in a stage-worthy Candy Apple Red finish. Two vintage-style pickups give users access to the bright, snappy Tele sounds heard on countless hit records and its C-shaped maple neck with 7.25″ fingerboard radius and vintage-size frets offers smooth and silky playability. Controls are limited to a three-way pickup selector, a Master Volume, and a Master Tone.
Teles flat-out smoke for blues and rock playing and the Classic Series 60s Telecaster is no exception. The Tele is the back-to-basics choice for many pickers and gives its players everything they need and nothing they don't. If all you need to play your blues is wood and wire, meet your new best friend.
PROS:
Outstanding Tele tones!
Candy Red finish!
Rosewood fingerboard helps tame the famous Tele bite!
CONS:
Pickups are not hum-canceling.
Epiphone Riviera Custom P93 Semi Hollow Body Electric Guitar

Few guitars today exude the sheer tone and coolness of the Epiphone Riviera Custom P93. It's a big, bold and beautiful semi-hollowbody with a trio of great-sounding P90 single-coil pickups, a slim-taper "D" neck profile, gold hardware, and a gold Bigsby B70 vibrato tailpiece. This is a newer, more upscale offering from Epiphone that combines features from its storied past into a new model that fits the demands of today's blues guitarists. The body is Maple with a feedback-busting center block, two f-holes, and a slick red finish and the P90s put out a muscled-up single-coil sound from it that will walk all over those other three-pickup guitars.
The P93 commands attention and performs well in a variety of playing situations. For some, a double-cutaway semi-hollow like this is a blues requirement and the P93 makes a fine choice if you share that sentiment. The Bigsby keeps things floating along and offers many opportunities for expression not accessible from a hardtail. Take one of these for a spin if you long for a new twist on the old semi-hollow recipe.
PROS:
Warm semi-hollow tone!
Three P90 pickups!
A gold Bigsby!
CONS:
Bigsbys can take some getting used to.
Semi-hollow body is an armload for players used to solid guitars.
Ibanez Artcore Series AS73 Semi-Hollowbody Electric Guitar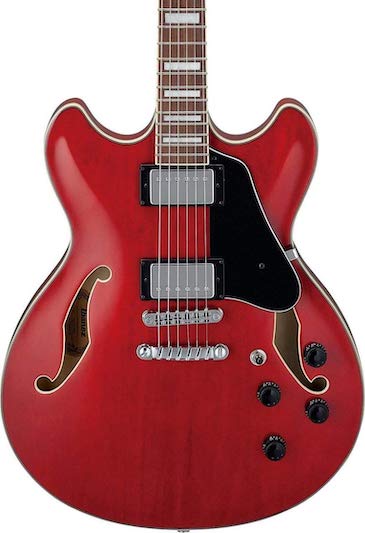 The Ibanez Artcore Series AS73 Semi-Hollowbody Guitar is a wonderful choice for any guitarist seeking great dual-humbucker semi sounds at a reasonable price. The AS73 scratches the itch for a Gibson ES-335 quite nicely, considering the price difference between the two, and is one of the best instruments in its class. It has an all-Maple semi-hollow body with two f-holes, a Mahogany neck, and a bound Rosewood board. Pickups are two Ibanez Classic Elite humbuckers wired to a three-way switch and their own independent Volume and Tone controls. The bridge is an Ibanez ART-1 Bridge with Quik Change III Tailpiece.
The AS73 is a toneful beast that will pleasantly surprise anyone who hasn't played one before. Ibanez has been making these since 2002 because they punch well above their weight and have been recognized by many players as a proper semi-hollow well suited for blues, rock, funk, or jazz. If you need killer blues tone at a price that won't bring you down, check out an Ibanez AS73. They are one of the guitar world's best values.
PROS:
Amazing semi-hollow/humbucker sound!
Very comfortable neck shape!
An outstanding guitar for blues or anything else!
CONS:
Gretsch G5230T Electromatic Jet FT

Gretsch isn't always thought of as a blues player's guitar but the brand has made big noise in the hands of stars from Bo Diddley to Billy Gibbons. The Gretsch G5230T Electromatic Jet FT is the left-field choice for the blues player that can't stand the thought of looking and sounding like every other guitarist out there. It's a chambered solidbody made of Mahogany with a Maple top and a single cutaway, a pair of Gretsch Black Top Filter'Tron pickups, and Bigsby vibrato, all rendered in a stunning Aleutian Blue paint job. It also has a Mahogany neck with Laurel fingerboard that's comfortable and easy to play.
The Black Top pickups give out true 50s-style archtop growl and grit and are connected to individual Volume, Master Volume, and Master Tone controls. A three-position pickup switch on the upper bout completes the wiring picture. The neck is a thin, modern "U" shape that will make a lot of left hands happy. Overall, the Gretsch G5230T Electromatic Jet is a fabulous, fun guitar that'll make anybody slinging one stand apart from the crowd.
PROS:
Chambered solidbody design!
Great growly Black Top humbuckers!
A Bigsby vibrato because it's a Gretsch!
CONS:
You either love Gretsch styling or you don't.
Owners need to learn how to string the Bigsby.
Mike O'Cull is a contributing writer at Rock and Blues Muse. He has also played and taught guitar professionally for over 20 years, done sales in high-end guitar shops, and written for Ultimate Guitar, Guitar Geary, and Gear Vault.