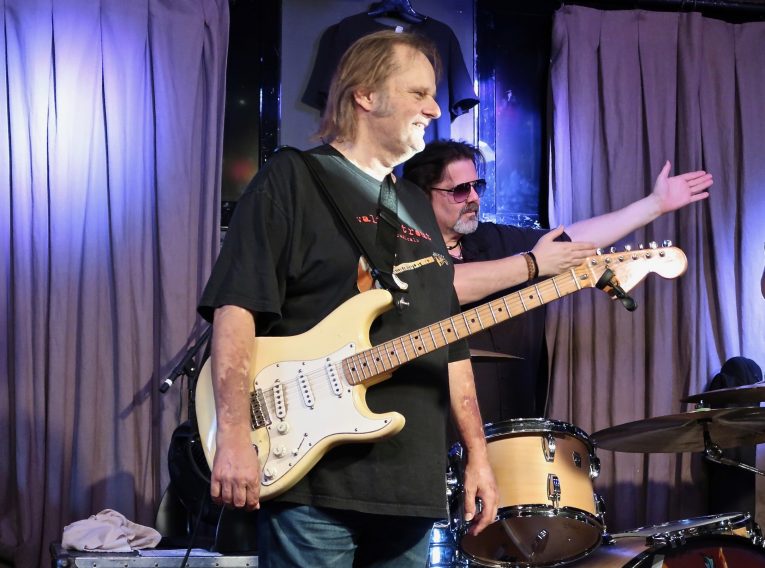 By Martine Ehrenclou
Michael Leasure & Friends turned out to be the secret full length performance by the great blues rock guitarist, singer-songwriter, Walter Trout, at Malainey's Grill in Long Beach, CA on September 22nd, put on by blues promoter Cadillac Zack.
Having never seen Walter Trout live, I was excited to experience one of the contemporary blues greats up close and personal in an intimate venue. You just don't find that kind of experience very often in Los Angeles, unless it's put on by Cadillac Zack. He brings in the best blues artists, some of which are celebrity musicians.
And that's what we got with multi award-winner Walter Trout and his band of outstanding musicians, several of notable fame. With his deep love of the blues, Trout put on a show that rocked the house.
Walter Trout's career includes guitarist for Canned Heat, John Mayall & The Bluesbreakers, and more. And that was before he began his solo career. Trout has recorded and performed with just about everyone, including John Mayall, Kenny Wayne Shepherd, Joe Bonamassa, Warren Haynes, Edgar Winter, Robben Ford, Sonny Landreth and more. And he has a bucket load of albums to his name.
Malainey's Grill was jam packed in anticipation of Walter Trout and his band of killer musicians. People filled the aisles of the small venue, not an empty seat in the place. There was energy to spare in the room as we anxiously awaited one of the best contemporary blues guitar masters. Pale yellow Strat in hand, Walter Trout appeared on stage, his band already in place. Doors to the venue slammed shut as the crowd hollered and clapped.
Walter Trout kicked off the set with a ripping guitar solo, the opening for "I Can Tell," beginning an evening of outstanding hard core blues. Trout's guitar chops blasted the roof off Malainey's, supported by Michael Leasure on drums, Johnny Griparic on bass, and Teddy Andreadis on keyboards.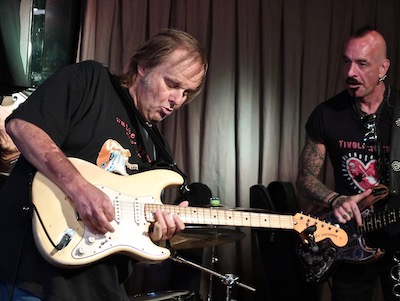 Completely immersed in the music, Trout instantly became the blues party on stage, holding court with resounding blues rock numbers, superb rocking guitar chops, and scorching vocals. Each member of his band seemed to be having the time of their life. The crowd knew what they'd come for—the energy in that place was rocket fuel.
The crowd rushed the dance floor between me and the stage, arms flailing, cell phones high in the air. Mostly over the age of 50, this was a hip older set, rocking out to the music performed by their favorite bluesman.
Trout's guitar solos are ferocious and tasty, others slower with soulful bends that give way to beautiful tone. He hasn't earned the reputation as one of the best blues guitarists for nothing. After "Me, My Guitar and the Blues," a tune that allowed him to stretch out a bit both vocally and on guitar, he said to the crowd, "I don't know about you but I was feeling that shit." And in unison the crowd yelled, "Yeeeaaah!"
After performing "Put It Right Back" from his album, Breaking The Rules, Walter said to us, "I've got a broken finger but that's not stopping me." That's the kind of performance it was. Rough and ready, intense blues rock by a phenomenal artist that wasn't about to let anything get in his way.
Dirty blues pounded the humid night. I watched Michael Leasure cut the air with his sticks and dissolve into the rhythm with each crack on his drums. I took in the muscular groove of bass player Griparic, and the organ fills and brief solos by renowned keyboard player Andreadis.
After "Welcome To The Human Race," which brought out the true soulfulness in Trout's voice, then came "Saw My Mama Cryin'" a rock infused number on his album Blues for the Modern Daze.
Walter's guitar work and smoky vocals incited frenzy in the room. To watch him perform, to see a master so immersed in the music, so grateful to be able to do what he loves, was thrilling if not inspiring.
One of the special surprise guests that night was the revered harmonica player Bob Landgraff who sat in on one song and blew us all away. Landgraff was a real treat, the sound of his harp soulful and expertly played.
The evening ended with "The Best You Got," a melodic blues rock number featuring a killer solo on organ and a stinging guitar solo by Trout. What a blues rock party to remember.
Watch for Michael Leasure & Friends.
For more information on Walter Trout: