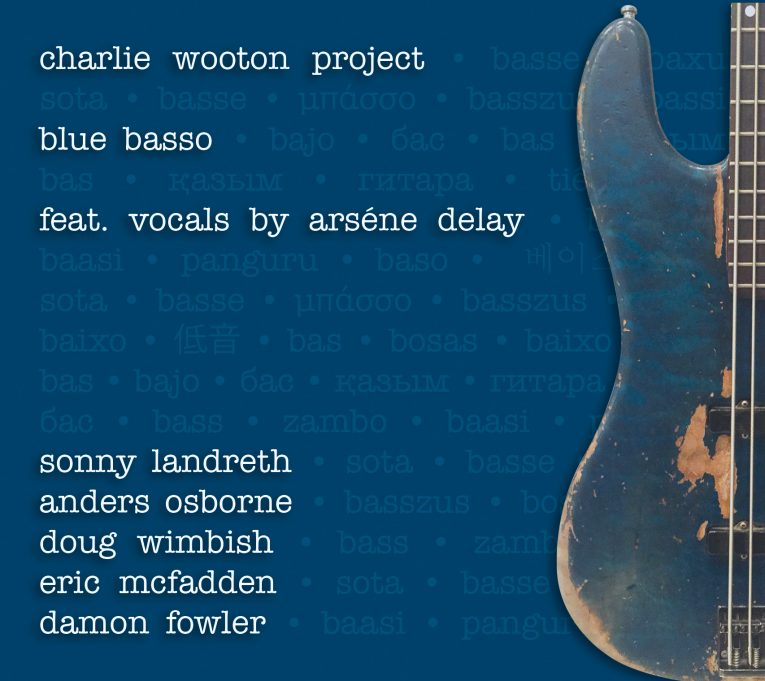 By Mike O'Cull
The Charlie Wooton Project throws it all down and then some on its brand-new record Blue Basso, a multifaceted, genius-level set of funky blues/jazz fusion released on August 23rd, 2019 on Samantha Fish's Wild Heart Records. Wooton is known by music fans for his years in Royal Southern Brotherhood and his work with Sonny Landreth, Cyril Neville, Bonerama, and Big Sam's Funky Nation. He is an eclectic and masterful bassist with chops to spare and a style that encompasses fusion, blues, R&B, and funk.
Blue Basso is Wooton's tribute to the legendary Jaco Pastorious, whose influence on electric bassists cannot be overstated. The sessions were blessed by guest appearances by Sonny Landreth, Anders Osborne, Damon Fowler, Eric McFadden, Living Color's Doug Wimbish, and vocalist Arséne DeLay. As you might expect, the record is a stunning display of skill, musicality, and vibe that grooves hard for maximum listening enjoyment.
Blue Basso takes its title from Wooton's favorite blue bass guitar, which was given to him by Spyro Gyra bassist Kim Stone. The album was produced and mixed by Daniel Groover, who also played guitar on the tracks. Keiko Komaki handles keyboards and Jermal Watkins holds down the drummer position on these tracks, completing a more-than-muscular group of musicians well able to articulate Wooton's vision for this release.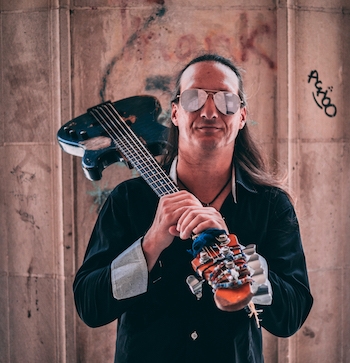 The record kicks off with the aptly-named "Jaceaux," an ultra-funky upbeat instrumental that features Wooton and Doug Wimbish offering up a dual bass guitar tribute to Mr. Pastorious. It's an amazing opening track and nicely sets the tone for all that's to follow. "I Don't Know" is a jazz/neo-soul shuffle enhanced by Damon Fowler's lap steel lines and Arséne DeLay's smoldering vocals. All involved create a spectacularly deep pocket that never falters or oversteps itself, even when Wooton is soloing.
Special guest Anders Osborne gets extra-tasty on his guitar on the sultry R&B ballad "One Night." His tone is perfect and he plays with a melodic authority that pairs well with DeLay's vocal performance. It's a truly gorgeous track that's one of many high-water marks Blue Basso contains. Sonny Landreth, considered by many to the finest living slide guitarist, works his low-down, swampy magic on the chill country blues instrumental "Front Porch" and the energetic, gear-shifting rave-up "Tell Me A Story." Landreth is one of those players who adds a magic bullet to any track but is particularly impressive on both of these songs. His unique style and Wooton's groove skills are instantly combustible and the combination is not to be missed.
The final cut on
Blue Basso
is a brilliantly reworked cover of the Rolling Stones' iconic hit "Miss You" that spotlights P-Funk guitarist
Eric McFadden
. Wooton, McFadden, and DeLay morph the gritty disco of the Stones' original version into a smoother, funkier modern soul masterpiece that unleashes all the talent of this mighty outfit. It's a potent arrangement of a fan favorite that feels like the final jam of a life-changing live concert. All that's missing is a festival crowd.
All throughout Blue Basso, Wooton shows a deep understanding of what made Jaco so special. Lesser bassists only latch onto Jaco's blazing chops and groundbreaking moments without fully realizing that he was the best R&B bass player in the world underneath. Wooton grasps this big picture and always uses his technical treasure chest to enhance the songs and grooves he's playing. Even his most complex lines propel their tunes and glue them together. Blue Basso can be taken as a bass clinic or a dance party, depending on your mood, but it's an eminently listenable session that'll make your day either way.
For more information on Blue Basso by The Charlie Wooton Project: